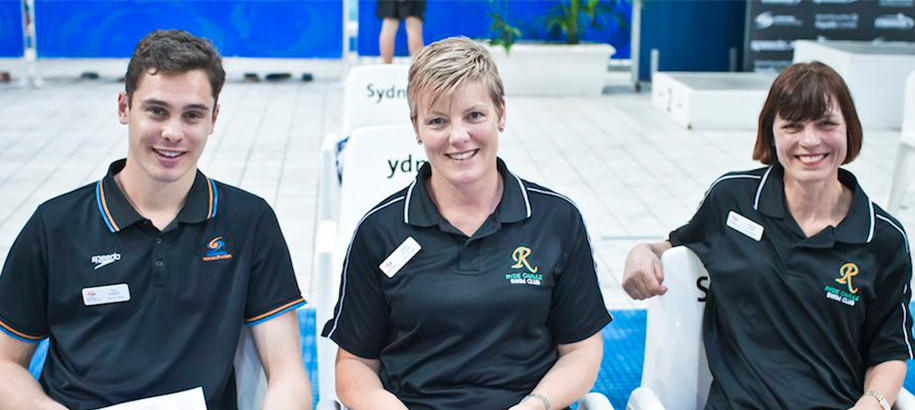 2020 SNSW Technical Official Mini-Forum - August
Click Here to view the recording.

A huge thanks to Dave Cooper, Neil Rogers, Cherry Smith and Chris Hayes for presenting to the group of 70 officials, including some from from Victoria!
Thanks also to the TSC who played a big part in the afternoon.
2020 SNSW Technical Official Forum - May
The Annual Technical Officials Forum was held via Zoom for the first time on Saturday 23rd May. 95 officials from across NSW joined us (and even some from Victoria)!
Moving forward, the TSC will look at ways of recording and broadcasting these face-to-face days to a wider audience, i.e. for those who can't make the trip to Sydney. There may even be a chance to hold one further webinar later in 2020.
Please Click Here to access the full day's recording.
Sarah Connor - Black Dog Institute
Sarah's discussion entailed ways in which the Black Dog Institute can assist TO's, both in a swimming and external environment.
The Swimming NSW Board of Directors have confirmed that SNSW will continue to work closely with BDI to ensure the ongoing mental heath of not only Technical Officials, but the entire swimming community in NSW.
If you have any questions pertaining to Sarah's talk, please email Josh Karp who will forward your question on.
Lydia Dowse - Swimming Australia (integrity@swimming.org.au)
Lydia's presentation informed listeners the responsibilities of Technical Officials on and around pool deck, and also highlighted some case studies of illegal behaviour and how to report incidents.
In the event of serious incidents that will require police intervention, it is recommended that parties contact Police in the first instance.
If you have any questions pertaining to Lydia's talk, please email Josh Karp who will forward your question on.
Cherry Smith
The Multi-Class Point score and the National Classification Master list, as discussed during the presentation, can be located here on the Swimming Australia website. Blackened goggles can be found/purchased here, among other sites.
 
Handouts
Online Training Courses
We are proud to officially launch our online Training Courses for Technical Officials. This new initiative is designed to help our volunteers quickly and easily gain the confidence and skills to help run a swim meet. Currently, the following courses are available on our training website https://nswtraining.swimming.org.au/
Timekeeper and Chief Timekeeper
Check Starter and Clerk of the Course (Marshal)
Inspector of Turns
Judge of Stroke
Starter
Recorder
Dolphin Timing Equipment
Also available Online is the Introductory Level Officiating - General Principles, which we recommend you complete before starting any other training modules. Click on this link to register and begin your training.
 
Temporarily Available webinars
The NSW Office of Sport has made public the first two of their 2020 Officiating webinars, both led by former ICC Test Umpire of the year.
As well officiating at the highest level of cricket for years, Simon is now an accomplished public speaker and his workshops are not to be missed by developing officials. Here is a brief clip that provides some background on Simon
Click Here to access these webinars, but hurry, they won't be available for long!
Swimming NSW Referee Course
Swimming NSW is proud to call for applications for its inaugural Referee Course. The aim of the Course is to educate and develop 20 Technical Officials to become Referees by the end of 2020.
The Swimming NSW Technical Committee, with guidance from the Area Technical Swimming Committee Coordinators, will select up to 20 Technical Officials to participate in the Swimming NSW Referee Course. The Course will commence in January 2020 and run until November, when we will aim for the candidates to complete their Level 1 Referee Assessment.
Please note:  The normal Referee Accreditation process will still occur outside of this Course. i.e. it is not a requirement to complete this Course to become a Referee.
The Course will be led by a Course Manager who will host either a Webinar or face to face session every 6-8 weeks throughout the year with candidates to complete course work between these sessions. The Course will also feature guests presenters on specific topics of expertise, include a detailed curriculum specifically aimed at preparing the candidates to be competent Referees and how to source a Mentor.
To be eligible for this course, candidates must meet the following criteria;
Swimming NSW Member
Valid Working with Children Check
Hold four current Technical Official accreditations (in addition to General Principles).
It is not essential but desirable if candidates hold Inspector of Turn and Judge of Stroke accreditation
The application form for the 2021 course will be available later in 2020.
Traditional Swimming Australia NOAP Learner Guides
The Swimming Australia learner guides have been updated to reflect stronger officiating principles to assist technical officials with their understanding. As per Sport Australia requirements, these guides have been refreshed to be more contemporary and have also been updated in line with recent changes to FINA rules.
These Guides now also allow Technical Officials to work at their own pace with information easier to comprehend for technical officials at any level or experience. 
General Principles - please note, you will have to register here before beginning the course
Self Management for Advanced Officials
A Learner Guide Module Coversheet must be completed in full to prove an official has gained an accreditation: