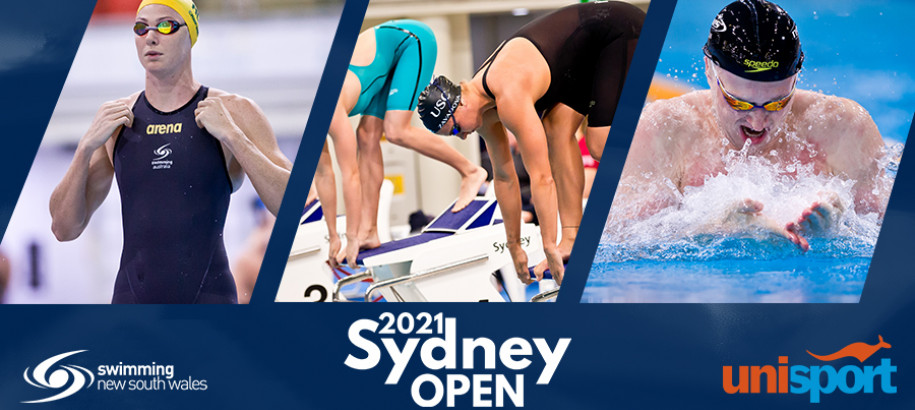 Date & Time
Thu, 13/05/2021 to Sun, 16/05/2021
Refer to program for session times
Location
Sydney Olympic Park Aquatic Centre
Olympic Boulevard, Sydney Olympic Park
Attend
SPECTATOR TICKETS MUST BE PRE-PURCHASED
Refer to Ticketing Info under Event Information
Event Details
Live Stream Sydney Open HERE
Program & QTs

Finals Program

Entry Fee

$20.50 (Individual)
$41 (Relays)

 

Timeline

Final Start List

Heats
Meet Program

UniSport
Guidelines

UniSport
Participant
Agreement

Relays Program

Coaches
Registration

Coaches Registration now closed. Those who have not pre-registered can register on the day. 

 

Support Passes

Support Staff: Apply Here

Media: Apply Here

Entry Procedures

Please refer to the
Entry Processes in Additional
Information below
*All requests for Accreditation must be submitted no later than Tuesday, May 11th @ 5pm*
Got Questions?
Please read our Event FAQ's and Event Resources for more information about attending our meets as a competitor, spectator, volunteer or official.
If you experience technical difficulties when trying to enter, please contact meet.entries@nsw.swimming.org.au or phone 8047 8509 for assistance.
ENTRIES NOW CLOSED
Entries Close at 5pm Tuesday 4th May 2021
Contact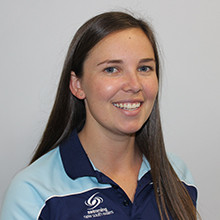 Event Information
The Sydney Open & Uni Nationals event is for both University Students & Club Swimmers. Club Swimmers who attend University are strongly encouraged to compete for their University. When entering via Swim Central, it will automatically place entries under your club, so for those swimmers who will be competing for their University, they must complete the additional university information form to indicate their University. 

The minimum age for this event for both Men's & Women's is 15 years old as of 13th May 2021, with the exception of Multi-Class Events, where the minimum age is 11 (as of 13th May 2021). 

Long Course & Short Course times achieved since 1st May 2019 can be used to enter this meet. Competitors will be entered on their Long Course entry times where possible, however if they only have a Short Course time they will be entered on the Qualifying time for that event. 

There are two options for entry for Sydney Open. Please follow the process that applies to you:

For Swimmers with access to Swim Central (i.e. those who are a member of a SAL affiliated Club):

Entries must be placed via Swim Central as you would for other club & State based events. Swim Central entry link can be found here. 
For Swimmers who are competing for their University, once entries are placed via Swim Central, please ensure you complete the additional university information form.  (THIS FORM SHOULD ONLY BE COMPLETED AFTER ENTRIES ARE PLACED VIA SWIM CENTRAL) This will ensure the team you will be competing for will be updated to your University. 

For Swimmers who DO NOT have access to Swim Central (i.e. those who are NOT a member of a SAL affiliated Club):

Please complete the online manual entry form found here

This section is for University Relay Teams ONLY.

All Swimming Club Relays are to be submitted via Swim Central. We will NOT accept any manual Club Relay Entries into this meet. Instructions for entering relays via swim central can be found here. If you are having troubles processing your online club relay entries, please contact Greta Brodie immediately for assistance.

---

UNIVERSITIES: To submit relay entries into this meet, the preferred method for relay entries is via a Team Manager Entry File (available on request)

When submitting University Relays, please ensure that you enter all swimmers in the order they are to be swimming. 

If you do not have access to Team Manager, there are two options:

1) Download a free version of Team Manager Lite from Here

OR

2) Email greta.brodie@nsw.swimming.org.au with the following details
    - University Name
    - Event #
    - Swimmers Names (in order they will be swimming)
    - Swimmers DOB
    - Team Entry Time

Payment for these relays can be made via credit card or EFT. Please advise your preferred process when emailing entries. 
An invoice can be generated on request. 

If any changes are required before the meet, please email these to Greta Brodie up until Thursday 6th May. Any changes after these time will need to be submitted to the recording room via a relay change form on the day, prior to the start of the session in which the event will be swum. Relay forms are only required if you are making changes. 

 

Multi-Class Entries to be submitted via Swim Central, unless not a member of an affiliated club (please refer to entry process information above). MC Athletes are required to email their classification to greta.brodie@nsw.swimming.org.au

Qualifying Times apply for Multi-Class Events. Whilst Swim Central will allow MC Swimmers to enter all MC events, please ensure you check the MC Qualifying times, found on the last page of this document and only enter the events which you qualify for. Entry times will be checked and any swimmers who do not have the correct entry time for their entries will be withdrawn and no refund will be granted. 

Multi-Class Support
Multi-Class Swimmers are permitted to have one support person/carer with them who is granted pool access should this be required. Support persons must have a valid WWCC and apply in advance. Please Complete this form.

Nominate to Volunteer or Officiate at this meet

We are seeking nominations from volunteers and Technical Officials to assist at this meet.

Submit your nomination on this page.

Nominations close on Sunday 18th April at 11:59pm. 

Working With Children Check

As of January 1st, 2015, it has become a requirement of the Sporting Organisation that all our staff, officials and volunteers have applied for a Working With Children Check.

If you have not yet completed this, you can apply for a WWC number HERE.

Please note: for volunteers (including volunteers and technical officials), this is free to obtain

Applications for Support Staff for Sydney Open & Uni Nationals are now open. This includes, but is not limited to: Media, Multi-Class Support, Team Physios, Sport Science etc. All Support Pass Applicants must have a valid Working with Children Check.

APPLY HERE

All requests for Support Staff must be received no later than 5pm Tuesday 11th May 2021. 

Please note: The completion of this form does not confirm you have been granted a support pass. All applications will be reviewed and you will be contacted prior to the meet to confirm your application has been approved. All successful applicants must bring their own lanyard. 

All coaches are required to pre-register their intention to attend this event via this form. 

Coaches will be required to show ASCTA accreditation to the door staff on arrival & will be required to wear this accreditation on a lanyard around their neck at all times whilst present in the venue. Failure to show ASCTA accreditation will result in denied entry.

When present in the venue, coaches are only permitted access to pool deck & the Athlete/Coaches grandstand and cannot enter the Spectators grandstand or other parts of the venue.

Coaches are not permitted entry to the Athlete bathrooms and must use the Coaches or Officials bathrooms ONLY. 

Pre-Meet Training will be available at SOPAC during the following times:

Wednesday 12th May: 4pm-6pm
 
Thursday 13th May: 7:30am- 9:30am

Spectators are permitted at this event & will be required to pre-purchased tickets.

For ticket prices & to purchase, please visit this page. 

All meet attendees are entitled to 4 hours free parking. Ensure you obtain a parking voucher upon exiting.