15 November 2022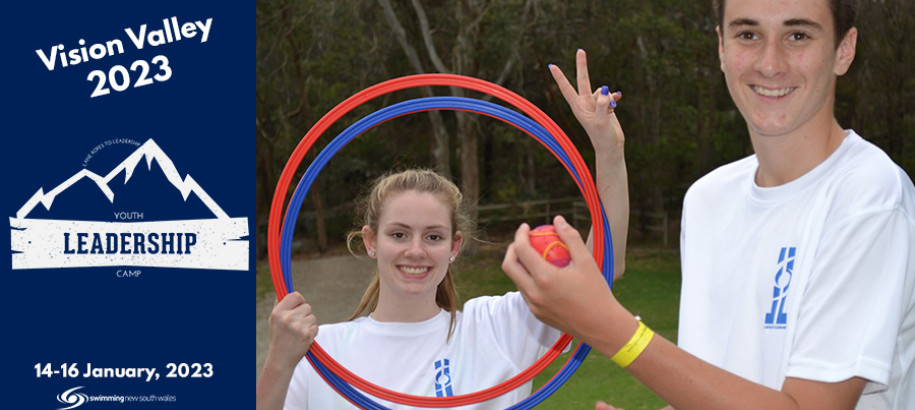 After a lengthy nomination process, applicants have now been selected from across the state to take part in the next Swimming NSW Youth Leadership Camp, which will be held from 14-16 January, 2023 at Vision Valley in Sydney's north west.
The selection had nothing to do with applicants' swimming ability and everything to do with how they answered the question "what is one thing you'd change about swimming to make it better and more engaging for teenagers?"
Swimming NSW Participation Manager, Sarah Koen, said she was so impressed with the quality of the answers, it was difficult to select just 60 to attend the camp.
"We had 112 nominations from 74 clubs, and all were fantastic. In the end we could only choose 60 participants, who will represent 45 swimming clubs."
The list of camp participants includes members of the current Youth Advisory Panel, who will act as young leaders at the camp and present the majority of the sessions themselves.
Male and female participants are equally represented from Country areas, Metro areas and the ACT, so the benefits and flow on effect from this camp will be widespread.
Camp participants are all aged between 13 and 18 years, and will come away with a host of new leadership skills, increased confidence and importantly, new friends from across the state!
Participants will take part in a range of leadership activities such as public speaking and time management, fun outdoor group activities such as raft building, crate stacking and canoeing, and will hear presentations from other young members on relevant topics such as the New Officials Program, Swim League, Duke of Edinburgh, Take Your Marks and the Swim Confident (body image) program.
Young leaders will be tasked with planning a 'change maker' project to take back and implement in their own club.
"The original reason behind this camp was to engage our teenaged members in a different way and therefore retain them," said Sarah.
"By giving teenaged swimmers a sense of purpose and responsibility within their own clubs, we hope that they will realise how important they are as role models and young leaders, and that they can make a difference towards keeping their peers in our sport."
Some participants will also go on to be selected to be part of the SNSW Youth Advisory Panel which was first created in 2016. Currently 20 teenaged swimmers from across NSW sit on this Panel and develop strategies to keep swimmers aged 12-19 engaged in our sport. 
2023 Swimming NSW Youth Leadership Camp Participants
| Participant | Club |
| --- | --- |
| Rishabh Arcot | Revesby Workers SC |
| Janice Barry | Canberra ASC |
| Tessa Bealing | Wenona SC |
| Hugh Bevan | Macquarie Yabbies SC |
| Halle Bone | Dapto SC |
| Patrick Bullivant | GT Aquatics SC |
| Matthew Jiazi Chen | Sans Souci Sea Devils SC |
| Nathaniel Clarke | Hay ASC |
| Anna Cockburn | Young SC |
| Tanna Davey | Forster Aquatic SC |
| Makai Davis | Coonabarabran SC |
| Chloe Douglas-Byrne | Cruiz ASC |
| James Gauci | SOPAC SC |
| Kendra Gordon | Cruiz ASC |
| Indiana Graham | Bay & Basin SC |
| Josh Graham | Young SC |
| Charlotte Guthrie | Canberra ASC |
| Tom Hayhoe | Lane Cove SC |
| Owen Hilkemeijer | Port Macquarie SC |
| Annabelle Hughes | NUSwim SC |
| Henry Hughes | Warringah Aquatic SC |
| Kelsey Jenkins | Valley Aquatic SC |
| Kingston Johnston | Orange Aquatic Club |
| Edith Keightley | Mudgee Indoor SC |
| Gemma King | Windsor SC |
| Ruben Langley | The Hills S & LSC |
| Alannah Leahy | Goulburn SC |
| Mikaela Llave | ACU Blacktown SC |
| Oliver Low | Newington SC |
| Chloe McGuire | Sladem SC |
| Ella McIlwraith | Dapto SC |
| Jennifer McPartland | MLC Marlins SC |
| Ariana Missingham | Bay & Basin SC |
| Liam Morrison | Lane Cove SC |
| Lauren Oberg | Taree Torpedoes SC |
| Caitlin Parkinson | Revesby Workers SC |
| Benjamin Paterson | Barker Aquatic SC |
| Kai Pilkington | Wests Illawarra Aquatic SC |
| Vin Ramos | Swim Club Emerton |
| Tahj Regattieri | Kincumber Pacific Dolphins SC |
| Max Reid | Forbes Fins SC |
| Victoria Robinson | NUSwim SC |
| Julia Ross | Katoomba RSL SC |
| Mia Ryan | Barker Aquatic SC |
| Salani Sa'aga | Knox Pymble SC |
| Evelyn Scott | Canberra ASC |
| Matilda Smith | Valley Aquatic SC |
| Regan Smith | Wests Illawarra Aquatic SC |
| Peter Starodubtsev | Barker Aquatic SC |
| Lochlan Street | Swimwest SC |
| Nicholas Suvajac | Norwest SC |
| Hailey Unwin | SLC Aquadot SC |
| Cooper Walsh | Wollongong SC |
| Judah Walters | Woden Valley SC |
| Amy Wearing | Corrimal SC |
| Noah Wiseman | SLC Aquadot SC |
| Jayden Wong | MLC Marlins SC |
| Jared Wood | Dapto SC |
| Bruce Xie | Hornsby SC |
| Consuela Zhang | Ravenswood SC |