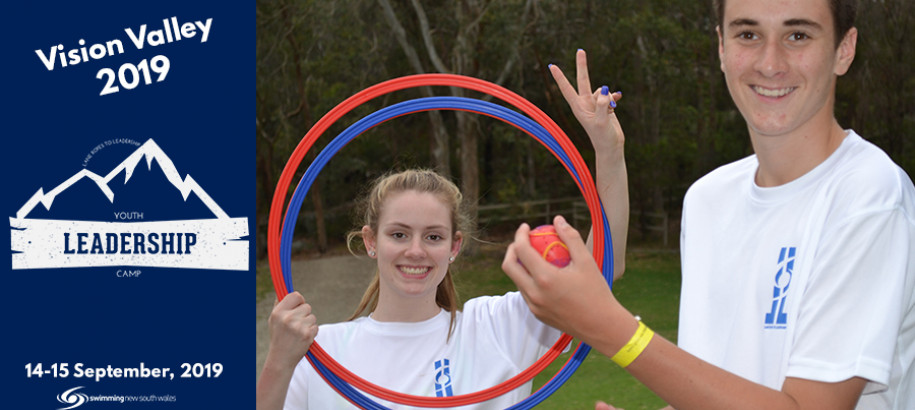 Date & Time
Sat, 14/09/2019 to Sun, 15/09/2019
Location
Wesley Vision Valley
7 Vision Valley Rd, Arcadia NSW 2159
Attend
Free to attend
Cost to be covered by club/area
Event Details
Change the face of Swimming at Vision Valley 2019
Are you a Swimming NSW club member aged 14-17 and passionate about swimming?
Do you want to be part of a team of young leaders and grow swimming in your club, area and community?
Are you interested in improving your skills in leadership and be part of a weekend camp full of fun team bonding experiences with other young swimmers from right across NSW?
If you answered YES, apply now to be part of Vision Valley 2019 - Swimming NSW's 2019 Lane Ropes to Leadership Camp!
We are after swimmers who aspire to become passionate leaders and influencers in our sport not just in the water but outside of the pool. The camp will provide training and experiences in leadership, team building and more. You don't have to be your club captain or the best swimmer in your club to apply!
Following the camp an exclusive group of young leaders will be selected to our influential Youth Advisory Panel. This panel gives swimming youth a voice and provides Swimming administration with important insight on how to improve the sport for young people in NSW.
The 2019 Lane Ropes to Leadership Camp is a great development opportunity for the future leaders of swimming. Like any sport, swimming would benefit from fresh ideas and innovation you may be able to provide. The next 'big idea' that could change the face of swimming could come from you!
Read about our 2018 Lane Ropes to Leadership Camps.
Learn more about our Youth Advisory Panel and the Lane Ropes to Leadership Program.
For further enquiries contact: vinh.tran@nsw.swimming.org.au
Vinh Tran – Swimming NSW Sport Development and Participation Manager
Applications close: 5pm - Sunday 1st September 2019
Online applications
Applications are now closed
Contact