19 September 2022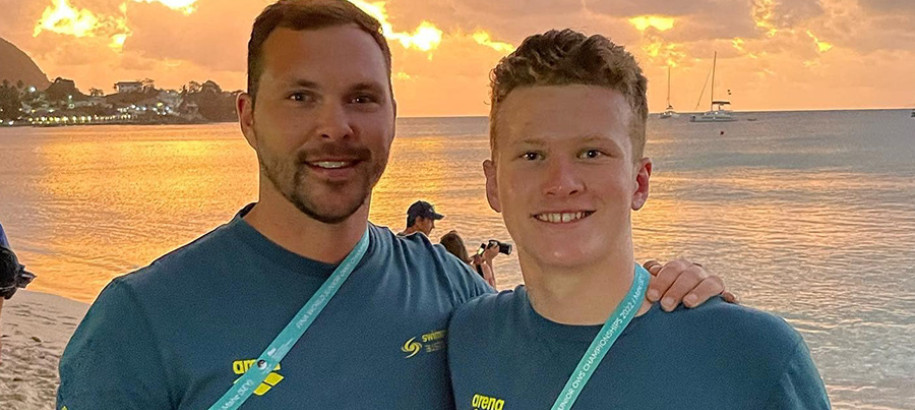 Top 20 in the world. That's where NSW athletes Kai Robertson (Revesby Workers) and Caleb Dryer (Trinity Grammar) have landed after a weekend of tough competition in Seychelles.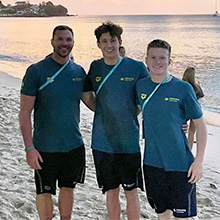 More than 150 athletes from over 50 countries contested the FINA World Junior Open Water Swimming Championships in Beau Vallon. For NSW athletes on the Australian Junior Open Water team, this was their first experience with international competition.
Kai Robertson was first up from the Aussie contingent, dipping his toes in Mahé's tropical waters for the Men's 7.5km on Friday. As part of the trio leading the Australian team, Revesby Workers Head Coach Alex Clarke was able to be front and centre, guiding his protégé, as Robertson embarked on his first open water event representing Australia.
Unused to the particularly rough international racing environment, Robertson and teammates had to dig deep and forge ahead, all the while bracing against the brutality of the elite open water pack.
"Once you're out there, it's just elbows and arms flying everywhere – it was tough. I wasn't expecting the start to be everyone on top of each other," said Robertson.
This sentiment was echoed by teammate Caleb Dryer while reflecting on his performance in the 10km individual event.
"It was pretty rough to be honest, a lot rougher than I've experienced in the past. Physically it was rougher, but also there were points when the whole pack sped up and everyone was going as fast as they could to try and get ahead."
Despite starting towards the back of the pack in the 7.5km event, Robertson skillfully worked through his race plan and finished in 20th place in 1:22:14.90, taking seven minutes off his qualifying time.
"I'm very happy (with that result)," said Robertson. "To think you're top 20 in the world is extraordinary. It's our first race ever internationally, so yeah, take the wins out of it."
Dryer made his international debut on day two, completing the Men's 10km event in 2:04:22.50, and claiming 23rd place.
The Australian Mixed 4x1500m Relay team featured on the final day of racing. Dryer's talent shone through in this comeback event, swimming alongside Piper Sanderson, Jasmine Rayward, and Robert Thorpe to take 7th place for Australia in 1:15:29.20.
Quotes and article image courtesy of Swimming Australia.