11 July 2022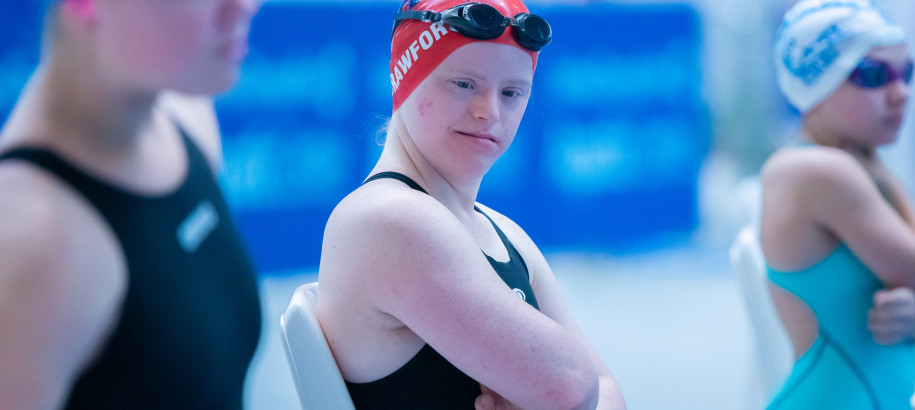 Swimmers with Down syndrome and formally diagnosed high functioning autism can compete under their own classifications at the Swimming NSW Multi-Class Meet #3 this August. An historic landmark for these athletes, their families and supporters, the introduction of the S18 and S19 classifications by Swimming Australia brings these athletes further into the Swimming NSW club community and provides more opportunity for meaningful advancement along the competitive pathway. Much advocacy work still needs to be carried out to achieve recognition of these classifications under World Para Swimming guidelines.
In an historic landmark for Multi-Class swimming in NSW, athletes with Down syndrome and high functioning autism can compete at the NSW Multi-Class Meet #3 under new classifications introduced by Swimming Australia S18 – Significant Other Impairment, and S19 – High Functioning Autism.
Although swimmers from varying backgrounds and abilities have always been welcome at Swimming NSW Multi-Class meets, the introduction of these new classifications is significant.
Talented athlete and 4x100m freestyle relay gold medalist Lily Crawford (pictured above) has already represented Australia in international competition at the Down Syndrome World Swimming Championships and the INAS Global Games, and now formal recognition of intellectual impairments via Swimming Australia's classification system means athletes like Lily are brought into the Swimming NSW club pathway.
A world leader in Multi-Class inclusion in sport, Swimming Australia is the only sport national governing body in the country to recognise and include the S19 intellectual impairment classification.
This is a notable development in the Multi-Class pathway for athletes with an intellectual impairment, with many doors now open for meaningful advancement along the competitive pathway, from club night to Australian Age Championships.
New Classifications recognising intellectual impairment
S18 – Significant Other Impairment – athletes with Down syndrome who have a diagnosis of Trisomy 21 or Translocation Down syndrome; also athletes with intellectual disability who have satisfied the S14 eligibility criteria and FAST test requirements.
S19 – High Functioning Autism – athletes with a formal diagnosis of Autism, ASD or Asperger's syndrome and a full scale IQ score above 75 or no intellectual disability.
There's still much to be done
There is still much work to be done to achieve full realisation of success for S18 and S19 athletes, with no formal recognition of these classifications in place by World Para Swimming (operating under International Paralympic Committee guidelines).
The elite pathway for S18 and S19 swimmers currently leads to World Championships and Global Games hosted by Virtus – the global governing body for elite sport for athletes with an intellectual disability – who recently announced Australia will host the 2022 Virtus Oceania Asia Games in Brisbane from 5-11 November.
Down syndrome athletes have an additional international pathway through Down Syndrome International Swimming Organisation (DSISO). Australia has ranked the top country on six occasions between 2007 and 2018 at DSISO World Championships. 
There are no official figures for Down syndrome individuals in Australia, the best estimates available suggest there are 13,000-15,000 Australians with Down syndrome. As of September 2019, there were 10,249 participants in the NDIS system with Down syndrome listed as their primary disability. This is expected to increase as the NDIS reaches its full roll out.
The Australian Bureau of Statistics estimates that in 2015, 1 in 150 Australians has autism, with 83% under the age of 25. Autism was first introduced as an exhibition class at the 2019 Virtus Global Games, held in Brisbane, which was the catalyst for a jump in requests to Swimming Australia for an autism classification.
Multi-Class swimming for athletes with an intellectual impairment
If you are new to Multi-Class swimming and have an intellectual (or physical) impairment and have not been formally classified, we welcome you to give MC racing a go at the Swimming NSW Multi-Class Meet #3 on 6 August at Knox Grammar School Aquatic Centre.
Sport Inclusion Australia currently facilitate eligibility for intellectual impairments. Find out more about competing with an intellectual impairment and getting classified here.
Find out more about physical impairment classifications here or email classification@swimming.org.au
More information about the S19 classification
As the S19 is a newly developed class it is subject to significant weighting in the Multi Class Point Score system.

S19 is still in its trial phase at international level as a classification under Virtus. Having only been swum once at international level (2019 Virtus Global Games, Brisbane) the times for this class are not competitive and there is no base data for which to create a standard from. Until its completion as a trial, no world records will be established for the class by the governing body.

Due to this, the MCPS weighting applied is set to allow for participation of those within the class at multiple levels of competition, though not to displace the existing eligible classifications.

For more information about the Multi Class Point Score system visit - https://www.swimming.org.au/swim-1/compete/classification