10 May 2019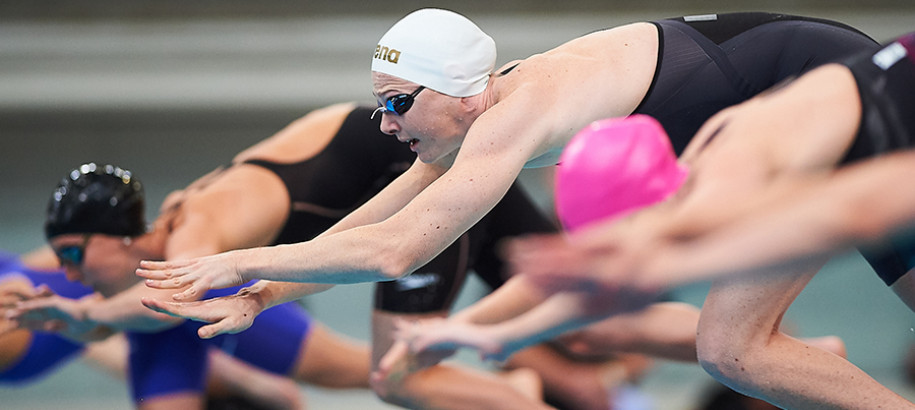 Freestyle sprint queen Cate Campbell (Knox Pymble) and rising star Kaylee McKeown (USC Spartans) provided the major highlights on the opening night of finals at the Sydney Open Swim Meet at the Sydney Olympic Park Aquatic Centre tonight.
Campbell, the star attraction amongst a host of Olympic and Paralympic stars on show at the 2000 Olympic venue, didn't disappoint, swimming away to win the women's 100m freestyle in a solid sub-53 secs time of 52.96.
And it was a satisfying and encouraging performance from the Commonwealth record holder who won the National title in April in the world's No 1 time of 53.53.
But tonight it was all about getting her start down pat after working with her sports science team at NSWIS to improve her start – the one chink in her remarkable armour.
"I know I'm never going to be the fastest starter in the field but we are working on getting it as best we can…so I will be interested to see the video of the start," said Campbell.
"But the time was certainly very encouraging at this stage of the preparation for next months Trials and before we head to Thredbo for our annual training camp – where we will do nothing but train, eat and sleep."
Campbell tuned in 25.00 and powered down the third 25 to set up an impressive win over Emma McKeon (Griffith University) 53.64 and Madi Wilson (Marion) 53.99.
Earlier in the night McKeon took out the 50m butterfly final in 26.26 from Japanese pair Rika Omoto (27.78) and Suzuka Hasegawa (26.97).
While McKeown, fourth at the last World Championships at just 15, provided an eye-catching 200m backstroke win in her fastest time of the year – a 2:07.10 – the fourth fastest time in the world this year.
McKeown, 10 years Campbell's junior was "super surprised" at a time that will certainly give her enormous confidence leading into next month's Hancock Prospecting World Championships at the Brisbane  Aquatic Centre, putting her alongside the  world's best backstrokers.
"The Canadians and US girls have been putting up some smart times so why not let the Australian girls do the same thing….hopefully come Trials I will get down there again," said McKeown, who has only had a day's rest after a heavy block of training.
"I'm pretty happy with that performance and hopefully in a month's time I can do that again; my coach Chris Mooney didn't talk about times just to concentrate on my technique but I only did two kicks off the walls so there is still room for improvements."
McKeown won the event swimming away from Minna Atherton (Bond University) 2:11.54 and Japan's Natsumi Sakai (2:12.29).
The men's 400m freestyle saw Japan's seven-time world champion Daiya Seto lead from the start to win the event in impressive style in a time of 3:48.19 from fast finishing Pan Pacific champion Jack McLoughlin (QUT) 3:49.32 and Olympic champion Mack Horton (Melbourne Vicentre) 3:50.53.
While former Coffs Harbour girl Madeleine Gough (Bond University), who debuted at last year's Pan Pacs took control of the 800m after the first four laps and was never headed beating home training partner Kiah Melverton (Griffith University) 8:35.66 and Chihiro Igarashi (Japan) 8:38.59, with Lani Pallister (Co0tton Tree) fourth in 8:41.21.
In other events
Mingara's Bradley Woodward (25.73) powered away to win the 50m backstroke in an encouraging performance as he fights back, beating home Tom Jeffries (QUT) 26.11 and Keita Sunama (Japan) 26.17.
The women's 100m breaststroke saw newly crowned Australian champion Jenna Strauch (1:07.83) hold on for the win from a fast-finishing Rio Olympian Georgia Bohl (Griffith University Swim Club) 1:08.30 and Chelsea Hodges (Griffith university) 1:09.75.
One of the closest finishes of the night emerged when Rio Olympian David Morgan powered down the final 50m in the 200m butterfly to catch Charles Cox (Brisbane Swim Team) winning by just 0.06 in a time of 1:57.94 to Cox's 1:58.00 with Elijah Winnington (Bond) third in 2:01.66.
The men's 100m freestyle saw another battle royal between Japanese team mates Katsuhiro Matsumoto who out-touched Katsumi Nakamura by 0.09 – 48.83 to 48.92 with Commonwealth record holder Cam McEvoy (Griffith University) third in 49.48 while in;
The Multi-Class events saw Timothy Hodge (Western Sydney University) take out the 50m freestyle in 26.38 and the 200IM in 2:21.39 with Nelson Bay's Taylor Corry winning the 50m freestyle for women in 28.83 and Paralympic golden girl Lakeisha Patterson the 200IM in 2:47.55.