16 September 2020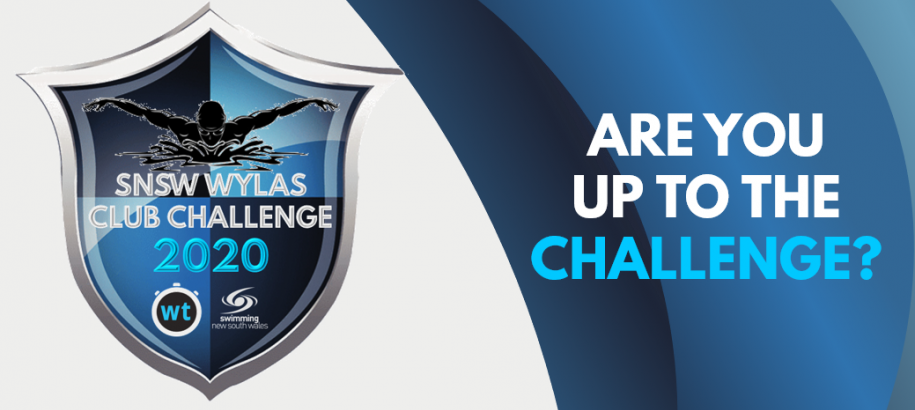 Swimming NSW is pleased to launch an exciting new club vs club virtual short course competition.
The 2020 SNSW Wylas Club Challenge will be an opportunity for swimmers of all ages and abilities to compete in a series of traditional and non-traditional events and earn points for their club over five rounds of competition. There will be no limits to the number of events a swimmer and/or club can enter and no additional commitment, with participants and coaches able to incorporate the challenge events into their regular training sessions.
The club with most points at the end of the Challenge will be crowned the 2020 Wylas Club Challenge Champion. But, it is not just club pride on the line. The winning club will also become the proud owner of a Wylas Timing System and annual licence worth $5,500.
Swimming NSW Coaching Director, Jon Shaw, said the competition was designed to integrate with established routines to make it as easy as possible for swimmers, coaches and clubs to participate.
"Swimmers and coaches can choose to use the program's events to add some variety to their training, while potentially earning themselves and their clubs some great prizes," Shaw said.  
"The emphasis here is on fun. However, having said that, I know how competitive our swimmers and coaches can be. It hasn't been the most joyous of years for our swimmers and clubs. Hopefully this competition will give us all something to get excited about and help to unite our sport as we prepare for the coming summer season."
Wylas Timing CEO & Founder, William Ferguson, added that he was excited to partner with Swimming NSW on the inaugural competition and help support NSW's clubs.
"We are extremely excited to sponsor the SNSW Club Challenge and offer one of our Wylas Timing systems as the major prize. We look forward to equipping one lucky NSW club with a timing solution that is guaranteed to help them to run swim meets faster, retain volunteers and create stress-free meets," Ferguson said.
"It's also a great opportunity for us to continue our partnership with SNSW and support the clubs in their safe return to sport."
In addition to the major club prize, swimmers and coaches will also have the chance to bag some impressive individual prizes from additional Challenge sponsors, Speedo and Grill'd.
The challenge will begin next Monday, 21 September 2020 and conclude on Monday, 30 November 2020. Clubs that wish to take part must email their interest to Tim Donlan to receive their Team Manager shell where they will record their results. Clubs can enter the challenge at any time over the course of the competition and can enter as many or as few events as they wish.
"But, remember, the more rounds and events your swimmers take part in, the greater your chance of accumulating vital points and winning valuable prizes for your swimmers, coaches and club," Shaw concluded.
EVENT DETAILS
Competition rounds

Round 1: Monday, 21 September – Monday, 5 October 2020

Round 2: Monday, 5 October – Monday, 19 October 2020

Round 3: Monday, 19 October – Monday, 2 November 2020

Round 4: Monday, 2 November – Monday, 16 November 2020

Round 5: Monday, 16 November – Monday, 30 November 2020

Age groups

Female: 12yrs & Under, 13yrs/14yrs, 15yrs/16yrs and Open

Male: 13yrs & Under, 14yrs/15yrs, 16yrs/17yrs and Open

*Age as at 31/12/2020

Results

Results must be entered into Team Manager and sent to Swimming NSW by no later than 5 pm on the final day of each round. Late results will not be accepted. A running tally of points will be published on a 2020 SNSW Wylas Club Challenge Leaderboard at the end of each round.

Scoring and prizes

Points accumulated by individual swimmers, in each age group and gender, will count towards both their club and individual totals. Prizes will be awarded to leading swimmers and coaches at the completion of each round. A major prize will be awarded to the top club at the conclusion of the challenge, with other prizes to be given to the three (3) clubs, swimmers and coaches with the highest point scores at the conclusion of the Challenge.

Eligibility

Any registered swimmer with a Swimming NSW/ACT club may compete.
Full event details, including the competition program, rules, protocols, point scores, and entry and results information can be viewed here.