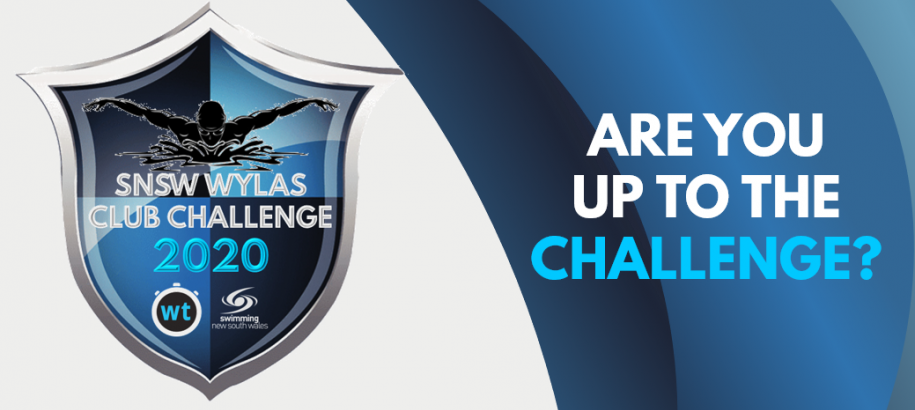 Date & Time
Mon, 21/09/2020 to Mon, 30/11/2020
Across Various Dates
Location
Hosted by Home Swimming Club
Event Details
The 2020 SNSW Wylas Club Challenge is a virtual Short Course Competition that will be run over 5 rounds during the months of September through to November.
At the completion of all 5 rounds, the club with the highest point score will be crowned the 2020 SNSW Wylas Club Challenge Champion and receive a Wylas Timing System worth $5,500. Swimmer and Coach prizes will also be awarded throughout the challenge.
Club Coaches or Officals must register their interest to participate with Tim Donlan, who will send you a Team Manager (TM) shell. Each round must be completed & results sent through to Tim Donlan using the TM file via email by the closing date. Late results will not be accepted. 
Please refer to the Program of Events & Information Handbook found below.
 Program of Events & Protocols

Dates

21 September
thru
30th November

Location

Hosted at 
Home Club

Information Handbook

Request TM or MM
File for Entries
Click Here
Got Questions?

Email Tim

Using Meet Manager 
for Results

Using Team Manager
for Results

 
| | | |
| --- | --- | --- |
| Rnd  | Opening Date  | Closing Date |
| 1 | Monday 21st September | Monday 5th October |
| 2 | Monday 5th October | Monday 19th October |
| 3 | Monday 19th October | Monday 2nd November |
| 4 | Monday 2nd November | Monday 16th November |
| 5 | Monday 16th November | Monday 30th November |
SNSW Wylas Club Challenge Information
Points will be allocated to individual events and relay events.

Only the Top 3 athletes per club/age band/event will score points:

Individual Points

Place

Points

Place

Points

1

35

11

14

2

32

12

12

3

30

13

10

4

28

14

8

5

26

15

6

6

24

16

5

7

22

17

4

8

20

18

3

9

18

19

2

10

16

20

1

Relays

Only the Top 2 teams per club/age band/event will score points:

Relay Points

Place

Points

Place

Points

1

40

9

16

2

37

10

13

3

34

11

10

4

31

12

8

5

28

13

6

6

25

14

4

7

22

15

2

8

19

 

 

The SNSW Wylas Club Challenge event program can be found in the Event Details above.

It is up to each individual swimmer and/or coach to decide which events they would like to enter. Swimmers may enter any event and may register a time at any point within the round timeframe. Events do not have to be swum in age groups. All ages may race together and SNSW will break up swimmers into their respective age brackets during the collation of results.

There is no obligation for participating clubs to have swimmers compete in all events. Any registered swimmer with a Swimming NSW/ACT club may compete.

To enter the Challenge, clubs are to register their interest with Tim Donlan via email (tim.donlan@nsw.swimming.org.au), then the club contact will be sent a Team Manager shell. All results are to be entered into the Team Manger file and submitted to Tim via email after each round. Results will be collated and ranked by SNSW.

There are a number of non-traditional events in this challenge, it is important to follow the Event Program (Appendix A) and Event Protocols (Appendix B) when entering results into the Team Manager file. These can be found in the Event Details above.

If you have any questions about this or need assistance, please contact Tim Donlan:

Phone: 02 8047 8510

Timing may be completed by any NSW Swimming registered official or ASCTA registered coach via electronic timing or a handheld stopwatch. It is important in the interest of fair play that times be recorded accurately and honestly. If a time submitted is deemed to be inaccurate, it will be at the discretion of SNSW to not accept the time.

Please note:

times MUST be in recorded to one hundredth of a second (to 2 decimal places), in the following format: mm:ss.00 e.g. 100m times: 01:09.68; 50m times: 00:31.26
Results are not official and should be completed short course

At the completion of each round a SNSW Wylas Club Challenge Leader Board will be published on the SNSW website and Social Media platforms.

Throughout the Club Challenge points achieved by each swimmer and relay team will be allocated to the Club Challenge Pointscore. At the completion of the Club Challenge, the club with the highest point score will be crowned the 2020 SNSW Wylas Club Challenge Champion! Prizes will be awarded to the top 3 clubs, with the winning club receiving a Wylas Timing System worth $5,500.

Coach recognition will be given to leading coaches in each age band using the Club Challenge Pointscore. Coach prizes will be sponsored by Speedo and Grill'd and awarded at the end of each round. At the completion of the challenge, awards won will be sent to the Club who will distribute to the successful coach/s.

Individual coach winners are only eligible to win one overall prize. 

Individual swimmer recognition will be given to top ranked swimmers in each age band using the Challenge Pointscore. Swimmer Awards sponsored by Speedo and Grill'd will be presented at the end of each round, as well as at the completion of the overall Challenge.

 

 

 

Please refer to Appendix B found in the Information Handbook above.

Is your club registered? Check out the list below to find out. Don't see your club on the list? Let them know you want to be involved and encourage them to register.

Canberra Amateur Swimming Club
Castle Hill RSL Dolphins
Ginninderra Swim Club
Kincumber Pacific Dolphins
Kinross Wolaroi
Knox Pymble
Liverpool
Loreto Normanhurst
Macarthur Triton Swim Club
Manly Swim Club
Menai Swim Club
Mingara Aquatic
Narrabeen Swim Club
Novocastrian Swim Club
Randwick City Swim Club
Revesby Workers Swim Club
Ryde Carlile
Swimming Gunnedah
Trinity Grammar School
Trinity Lismore
Warringah Aquatic Swim Club
RESULTS
(as at the completion of Round 5, updated 3 December 2020)

| Ranking | Swim club | Points |
| --- | --- | --- |
| 1 | Warringah Aquatic SC | 11417 |
| 2 | Trinity Grammar School SC | 8523.5 |
| 3 | Manly SC | 7804 |
| 4 | Castle Hill RSL Dolphins SC | 7215 |
| 5 | Kincumber Pacific Dolphins SC | 5520.5 |
| 6 | Novocastrian SC | 5208.5 |
| 7 | Canberra ASC | 5129 |
| 8 | Liverpool SC | 4260 |
| 9 | Loreto Normanhurst SC | 2842.5 |
| 10 | Narrabeen SC | 1699 |
| 11 | Ginninderra SC | 861 |
| 12 | Knox Pymble SC | 597 |
| 13 | Swimming Gunnedah | 252.5 |
| 14 | Kinross Wolaroi SC | 178 |
| 15 | Macarthur Triton SC | 145 |
| 16 | Menai SC | 21 |
| 17 | Mingara Aquatic SC | 4 |

Click here to see the full leaderboard and progressive club totals.

FEMALE

Progressive individual pointscore totals (as at the completion of Round 4, updated 24 November 2020).

12 YRS & UNDER

| Name | Swim Club | Points |
| --- | --- | --- |
| Lawrence, Milla | Warringah Aquatic | 511 |
| Grant, Stephanie | Liverpool Swimming Club | 406 |
| Gerstner, Ivy | Liverpool Swimming Club | 392 |
| Gonzalo, Felisa | Manly Swimming Club | 329 |
| Mcpherson, Lillie | Manly Swimming Club | 282 |
| Elliott M, Mia | Kincumber Pacific Dolphins | 252 |
| Beuzeville, Macy | Warringah Aquatic | 306 |
| Holmes, Tara | Canberra Amateur Swimming Club | 248.5 |
| Markulin, Taylah | Kincumber Pacific Dolphins | 239 |
| Mclaren, Gemma | Warringah Aquatic | 217 |
| Cuthbert, Elisha | Warringah Aquatic | 206 |
| Kito, Skye | Narrabeen Swimming Club | 187 |
| Allsop, Riley | Warringah Aquatic | 175 |
| Bryant, Kayla | Canberra Amateur Swimming Club | 146 |
| Clayton, Sarah | Castle Hill RSL Dolphins | 142 |
| Grabe, Denise | Macarthur Tritons Swim Club | 142 |
| Andrews, Suzanna | Castle Hill RSL Dolphins | 132 |
| Gonzalo, Rebecca | Manly Swimming Club | 121 |
| Walton, Violet | Narrabeen Swimming Club | 106.5 |
| Bridley, Claire | Canberra Amateur Swimming Club | 94 |

13-14 YRS

| Name | Swim Club | Points |
| --- | --- | --- |
| Melbourn, Dominique | Warringah Aquatic | 523 |
| Fowler, Annika | Manly Swimming Club | 520 |
| Bisello, Sofia | Trinity Grammar | 401 |
| Morton, Hannah | Warringah Aquatic | 392 |
| Kralka, Dominika | Kincumber Pacific Dolphins | 378 |
| Davis, Madeline | Warringah Aquatic | 343 |
| Christian-Milne, Georgia | Novocastrian | 332 |
| Spalding, Bree | Kincumber Pacific Dolphins | 283 |
| Jiang, Sarah | Trinity Grammar | 262 |
| Cochrane, Julia | Castle Hill RSL Dolphins | 241 |
| Kasprowicz, Zara | Warringah Aquatic | 241 |
| Lay, Keely | Liverpool | 215 |
| Reuter, Laena | Loreto Normanhurst | 209 |
| Macintyre, Sophie | Manly Swimming Club | 159 |
| Montgomery, Jessica | Manly Swimming Club | 153 |
| Collins, Charlie-Rose | Castle Hill RSL Dolphins | 144 |
| Kim, Julia | Loreto Normanhurst | 141 |
| Lush, Amelia | Swimming Gunnedah | 87 |
| Duggan, Emma | Kincumber Pacific Dolphins | 86 |
| Stephen, Cordelia | Loreto Normanhurst | 82 |

 15-16 YRS

| Name | Swim Club | Points |
| --- | --- | --- |
| Hardy, Madeleine | Trinity Grammar | 655 |
| Grant, Bella | Liverpool Swimming Club | 610 |
| Hotham, Natalie | Kincumber Pacific Dolphins | 548 |
| Piva, Lucy | Canberra Amateur Swimming Club | 511 |
| Lawrence, Alexandra | Loreto Normanhurst | 385 |
| Dobbins, Emily | Novocastrian | 378 |
| Cracknell, Mia | Kincumber Pacific Dolphins | 364 |
| Adams, Harper | Castle Hill RSL Dolphins | 263 |
| Furlong, Kya | Manly Swimming Club | 250 |
| Fuccenecco, Veronica | Castle Hill RSL Dolphins | 231 |
| Stephenson, Rosalie | Canberra Amateur Swimming Club | 206 |
| Baker, Olivia | Canberra Amateur Swimming Club | 188 |
| Doyle, Kimberley | Warringah Aquatic | 164 |
| Ruff, Christine | Warringah Aquatic | 160 |
| Allsop, Talia | Warringah Aquatic | 136 |
| Bootes, Eliana | Kincumber Pacific Dolphins | 130 |
| Cusack, Jemima | Loreto Normanhurst | 129 |
| Doyle, Katelynn | Warringah Aquatic | 124 |
| Ingrey, Zoe | Novocastrian | 104 |
| Craig, Mia | Castle Hill RSL Dolphins | 84 |

 17 YRS & OVER

| Name | Swim Club | Points |
| --- | --- | --- |
| Brown, Charli | Manly Swimming Club | 672 |
| Vance, Lily | Warringah Aquatic | 364 |
| Rees, Alexandra | Novocastrian | 359 |
| Revell, Alexandra | Canberra Amateur Swimming Club | 358 |
| Bruzzese, Sophia | Trinity Grammar | 324 |
| Richardson, Ellie | Kincumber Pacific Dolphins | 298 |
| McDougall, Alexandra | Trinity Grammar | 285 |
| Boll, Laura | Loreto Normanhurst | 274 |
| Scott, Naomi | Warringah Aquatic | 243 |
| Pich, Emily | Trinity Grammar | 243 |
| Wilson, Lauren | Manly Swimming Club | 214 |
| Charlton, Olivia | Castle Hill RSL Dolphins | 203 |
| Craig, Elise | Castle Hill RSL Dolphins | 20 |
| Tietie, Talijah | Castle Hill RSL Dolphins | 188 |
| Doyle, Emily | Warringah Aquatic | 186 |
| Henry, Sarah | Loreto Normanhurst | 186 |
| Clark, Cassie | Warringah Aquatic | 183 |
| Teague, Jazmyn | Novocastrian | 180 |
| Rozic, Emily | Castle Hill RSL Dolphins | 137 |
| Ogilvie, Tarah | Manly Swimming Club | 124 |

MALE

Progressive individual pointscore totals (as at the completion of Round 4, updated 24 November 2020).

13 YRS & UNDER

| Name | Swim Club | Points |
| --- | --- | --- |
| Harris, Matthew | Warringah Aquatic | 696 |
| Higgs, Samuel | Warringah Aquatic | 607 |
| Doig, Grayson | Trinity Grammar | 494 |
| Jovanovic, Anton | Liverpool | 467 |
| Shepherd, Sam | Castle Hill RSL Dolphins | 408 |
| Nam, Jonathan | Trinity Grammar | 407 |
| Smith, Lachlan | Castle Hill RSL Dolphins | 331 |
| Gawn, Cameron | Novocastrian | 275 |
| Kolar, Mateja | Liverpool | 262 |
| Edwards, Kane | Novocastrian | 230 |
| Clegg, Albert | Kincumber Pacific Dolphins | 217 |
| Irwin, Dylan | Castle Hill RSL Dolphins | 203 |
| Trethan, Tyler | Novocastrian | 178 |
| Vo, Leopold | Trinity Grammar | 178 |
| Higgs, Luke | Warringah Aquatic | 136 |
| Cane, Ned | Castle Hill RSL Dolphins | 126 |
| Graham, Elliott | Novocastrian | 125 |
| McGregor, Hayden | Kincumber Pacific Dolphins | 125 |
| Birrell, Ryan | Canberra Amateur Swimming Club | 111 |
| Bryant, Brady | Canberra Amateur Swimming Club | 111 |

 14-15 YRS

| Name | Swim Club | Points |
| --- | --- | --- |
| Rothwell, Harrison | Manly Swimming Club | 517 |
| Mclellan, Hamish | Warringah Aquatic | 503 |
| Rood, Armand | Canberra Amateur Swimming Club | 481 |
| Smith, Alexander | Warringah Aquatic | 449.5 |
| Foreman, Alexander | Kincumber Pacific Dolphins | 424 |
| Yago, Caleb | Castle Hill RSL Dolphins | 367 |
| Truong, Dylan | Liverpool Swimming Club | 356 |
| Guthrie, Thomas | Canberra Amateur Swimming Club | 341.5 |
| Cox, Callum | Castle Hill RSL Dolphins | 338 |
| Twine, Cooper | Trinity Grammar | 300 |
| Hall, Koby | Novocastrian | 247.5 |
| Melbourn, Lee | Warringah Aquatic | 186 |
| Nguyen, Zachariah | Trinity Grammar | 157 |
| Harkins, Jordan | Loreto Normanhurst | 151 |
| Hemsworth, Owen | Canberra Amateur Swimming Club | 145 |
| Maggs, Conner | Manly Swimming Club | 133 |
| Codd, Emmerson | Castle Hill RSL Dolphins | 120 |
| Hall, Kalaa | Ginninderra | 119 |
| Thai, Owen | Liverpool Swimming Club | 104 |
| Kerr, Joshua | Manly Swimming Club | 98 |

 16-17 YRS

| Name | Swim Club | Points |
| --- | --- | --- |
| Dryer, Caleb | Trinity Grammar | 573.5 |
| Yeou, Jason | Trinity Grammar | 565 |
| Mcloughlin, Daniel | Kincumber Pacific Dolphins | 538.5 |
| Fenwick-Kearns, Callyn | Manly Swimming Club | 479 |
| Filby, Liam | Trinity Grammar | 402 |
| Reed, Joshua | Novocastrian | 388 |
| King, Banjo | Canberra Amateur Swimming Club | 313 |
| Kirpson-Colley, Kolya | Canberra Amateur Swimming Club | 276 |
| Winn, Kyan | Manly Swimming Club | 274 |
| Savery, Kieran | Canberra Amateur Swimming Club | 231 |
| Boll, Marius | Loreto Normanhurst | 227.5 |
| Crews, Isaac | Warringah Aquatic | 209 |
| Morris, Mitchell | Manly Swimming Club | 189 |
| Wilczak, Gabriel | Trinity Grammar | 154 |
| Duggan, Lachlan | Kincumber Pacific Dolphins | 127 |
| Scott, Erik | Manly Swimming Club | 122 |
| Hawley, Jack | Canberra Amateur Swimming Club | 116 |
| Koh, Andrew | Castle Hill RSL Dolphins | 113 |
| Robertson, Matthew | Trinity Grammar | 112 |
| Thomas, Callum | Loreto Normanhurst | 106 |

 18 YRS & OVER

| Name | Swim Club | Points |
| --- | --- | --- |
| Hansen, Ryan | Trinity Grammar | 666 |
| Smith, Joshua | Warringah Aquatic | 521 |
| Mackay, Lachlan | Novocastrian | 456 |
| Godbille, Nicolas | Castle Hill RSL Dolphins | 434 |
| Yii, Ryan | Warringah Aquatic | 411 |
| Meacham, Jordan | Manly Swimming Club | 410 |
| Ng, Matthew | Trinity Grammar | 356 |
| Paradzik, Alan | Trinity Grammar | 350 |
| Shea, Joshua | Manly Swimming Club | 344 |
| Mullen, Kieren | Castle Hill RSL Dolphins | 333 |
| De Bono, Brian | Manly Swimming Club | 302 |
| Mackie, Jake | Novocastrian | 251 |
| Van Kool, Kai | Manly Swimming Club | 219 |
| Robertson, Jack | Castle Hill RSL Dolphins | 216 |
| Revell, Lachlan | Canberra Amateur Swimming Club | 161 |
| Vane-Tempest, Lachlan | Warringah Aquatic | 158 |
| Van Dyke, Caleb | Novocastrian | 142 |
| Signorini, Oliver | Manly Swimming Club | 130 |
| Charlton, Jack | Castle Hill RSL Dolphins | 120 |
| Kaye, Logan | Manly Swimming Club | 112 |
| Yii, Aden | Warringah Aquatic | 95 |