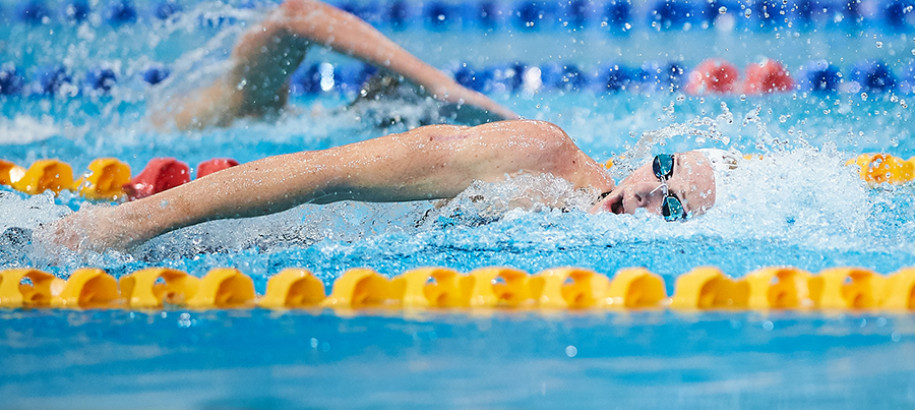 SNSW Performance Hubs are high-performance training environments, led by nationally and internationally recognised swim coaches and established to help talented athletes from across NSW develop to the highest levels of the sport. Based in three locations across NSW/ACT, the Hubs are a joint strategic initiative of Swimming NSW, the NSW Institute of Sport and Swimming Australia, and a key part of Swimming NSW's performance pathway.
The Hubs are designed to help NSW retain its proud tradition of producing podium and world record-breaking performances at Olympic, Paralympic and world championship competition, and being the greatest contributor to Australia's success in the pool over many decades.
For SNSW Performance Hub enquiries click on here.
ACT Performance Hub - AIS, Canberra
Through a four-way partnership between, Swimming NSW, Swimming ACT, Swimming Australia and the ACT Academy of Sport, the ACT Performance Hub will provide a transition High Performance program for swimmers to develop from talented Age Group Swimmers to the National Team.

The key components of the ACT Performance Hub will include:

Lane Space
Sports Science and Sports Medicine Support (SSSM)
High-Performance Coach

The ACT Performance Hub will provide a high-performance training environment based at the Australian Institute of Sport for identified athletes transitioning from age group to open level competition, and athletes with potential for National Team selection. This service is extended to athletes residing in the ACT and regional NSW. Athletes accepted into the Program will retain their 'home club' identity.

Shannon Rollason

The ACT Performance Hub is headed by internationally acclaimed coach, Shannon Rollason. Shannon brings with him a wealth of expertise, experience and proven performance success. During Shannon's successful career to date, he has placed 38 swimmers on National Teams with 6 swimmers achieving World Record Performances, including Jodie Henry (AUS) in the 100m Freestyle and Rikke Molle Pedersen (DEN) in the 200 Breaststroke. Some of Shannon's achievements to date include:

4-time Olympic Coach: 2004 (AUS), 2008 (AUS), 2012 (AUS), and 2016 (DEN)
Coached swimmers to 23 Gold, 17 Silver and 15 Bronze medals at Olympic and World Championships across all 4 strokes
9-time World Championships Team Coach
4-time Australian Coach of the Year: 1999, 2001, 2002 and 2004
Head Coach Australia Institute of Sport
Head Coach National Training Centre, Denmark
Elite Performance Swim Coach, University of Edinburgh

Eligibility to train at the ACT Performance Hub may be defined, but not limited by, the below criteria:

National Age and Open Finalists
16 years and over* (including university-aged students): This program is open to ACT and regional NSW athletes that have transitioned, or are transitioning, from age group swimming to open swimming. Consideration is also offered to those who reside outside the ACT and regional NSW.
*Swimmers outside of this age bracket may be considered on a case by case basis.
Collaboration with the athlete's home coach: To be accepted into the ACT Performance Hub program, consultation and collaboration with the athlete's home coach and the ACT Performance Hub Head Coach is essential.
Recommendations from the SNSW State Head Coach: The NSW State Head Coach may, from time-to-time, have conversations with home coaches to create opportunities for their athletes to move into the ACT Performance Hub program.
Hub Coach Discretion: Final athlete acceptance into the ACT Performance Hub program is ultimately approved by the Head Coach in consultation with the NSW State Head Coach. Athletes must be able to recognise and acknowledge the key identified areas for development and must be willing to commit to addressing them in a daily performance environment.
Training Agreement: For anyone training at the Hub, a training agreement must be entered into that outlines the program, as well as the conditions in which athletes train at the AIS facility. A monthly training fee is payable to the program. 100% of income derived from training fees are returned by way of program activities, as outlined by the Hub Head Coach.

For more information relating to the ACT Performance Hub, please contact:
NSW Olympic Park Hub - Sydney Olympic Park, Western Sydney
Through a three-way partnership between Swimming Australia, the NSW Institute of Sport and Swimming NSW, the Olympic Park Performance Hub is an innovative and dynamic performance environment for athletes, coaches and performance staff.

The Hub enhances and supports the club-based daily performance environment for nationally identified athletes and targeted local talent.

Swimming NSW talent camps will utilise the Olympic Park Performance Hub in camps and development opportunities.

The aim of the Olympic Park Performance Hub is to provide a high-performance coaching environment for athletes residing across the Sydney metropolitan area. Athletes accepted into the program will retain their 'home club' identity with the goal of optimising performances nationally and internationally.

Adam Kable

Having coached high-performance athletes since 2011, Adam Kable leads the Olympic Park Performance Hub's coaching team. He is a four-time consecutive winner of the NSW Swimming Coach of the Year award and has guided athletes onto each and every Australian swimming team, including the Olympic Games, World Championships, Pan Pacific Championships, Commonwealth Games, World Cup events, and more. In 2019 alone, the NSWIS coach guided one athlete to a world-record performance and a world championship gold and silver medal. Adam holds a Degree in Physiotherapy and a Masters of Coaching.

Recent coaching appointments include:

2019 World Championships Australian Team Coach
2018 Pan Pacs Australian Team Coach
2018 Commonwealth Games Australian Team Coach
2017 World Championships Australian Team Coach
2016 Junior Pan Pacific Championships Australian Team Coach
2015 World Junior Championships Australian Team Coach
2015 Australian Rio Protocol Camp Coach
2014 FINA Youth Program Mentor Coach
2014 Lead Coach Australian National Talent ID Squad
2013 Australian Youth Olympic Festival Australian Team Coach

Eligibility to train at the NSW Olympic Park Hub may be defined, but not limited by, the below criteria:

Swimming Australia Categorised Athletes or Athletes that have achieved the following criteria:

A performance equal to, or faster than, top 8 plus 3% of the 2019 Swimming Australia benchmark time for i) female athletes 20 years and above, or ii) male athletes 21 years and above.
A performance equal to, or faster than, top 8 plus 5% of the 2019 Swimming Australia benchmark time for i) female athletes 19 years and under, or ii) male athletes 20 years and under.

Transitioning age group swimmers: This program is open to athletes that have transitioned, or are transitioning, from age group swimming to open swimming.
Collaboration with the athlete's home coach: To be accepted into the Olympic Park Performance Hub program, consultation and collaboration with the athlete's home coach and the Olympic Park Performance Hub Head Coach is essential.
Recommendations from the NSW Technical Lead: The NSW Technical Lead may, from time-to-time, have conversations with home coaches to create opportunities for their athletes to move into the Olympic Park Performance Hub program.
Hub Coach Discretion: Final athlete acceptance into the Olympic Park Performance Hub program is ultimately approved by the Head Coach, in consultation with the NSW Technical Lead, NSWIS High-Performance Manager & SNSW CEO. Athletes must be able to recognise and acknowledge the key identified areas for development and must be willing to commit to addressing them in a Daily Performance Environment (DPE).
Training Agreement: For anyone training at the Hub, a Training Agreement, and Medical and Musculoskeletal screening will need to be completed prior to accessing the Olympic Park Performance Hub training facility. Training Agreements will be reviewed biannually, aligned with the NSWIS Swimming Program Period.

For more information relating to the Olympic Park Performance Hub please contact:
Northern Metro Performance Hub - Knox Pymble, North Sydney
The Northern Metropolitan Hub is a partnership between Swimming NSW, the NSW Institute of Sport (NSWIS), Swimming Australia, Pymble Ladies' College and Knox Grammar School.

In alignment with Swimming NSW' and NSWIS' key objectives to build pathways and create sustainable high-performance programs in NSW, the hub will help foster the development of talented swimmers in Sydney's north. It will do so by utilising the facilities of Pymble Ladies' College and Knox Grammar, which boasts one of the strongest age-group swimming clubs in the state.

The aim of the Northern Metro Performance Hub is to provide a high-performance coaching environment for athletes based in Sydney's northern suburbs who have completed high school. Athletes accepted into the program will operate under the Knox Pymble Swimming Club.

Simon Cusack

Son of a Mexican Olympic medallist swimmer Robert Cusack and great-nephew to Olympic gold medallist Arthur Cusack, Simon Cusack is the Northern Metro Performance Hub's Head Coach.

A Carpenter by trade, Simon's coaching career started in 1999 when he accepted an assistant coach role at Indooroopilly Swimming Club in Brisbane. His understanding of high performance, technique and speed development saw him progress rapidly through Australia's coaching ranks and he is now recognised as one of the most experienced high-performance swimming coaches in Australia, and is highly regarded across the international swimming community.

Coaching achievements:

Member of the Australian Swimming team for over 10 years
Coached swimmers to five world records, eight Olympic medals and 27 world championship medals.
Three-time Australian Swimming Coach of the Year: 2013, 2014 and 2018

Eligibility to train at the Northern Metro Performance Hub may be defined but not limited by the below criteria:

Swimming Australia Categorised Athletes or Athletes that have achieved the following criteria:

A performance equal to, or faster than, top 8 plus 3% of the 2019 Swimming Australia benchmark time for i) female athletes 20 years and above, or ii) male athletes 21 years and above.
A performance equal to, or faster than, top 8 plus 5% of the 2019 Swimming Australia benchmark time for i) female athletes 19 years and under, or ii) male athletes 20 years and under.

Athletes 18 years and over* (including university-aged students): This program is open to Northern Sydney metropolitan athletes that have transitioned, or are transitioning, from age group swimming to open swimming.
*Swimmers outside of this age bracket may be considered on a case by case basis.
Collaboration with the athlete's home coach: To be accepted into the Northern Metro Performance Hub program, consultation and collaboration with the athlete's home coach and the Hub Head Coach is essential.
Recommendations from the NSW Technical Lead: The NSW Technical Lead may, from time-to-time, have conversations with home coaches to create opportunities for their athletes to move into the Northern Metro Performance Hub program.
Hub Coach Discretion: Final athlete acceptance into the Northern Metro Performance Hub program is ultimately approved by the Head Coach, in consultation with the NSW Technical Lead, NSWIS High-Performance Manager, SNSW CEO, and Knox & Pymble Sport Directors. Athletes must be able to recognise and acknowledge the key identified areas for development and must be willing to commit to addressing them in a Daily Performance Environment (DPE).
Training Agreement: For anyone training at the Hub, a Training Agreement, and Medical and Musculoskeletal screening will need to be completed prior to accessing the Northern Metro Performance Hub training facility. Training Agreements will be reviewed biannually, aligned with the NSWIS Swimming Program Period.

For more information relating to the Northern Metro Performance Hub please contact: