08 July 2020
It's fun. It's fast. It's furious. It's BACK!
After delaying the original season due to COVID-19, Swimming NSW is pleased to announce a new competition schedule for Swim League 2020.
In total, 10 gala days across Sydney, regional NSW and ACT have been scheduled for the modified season, providing plenty of options to get swimmers back to racing in a fun setting.
The thrilling 60-minute competition format offers an entertaining team-based alternative to traditional swim meets that is shorter, less structured, and gives swimmers of all ages and abilities the opportunity to develop their aquatic skills in a fun, fast and furious sporting environment.
With no QTs, no technical officials, no pressure, Swim League is the ideal re-introduction to competitive swimming and the perfect opportunity for young swimmers to get their feet back on the blocks. If you love to swim, love to compete and enjoy being part of a team (while having a bucketload of fun, of course), then this is the competition for you!
What's new?
Gala days will now be held in Metro South, Metro North and Coast and Valley, replacing the Series Leagues that were originally scheduled for these regions. There are new dates and additional venues for gala days in Southern and Northern NSW. A regional winner will be crowned at each gala day.
Swimmers who purchased an original Swim League registration will be able to transfer their registration to one or more of the new dates. Swimmers can enter any gala day, and as many gala days as they choose. And, they do not need to be a member of a club from that area. The cost for each gala day is $35.
There will be Junior (9-12 years) and Senior divisions (13 years +) for each gala day event, as well as divisions that cater for all swimming abilities.
New competition schedule
Metro South Gala Day

22-23 August 2020

Ignite Health and Fitness
101 Meadows Road
Mount Pritchard, NSW, 2170

Wagga Wagga Gala Day

29 August 2020

Oasis Aquatic Centre
50 Morgan Street
Wagga Wagga, NSW, 2650

Forster Gala Day

5 September 2020

Great Lakes Aquatic and Leisure Centre
Lake Street
Forster, NSW, 2428

Bathurst Gala Day

12 September 2020

Manning Aquatic Centre
9 Elizabeth Street
Bathurst, NSW, 2795

Gunnedah Gala Day

13 September 2020

Gunnedah Memorial Swimming Pool
Anzac Parade
Gunnedah, NSW, 2380

Coast and Valley Gala Day

19-20 September 2020

Coughlans Swim Centre
318 Hillsborough Road
Warners Bay, NSW, 2282

Metro North Gala Day

26-27 September 2020

Warringah Aquatic Centre
1 Aquatic Drive
Frenchs Forest, NSW, 2086

ACT Gala Day

11 October 2020

Venue TBC

Kiama Gala Day

17 October 2020

Kiama Leisure Centre
1 Havilah Place
Kiama, NSW, 2533

Lismore Gala Day

18 October 2020

Trinity Aquatic Centre (Trinity Catholic College)
1 Dawson Street
Lismore, NSW, 2480
Exact competition times will be confirmed once registrations, teams and the competition draw is finalised. Note: you will only be required to compete for 2.5 - 3.5 hrs.
Questions?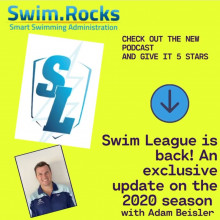 Swim League Director, Adam Beisler, covers all the important changes to the 2020 competition calendar, as well as the answers to many frequently asked questions in a Swim.Rocks podcast. Listen on Apple Podcasts or Stitcher for Android. You can also listen on Spotify.
If you have any further questions or would like to discuss your options, get in touch with us.
Spots in the gala days are limited and will sell out. Don't delay. Join the revolution!
Please note: If you purchased an original 2020 Swim League registration, it will still be valid for any of the new gala day events. All currently registered participants will receive an email with more information about their purchase as well as relevant refund/credit information (if required).