04 September 2019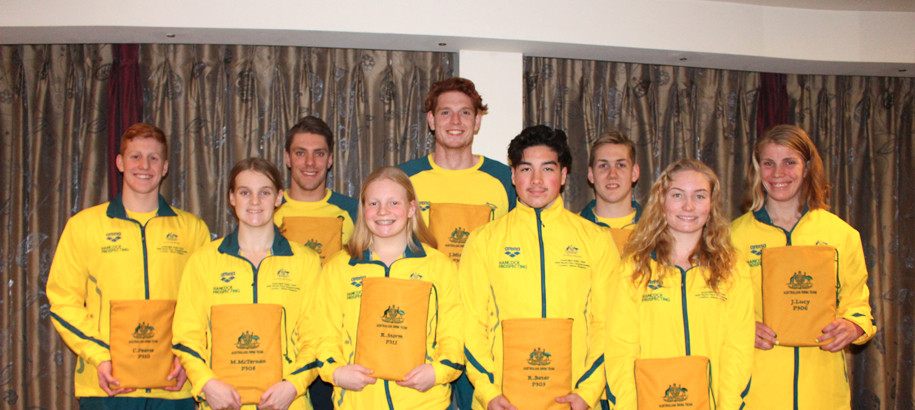 The green and gold was shining bright in Manchester on Wednesday night, as nine new members of the Australian swim team were warmly welcomed into the Dolphins family ahead of next week's World Para Swimming Championships.
In what is always a special and treasured evening on the swimming calendar, the rookies – Ruby Storm, Col Pearse, Madeleine McTernan, Jake Michel, Jack Ireland, Ricky Betar, Jade Lucy, William Martin and Ella Jones – received the coveted gold caps they'll don during the competition which kicks off in London on Monday 9 September.
Our newest kids on the blocks were also bestowed a brown leather compendium and their official swimmer pin, while their fellow Dolphins teammates also received their gold caps for the champs.
With an excited and enthusiastic glint in his eye, Melbourne debutant Pearse said this was a huge achievement in his career and can't wait to represent Australia for the first time on the international stage.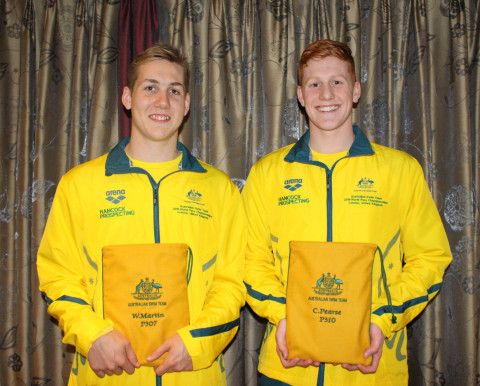 "It feels like a dream come true," he said moments after receiving his very first gold cap.
"It's been a lifelong goal for me and feels amazing to finally have that green and gold, and to have the cap on when I'm on the blocks will be really cool."
"Right now, it feels like I've been accepted into a big family, so it's just awesome being able to spend time with the rookies as well as the experienced members of the team."
Fellow rookie William Martin, who will compete in the S10 50m free, 100m free and 100m butterfly, reiterated Pearse's sentiments.
"It's feels amazing, it's so great to be on the team."
Leading the presentations on the night were Dolphin leaders and Paralympians Ellie Cole, Monique Murphy and Blake Cochrane, as well as the GM of the Paralympic program Adam Pine, and Para Head Coach Brendan Burkett – who are also both Dolphins.
"Being able to get it from former Dolphins and Paralympians like Adam Pine and Ellie Cole is pretty amazing," Pearse added.
The Dolphins swim team will spend one more night in Manchester as part of their seven-day staging camp, before making the trip to London for the start of the competition.
To stay up to date with all the latest news from the World Para Swimming Championships, connect to the Dolphins' social media channels – Facebook, Twitter and Instagram.
Top image from left to right: Col Pearse, Madeleine McTernan, Jack Ireland, Ruby Storm, Jake Michel, Ricky Betar, William Martin, Ella Jones and Jade Lucy.