21 September 2022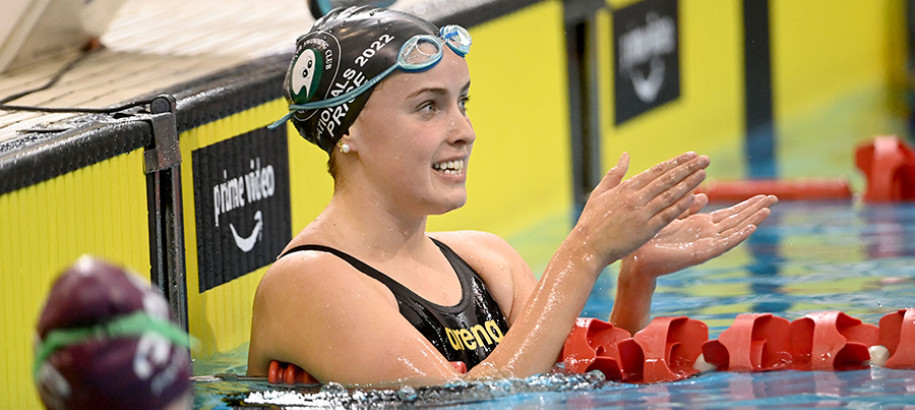 Para swimming's rising stars will call the Australian Institute of Sport (AIS) home from 25 September to 1 October, as they come together to take part in Swimming Australia's Para Swimming National Pathways Camp.
The Para Swimming National Pathways Camp incorporates the Para Swimming National Development Camp for emerging Para swimmers, as well as the inaugural Para Swimming Futures Camp (25-28 September).
NSW is well represented with ten athletes and five coaches from clubs across the state set to attend.
"The theme of the Para Pathway camp is 'Developing a Performance Mindset', so the activities are centred around introducing athletes to high performance environments, high performance behaviours, and what it means and what it takes to be a high-performance athlete," said Melissa Wilson, Paralympic Pathway Manager for Swimming Australia.
National Development Squad athletes McKinley Arnison (Alstonville), Riley Moore (Woy Woy), Chloe Osborn (AquaBlitz Toongabbie), Hannah Price (Campbelltown), and Yasmine Bella-Younes (Bankstown Sports) earned their spots on Swimming Australia's Para squad after scintillating performances at the 2022 Australian Swimming Championships and the 2022 Multi-Class Australian Age Swimming Championships in April. Athletes' performance potential was also a key selection indicator.
Swimmers will be in the pool 1-2 times per day at the Swimming Australia Hub at the AIS, completing a range of training and standardised Swimming Australia monitoring sets.
The camp schedule also includes a variety of practical development experiences that work to improve and protect athlete wellbeing, including
strength and conditioning at the AIS Gym
recovery in the AIS Recovery Centre
an Optimising Performance workshop with AIS and ACT Academy of Sport service providers
a psychology workshop with Swimming Australia psychologist James Carroll
Australian Dolphins Alex Saffy, recently retired, multiple Paralympian, Matt Levy, and Canberra Hub Coach Martin Roberts will feature as special guest presenters.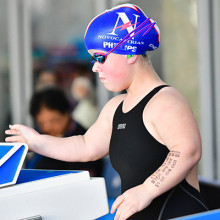 The Para Swimming Futures Camp from 25-28 September will include eight young Para swimmers aged 12-15 years – five of which are NSW athletes: Stella Flynn (Leichhardt), Matilda Mobbs (Nepean Aquatic), Lexie Phillips (Novocastrian), Emilee Pratt (Novocastrian) and Amelie Springett-Kelly (City of Sydney).
This camp aims to address identified talent gaps in the Para swimming performance pathway for LA 2028 and Brisbane 2032, and provides recognition and encouragement to Australia's top junior Multi Class athletes.
Five of NSW's Para swimming pathway coaches will also be on deck, with SLC Aquadot Head Coach Gavin Stewart taking the helm for the Para Pathways Camp. Coach development and peer-to-peer learning will be a priority for all eleven Australian coaches due to attend.
Swimming Australia National Development Squad - NSW athletes attending
| Athlete | Club | Coach |
| --- | --- | --- |
| McKinley Arnison | Alstonville | Graham Walker |
| Riley Moore | Woy Woy | Graeme Carroll |
| Chloe Osborn | AquaBlitz Toongabbie | Alyce Bradac |
| Hannah Price | Campbelltown | Justin McEvoy |
| Yasmine Bella-Younes | Bankstown Sports | Tony Sobkowski |
Swimming Australia Para Futures Camp - NSW athletes attending
| Athlete | Club | Coach |
| --- | --- | --- |
| Stella Flynn | Leichhardt | Angelo Basalo |
| Matilda Mobbs | Nepean Aquatic | Jackie Barck |
| Lexie Phillips | Novocastrian | Ben Fricker |
| Emilee Pratt | Novocastrian | Ben Fricker |
| Amelie Springett-Kelly | City of Sydney | Karen Swinburn |
Swimming Australia National Pathways Camps - NSW coaches attending
| Coach | Club | Camp Position |
| --- | --- | --- |
| Gavin Stewart | SLC Aquadot | Para Pathway Camp Head Coach |
| Jackie Barck | Nepean Aquatic | Para Futures Camp Lead Coach |
| Angelo Basalo | Leichhardt | Para Futures Camp Lead Coach |
| Alyce Bradac | AquaBlitz Toongabbie | Coach |
| Tony Sobkowski | Bankstown Sports | Coach |