04 August 2022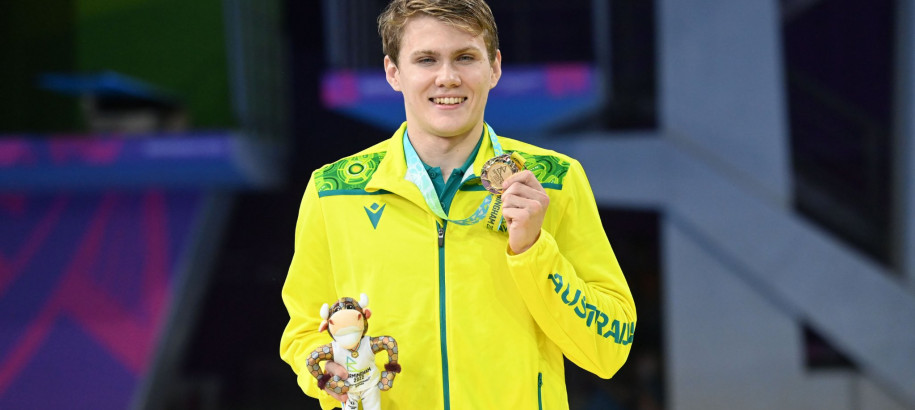 Thirteen NSW representatives have bolstered the Australian Commonwealth Games team this past week in Birmingham. Twelve NSW athletes, evenly matched across the able-bodied and Para teams, and Carlile SC Head Coach, Chris Nesbit, gained selection on to the star-studded Dolphins squad at Australian Trials in June from one of the most competitive fields we've seen to date.
The legacy of the Gold Coast Commonwealth Games was no doubt fresh in the minds of many of our Mighty Blues – from Games veterans like Ellie Cole and Matt Levy, to rookies Jade Lucy, Ella Jones, Oscar Stubbs and Abbey Connor. And for NSW athletes who didn't achieve full realisation of their Commonwealth Games dreams in 2018, the Birmingham Games were an opportunity for redemption.
Swimming events commenced on Friday 29 July at Sandwell Aquatic Centre. Mighty Blues Tim Hodge, Ellie Cole, Matt Wilson, Will Yang and Brad Woodward were the first to dip their toes in on day one.
The Birmingham campaign was a special one for legends of Para sport Ellie Cole and Matt Levy, who announced this would be their last splash in the Green and Gold before retirement.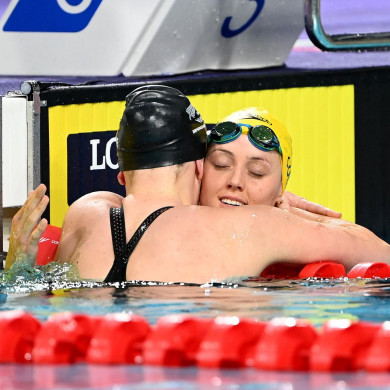 Australia's most decorated female Paralympian, and staunch advocate for people with a disability, Ellie Cole (Knox Pymble), marked the conclusion of her swimming career in the Women's 100m Freestyle S9, placing fifth in 1:04.21.
We also bid farewell to five-time Paralympian, Matt Levy (North Sydney), as he pulled on the Dolphins cap for a final splash and dash in the Men's 50m Freestyle S7. Levy first competed for Australia in 2003 and in that same year broke the Men's 200m Freestyle S7 SC World Record.  The reigning Commonwealth Games champion in the Men's 50m Freestyle S7, Levy closed off his career in style, winning a gold medal and maintaining his champion status.
Wollongong native Emma McKeon broke the record for the most Commonwealth Games medals ever won on Monday evening after a gold medal performance in the Mixed 4x100m Medley Relay took her lifetime Commonwealth Games medal tally to 19 (now 20 at the conclusion of the Games). McKeon got her start at Wests Illawarra Aquatic SC, part of the McKeon Swim School family, before moving to the Griffith University swimming program under coach Michael Bohl.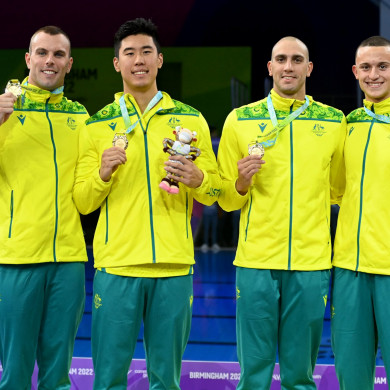 Will Yang's shift in focus from backstroke to freestyle under NSW Olympic Park Hub Head Coach Adam Kable has paid dividends. Yang (Loreto Normanhurst) achieved selection to his first Australian Teams in June, and now has a World Championships silver medal and two Commonwealth Games gold medals to add to his list of swimming accolades. Proving himself an absolute asset to the Australian relay contingent, Yang led Australia to relay gold in the first leg of the Mixed 4x100m Freestyle Relay on night one. He was also a critical part of the gold-medal winning men's 4x100m Freestyle relay, who set a new Games record of 3:11.12 on night two.
Central Coast local Brad Woodward (Mingara Aquatic) has had a solid campaign in Birmingham, demonstrating yet again, his value to the Australian Commonwealth Games team. He's come away from these Games with two silver (Men's 4x100m Medley Relay; Men's 200m Backstroke), and a bronze medal (Men's 100m Backstroke).
We witnessed one of Woodward's most exhilarating performances on day five, in his silver medal event, the Men's 200m Backstroke (1:56.41). The race came down to the very last, with gold medallist Bradie Williams (England) claiming the win just 0.01 second ahead of Woodward.
Off the back of his World Record-breaking performance at Para World Championships, ACU Blacktown competitor, Tim Hodge, kept the momentum going, winning the top spot on the podium and claiming a Games record in the Men's 100m Backstroke S9 (1:01.88). Hodge won the silver medal in the same event at the 2018 Commonwealth Games.
Hodge also brings home a silver medal in the Men's 100m Breaststroke SB8 (1:14.19), touching the wall just 0.07 behind gold medallist Joshua Willmer (New Zealand).
South Coast swimmer and Tokyo Paralympian Jasmine Greenwood charged to the wall to claim gold in the Women's 200m IM SM10. Greenwood has clearly been putting in the hard yards at her home club Bay & Basin, gliding to victory in Birmingham after narrowly missing out on a medal at the same event on the Gold Coast in 2018.
Mighty Blues butterfly powerhouse Abbey Connor (Revesby Workers) made her Commonwealth Games debut in the Women's 200m event on day five. The 17-year-old from Campsie put the world on notice after qualifying through to the final, and narrowly missing a spot on the podium just 0.04 behind bronze medallist and veteran Olympian Brianna Throssell in 2:08.36.
Notable Mighty Blues performances
Tokyo Olympians Matt Wilson (SOPAC) and Se-Bom Lee (Carlile) were among the Mighty Blues in Birmingham. Wilson delivered a superb swim in the Men's 200m Breaststroke final in 2:10.57, just missing out on the podium. Lee contested his Olympic event, the 400m IM, and added the 200m IM to his program, making both finals. He finished fifth in 4:16.68, and sixth in 1:59.86, respectively.
Rookie Para swimmers Oscar Stubbs (SOPAC), Ella Jones (Trinity Lismore) and Jade Lucy (SLC Aquadot) all made successful starts to their Comm Games programs:
Oscar Stubbs - Men's 50m Freestyle S13 Final – 24.90
Ella Jones – Women's 100m Backstroke S8 Final - 1:28.94
Jade Lucy – Women's 200m Freestyle S14 Final – 2:16.64
Photos: Delly Carr & Swimming Australia
Commonwealth Games Australian Team
Matthew Wilson (SOPAC SC)

William Yang (Loreto Normanhurst SC)

Se-Bom Lee (Carlile SC)

Bradley Woodward (Mingara Aquatic SC)

Abbey Connor (Revesby Workers SC)

Ellie Cole (Knox Pymble SC)

Jasmine Greenwood (Bay & Basin SC)

Ella Jones (Trinity Lismore SC )

Jade Lucy (SLC Aquadot SC)

Tim Hodge (ACU Blacktown SC)

Matt Levy (North Sydney SC)

Oscar Stubbs (SOPAC SC)

Coach Chris Nesbit (Carlile SC)