25 July 2022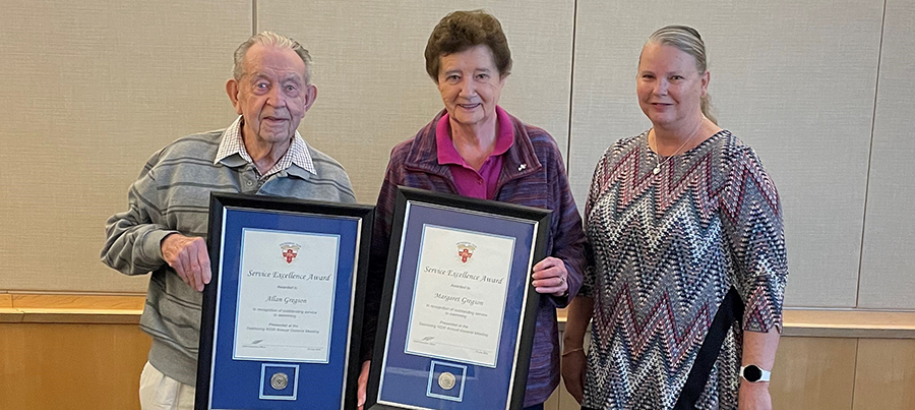 Five esteemed members of the Swimming NSW community were honoured with Service Excellence Awards at the Swimming NSW Annual General Meeting on 23 July. These awards recognize outstanding service to the sport of swimming by an individual member through their involvement with initiatives that forward the sport from the grassroots to state level.
Members are nominated for Service Excellence Awards by their peers and can only be awarded if the nominee has given at least ten years of outstanding service to the sport.
Congratulations to the 2022 Swimming NSW Service Excellence Award recipients:
Graeme Field (Ku-Ring-Gai SC)
Allan Gregson (Wenden SC)
Margaret Gregson (Wenden SC)
Bob McEvoy (Bay & Basin SC)
Gloria Wiegmann (Galston SC)
Award Recipients
Graeme Field (Ku-Ring-Gai SC)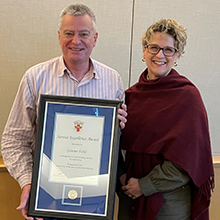 Life Member of Ku-Ring-Gai SC, Graeme Field has served on his Club Committee, and later his Area Committee, in some capacity for nearly 30 consecutive years. In 2010, when the Northern Suburbs District SA wound up, Graeme put up his hand to take on the role of President of the new Metro North East Area - a position he would hold for three years before moving to Vice President for the ensuing seven years.
At the age of 16, Graeme earned his first Technical Official credential, which started a journey that would lead him to achieving a Level 2 Referee accreditation, and Chairing the Swimming NSW Technical Swimming Committee (TSC) as part of an officiating career that has spanned 47 years. Graeme has worked at countless State and Area meets and still to this day makes time officiate at Club Nights.
Throughout his time on the TSC, Graeme has maintained a strong desire to encourage more people to be involved in officiating and therefore has been a strong advocate for removing barriers to participation in the sport for volunteers.
Swimming has always been a part of Graeme's life and his love of the sport is only matched by his dedication to see it thrive. Congratulations Graeme Field - 2022 Service Excellence Award recipient!
Allan Gregson & Margaret Gregson (Wenden SC)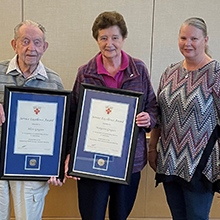 A few short paragraphs cannot do justice to the impact that Allan and Margaret Gregson have had on many children's lives for over 50 years.
Their involvement in swimming began before their children were born and continues up until this day. After one of their children was diagnosed with Cerebal Palsy at a young age, Allan and Margaret moved from the regional town where they lived to Sydney to provide more opportunities for their children.
As soon as they arrived in Sydney, they joined a local sporting association for children with disability and began volunteering to help out at that organisation. In 1986 another organisation was formed to offer Sport and Recreational opportunities to people of all ages with Cerebal Palsy, and Allan and Margaret quickly became involved there as well, holding Executive positions and helping with various activities over the years.
Over the last 30 years, nearly every Multi Class swimmer in NSW has been classified by Allan or Margaret at some point in time. A familiar fixture at all Swimming NSW Multi Class events, Allan and Margaret have attended almost every meet for over a decade, assisting with the running of the meets, talking to swimmers and parents, and conducting classifications.
They have also both been involved with School Swimming since the introduction of events for swimmers with a disability 30 years ago. They have travelled as Managers of the team to School Sport Australia and Pacific School Games for over 20 years.
Allan and Margaret have worked tirelessly over the countless years to break down barriers and create opportunities for swimmers with a disability and have helped numerous swimmers achieve their dreams of representing Australia at various World Championships, Commonwealth and Paralympic Games. Congratulations Allan and Margaret, esteemed recipients of the 2022 Service Excellence Award!
Bob McEvoy (Bay & Basin SC)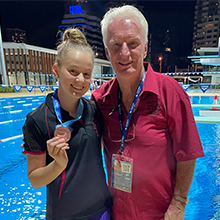 Gold medal winning swimmers at state and national championships coached by Bob McEvoy started to rule the top of the podium shortly after he began his career 1979. In 1992, one of the first swimmers he coached to national championships went on to represent Australia at the Barcelona Olympic Games, and Bob's club program really took off.
An innovator in our sport, Bob had to constantly adapt to continue to achieve results for his swimmers. During the winter months he would often travel to another facility that had an indoor pool. He also started his own gym program to help his athletes get stronger out of the pool, giving his swimmers access to a bench press by filling up two empty Milo cans with wet cement and putting a broom handle in between.
After taking a break from coaching, Bob returned to pool deck in 2002 with his son, and between them coached their local Club to nine straight NSW Open Water Championships, and several state and national medallists.
In 2010, Bob and his wife moved to the South Coast, to head the program at Bay & Basin SC, where he would begin coaching 2020 Tokyo Paralympian, Jasmine Greenwood.
Bob has made such a wonderful contribution to the sport of swimming, helping countless swimmers and coaches to achieve their dreams. Congratulations Bob McEvoy - 2022 Service Excellence Award recipient!
Gloria Wiegmann (Galston SC)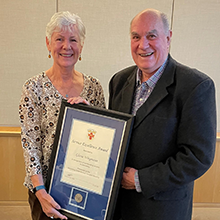 Introduced to the world of swimming via her children, Gloria first joined Galston SC over 40 years ago, and is still an active life member today. After initially enrolling her children in the sport, it wasn't long before she began volunteering at club nights and earned her first Technical Official credential.
In addition to officiating regularly at Club meets, Gloria served on her Club Committee for 12 years in various roles, including President.
A well-respected member of the officiating community and a Level 2 Referee, Gloria has officiated meets from the club to international level, and has spent considerable time educating and training newer officials through various credentials. In 2002 and 2003, Gloria was awarded the Swimming NSW Area Technical Swimming Coordinator of the Year for her tireless work in this area.
Throughout her time as a Technical Official, Gloria officiated at the Sydney 2000 Olympics and Paralympics, and the 2006 Commonwealth Games. 
A steadfast volunteer administrator, Gloria continued to serve the sport on the SNSW Competitions Committee from 1993-1998, the SNSW Education Committee from 1993 to 2007 and then finally the Swimming NSW Board for nearly 15 years.
Gloria has made an outstanding contribution to officiating and to the administration of swimming in NSW over countless years. To this day, Gloria officiates at numerous School meets, and trains and mentors up-and-coming officials. Congratulations Gloria - 2022 Service Excellence Award recipient!