14 May 2020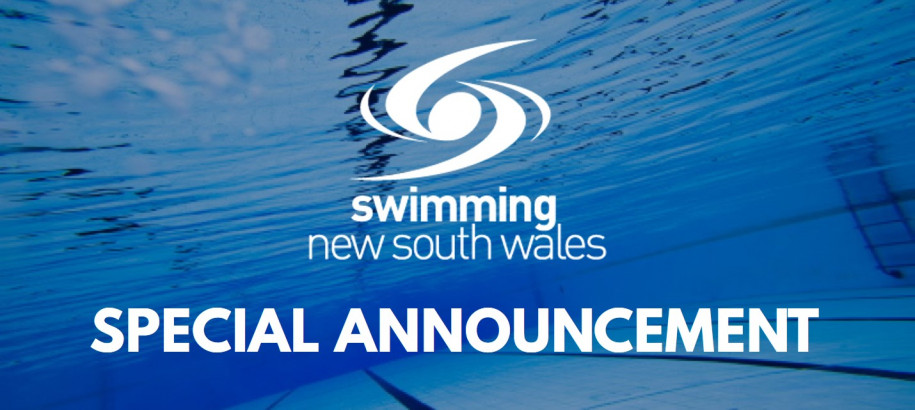 Last Friday 8 May, the National Cabinet announced a national three-step plan to re-open a COVID-safe Australia. For several weeks, Swimming NSW has been working in collaboration with Swimming Australia, State/Territory associations and ASCTA, along with the AIS, Sport Australia, and Federal and State Governments on a plan for clubs and swimmers to safely return to swimming activity once restrictions have eased. Below is a summary of these guidelines and well as links to important information for clubs to help them prepare for the resumption of swimming activity.
 
It is important to remember that individual state and territory governments have ultimate discretion and final decision-making power based on their individual circumstances and local conditions and may choose to ease restrictions at a different pace. Similarly, the decision to re-open may differ between individual facility owners and their businesses and across communities based on local conditions and other factors.  
 
In NSW and ACT, the status of restrictions (as at 14 May 2020) is:
NSW: From 15 May 2020, outdoor pools can operate but can have no more than 10 people at a time and no more than one person per lane. Change areas will also be closed. Read more.
ACT: From 16 May 2020, pools are able to re-open for training and public use however limits apply – no more than one swimmer is permitted per lane, with no more than 10 people (a small group) in the facility at any one time. NB: Government-owned pools, including Gungahlin Pool, Canberra Olympic Pool, Tuggeranong Pool, and Erindale Active Leisure Centre, will not re-open at this time while maintenance and upgrade works are completed. Government-owned outdoor pools - Dickson Pool and Manuka Pool - remain closed for winter as is usually the case. Read more.
Prior to resuming sporting activity, all clubs are recommended to have a clear Return to Play in a COVID-safe Environment framework. We recommend that clubs start developing their COVID-safe plans as soon as possible to ensure they are ready to resume swimming activity once the relevant easing of restrictions allows them to do so. The jointly prepared Swimming Australia - National Guidelines for Restarting Club Environments outlines 10 recommendations for clubs to consider/implement prior to the resumption of swimming activity, as follows:
The club has nominated a COVID-19 liaison
The club is familiar with its state/local government restrictions re: COVID-19
The club has checked its facility's safety protocols
The club has put in place infection limitation measures around water bottles and equipment
The club is managing swimmer numbers in accordance with the guidelines
The club is ready to respond if a swimmer becomes sick whilst training
The club has a communication plan should a case of COVID-19 be confirmed
The club is considering and is practicing current work health and safety measures
The club has an appropriate drop off/pick up procedure for swimmers in place
The club has considered COVID-19 vulnerable groups within the club environment
Click here for full details about these recommendations, as well as further information for clubs on returning to the pool. These guidelines should be read in conjunction with the AIS Framework for Rebooting Sport in a COVID-19 Environment.
 
Further to the above, the following general COVID-safe principles will apply.
Maintain 1.5m social distancing at all times
Get in, train and get out
Practice good hand hygiene before and after training
Come ready to swim
Stay home if you, or a family member, are unwell
Don't share food, drinks, equipment or towels
Follow the one person per 4 square metres rule to ensure sufficient physical distancing between participants
Useful links
Questions?
Please email Mark Heathcote, CEO, Swimming NSW with any questions.