04 February 2020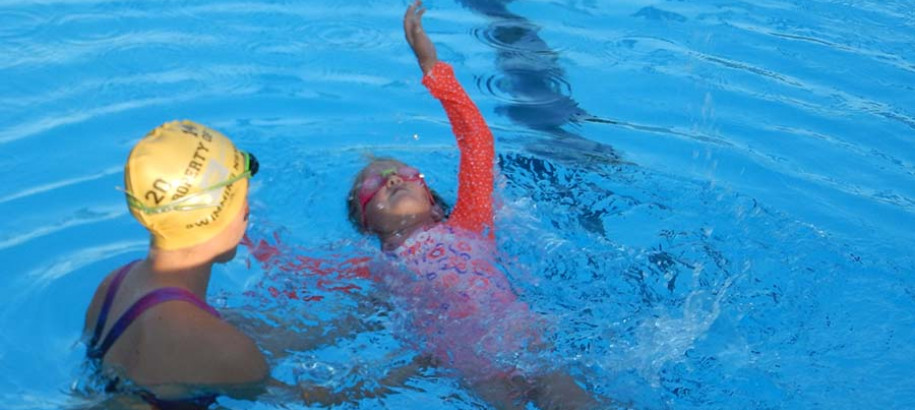 Getting started in swimming is now even easier! It is a sport for all age groups, skill and fitness levels, and provides many opportunities for those who are in the sport for fun, fitness, and recreation.
Swimming is an excellent way to keep children of all ages active, providing them with many lasting health benefits. And very importantly, learning to swim affords children vital safety and survival skills which they will take with them throughout their lives.
The First Lap voucher program aims to make water safety education more accessible for NSW families*, providing $100 vouchers for parents, guardians and carers of children aged 3-6 years. This will include children in kindergarten in 2021, or who are starting kindergarten in 2022 within the age limit. 
The First Lap voucher can be used for both intensive (where there is a lesson everyday), or regular weekly swimming lessons. 
The vouchers may be used with an approved First Lap provider, the first of which will be available through the Service NSW website from 1 December 2021. The next $100 voucher will be available on 1 July 2022, expiring on 30 June 2023. 
Parents can now express interest in the voucher program and be notified as soon as vouchers are available.
Clubs and other learn-to-swim providers should begin the First Lap provider registration process to avoid delays in accepting vouchers.
*Please note this program is not available for ACT clubs or residents.
First Lap FAQs
The First Lap voucher program provides one $100 voucher each financial year to parents, guardians and carers of children aged 3-6 years to contribute to the cost of learn to swim classes for eligible children. 

Each eligible child will have access to one voucher valued up to $100 per financial year. The vouchers may be used for an eligible child's participation in a structured swimming program with an approved First Lap provider. 

Vouchers are valid for redemption during the financial year of issue (Year 1 will commence on 1 December 2021 and expire on 30 June 2022).  

The First Lap program will run on 1 December 2021 to 30 June 2023. 

The First Lap voucher program provides $100 vouchers for parents, guardians and carers of children aged 3-6 years towards the cost of swimming lessons.

This will include children who:

are in kindergarten in 2021
are starting kindergarten in 2022
have not yet started school.

On 1 December 2021, parents, guardians and carers can claim a First Lap voucher through Service NSW. You will need to have or create a MyServiceNSW account. 

You will require a valid Medicare card with details of the eligible child to complete the transaction and claim the voucher. 

Parents, guardians and carers will also need one form of ID to confirm their identity before completing the transaction.  

The first $100 First Lap voucher will be available on 1 December 2021. This voucher can be claimed and redeemed any time prior to 30 June 2022. 

The first voucher will be available on 1 December 2021, expiring on 30 June 2022. 

The next voucher will be available on 1 July 2022, expiring on 30 June 2023. 

The First Lap voucher must be used with an approved First Lap provider. 

The First Lap voucher can be used for both intensive (where there is a lesson everyday), or regular weekly swimming lessons. 

The swimming lessons must be: 

a structured and supervised program; 

given by a swimming teacher; 

in a swimming pool; and 

a program of at least 5 lessons. 

To use the voucher, you will need to give your approved First Lap provider the: 

voucher number or QR code 

child name on the voucher 

The provider will discount the fee using the voucher. The voucher is not transferrable for cash. 

There are three simple steps to register as a provider: 

Visit sport.nsw.gov.au/firstlap for information on what documents you need to have.  

Visit service.nsw.gov.au and create or login to your MyServiceNSW Business Profile. 

Register for First Lap. Enter your details, upload your documents and activity program, then submit for approval. 

Your Registration Approval will be confirmed online