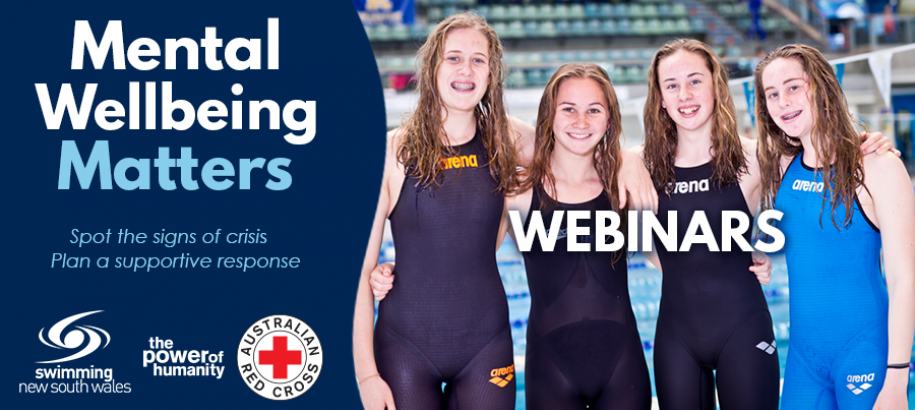 Date & Time
Wed, 12/05/2021 to Wed, 12/05/2021
Session A 9:30am-12pm; Session B 1:30pm-4pm
Location
Zoom Webcast
Attend
FREE
Courses are funded through the Office of Sport NSW Mental Health Sports Fund
Event Details
Course outcomes
Gain a Mental Health First Aid (MHFA) accreditation.
Learn:
the signs and symptoms of common and disabling mental health problems
how to provide help
where and how to get professional help
what sort of help is effective
how to provide mental health first aid in a crisis situation using a practical, evidence-based action plan
On successful completion of this course, students will be issued with a Certificate of Completion from MHFA Australia. Participants can then complete an online accreditation exam to become an Accredited MHFAider.
This course is suitable for participants 16 years and up and is open to members of Swimming NSW clubs located in regional areas.
Course Delivery
This course will be fully delivered online and is facilitated by Australian Red Cross and Mental Health First Aid Australia.
This course has two components which need to be completed to gain an accreditation:
Component 1: Self-paced interactive eLearning
The eLearning course component presents an overview of mental health problems and mental health crises. This component needs to be completed before attending the webcast.
Component 2: Instructor-led video conferencing session/webcast
Provides participants with an opportunity to revise content covered in the self-paced eLearning program and to consolidate the application of this content with the development of practical skills in a group environment online.
How to Register
Click on the "Register Here" button above to visit Red Cross' registration page. Select "Mental Health First Aid Webcast" from the drop down menu and complete the form.
On completion of your booking you will be emailed an e-VOUCHER CODE and instructions on how to use this code to register with Mental Health First Aid Australia. Following this step, you will also receive instructions on how to access Component 1.
A ZOOM link invitation for the webcast will be emailed to you a few days before the course.
Contacts
For enquiries regarding registration on this course email Sam at sfarmakis@redcross.org.au
For general enquiries regarding the Lane Ropes for Life program contact: vinh.tran@nsw.swimming.org.au
Contact