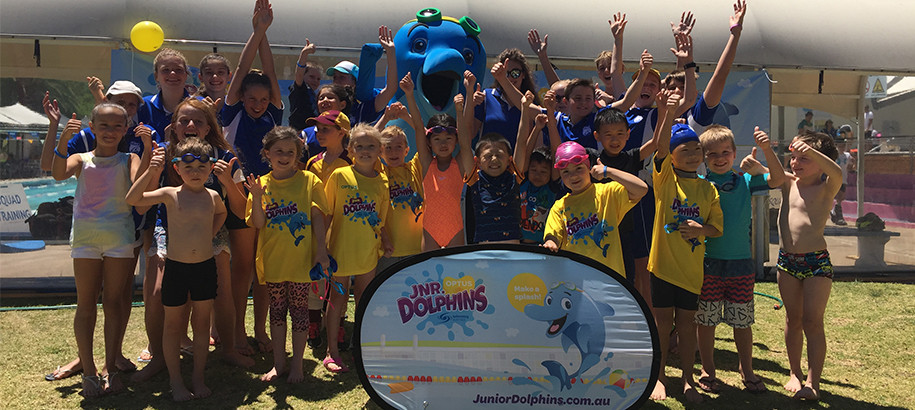 The purpose of the Optus Junior Dolphins program is to increase FUN, participation-based membership at swim clubs.
As part of the program, members of your club aged 7 and under, will receive FREE membership this season.
Since all Swimming Australia and Swimming NSW membership fees are waived, your club will need to agree to waive your membership related fees as well.
The fees you should waive are anything to do with membership costs, for example:
pool hire,
lighting,
awards /trophies,
presentation night,
other club operational costs.
The fees you can still charge are thoes linked to up front fundraising, up front pool entry fees, club night race entry fees, squad or training fees.
It's a great segway membership for clubs who work with a feeder Learn to Swim program, and can be used as a promotional tool to attract new members.
For more information see our FAQs and Resources below. 
If you have any questions about the Optus Junior Dolphins program contact Sarah Koen. You can also visit the official Optus Junior Dolphins website. 
Optus Junior Dolphins Program Resources
Optus Junior Dolphins FAQs
Participant packs are on their way to your club. Please note packs are being sent out as new kids register and can take up to 21 days to arrive. This also means you may not receive all of your club's participant packs in one package.

If you don't receive your packs after 21 days, contact Swimming Australia at junior.dolphins@swimming.org.au.

Packs have been allocated to Optus Junior Dolphins members who are between the ages of five and seven. Children who are younger than five will not receive a participant pack at this time. Ideally these children will continue to participate in swimming and will be eligible for a participant pack when they turn five as an added incentive to remain in our sport.

Participant packs include:

an Optus Junior Dolphins t-shirt
drawstring bag
colouring in competition flyer
temporary tattoo

Read the FAQ document.

Optus Junior Dolphins need to be aged 7 or younger on the very day they register, whether they are a new member, or pay their renewal fees as a renewing member.

Optus Junior Dolphins members have the same benefits as all other swimming members. They can participate in all levels of swimming, from very basic Learn to Swim all the way up to national-level competition. This means Optus Junior Dolphins can be part of your club nights and external club competition. Whilst it is a non-competitive program, they are still entitled to compete, we just hope you think outside the square and make it FUN!

Optus Junior Dolphins members aged 5-7 years will receive a participant pack from Swimming Australia in the first year they register (includes a bag, t-shirt and tattoo). This pack will be automatically sent to the club for them to distribute to members.

Yes, it's very important all NSW clubs supportive this Australia-wide initiative. We have opted all clubs into the Optus Junior Dolphins program for the 2017-18 membership season. You will notice this member type is set up in your Fees & Discounts tab in ClubLANE.

If you feel your club has a valid reason not to participate please email us to speak to us about it BEFORE you open your registrations for the new season. The program is very flexible and we are confident we can find a way to make it work in your club's environment. 

If your club operates out of a pool with a learn to swim program, your club has the opportunity to register members at no cost that may not have registered previously. 

Families who register older swimmers with your club squads may have younger siblings who will be happy to be part of your club. 

Likewise, families who register their younger children as Optus Junior Dolphins free of charge may register new, older swimmers and the parents will also become involved with your club.

A main goal of the program is to retain members who register as Optus Junior Dolphins when they eventually transition to full swimmers at age 8. 

A bump in membership!

A Delivery Centre Kit including mesh sign, pop up banner and trainer polo tops x 2. If your club hasn't received one, order one here

An online Program Manual including operations manual, program curriculum and carnival guide to help you implement your Junior Dolphin program 

A complete marketing toolkit

There is also program collateral you can borrowed from Swimming NSW such as inflatable dolphins, large banners and other signage. Just let us know when you need them. There's even an Optus Junior Dolphins mascot!

This 10 minute video provides an overview of the Optus Junior Dolphins program.