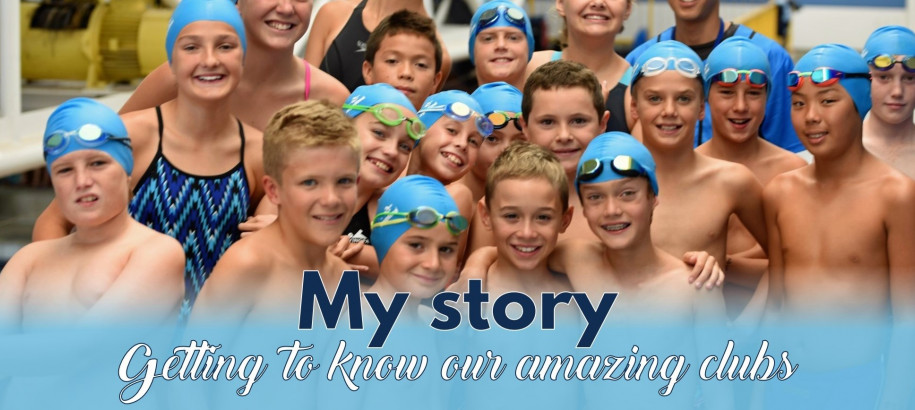 My story is all about getting to know our athletes and clubs better. It's the chance to hear about others' perspectives on swimming and our swimming community, learning from each other or just knowing we're not alone.
What do we love about the sport? What are our challenges, our goals, our dreams? How are we being innovative or adapting to change? These are all things that can help us to get to know each other a little better and feel like we're part of something bigger.
Do you have a story to tell?
We'd love to hear about it and we think the rest of the NSW/ACT swimming community would too. Whether you're an individual or a club, we'd love to know what you've been up to and share your story so we can all get to know our amazing clubs and their athletes a little better. Send us your story.
When COVID-19 started in Australia and everything started shutting down, the news that National Age in Perth, as well as CHS and potentially All Schools had been cancelled was devastating. I had worked towards these competitions for basically twelve months, then all of a sudden it was gone. But I was not the only one in that situation.

SO WHAT NEXT?

I still wanted to keep swimming, but with both our pools – the Manning Aquatic Leisure Centre and Forster Aquatic where I trained – closed until further notice, I came up with a plan. Mum and her friend made up some bungie cords that we tied to the fence around the pool at my house. This kept us stationary in a ten metre pool so that we could keep swimming as if it were a distance. Sometimes it was a competition to see if we could make it to the other end of the pool before the bungie snapped us back again. To build strength in my legs I would skip, ride my mountain bike 22 kilometres most days, as well as dryland training.

As small groups were allowed to gather again, I started to swim with a small group of Taree Torpedoes friends at Forster in the lake, as the ocean pools were still closed. We swam every day and then made it home in time to do our schoolwork online. Swimming against or with the current was a new challenge and became our competitor instead of other swimmers. It was a real change of scenery. Instead of following a black line, we were following stingrays, fish and other marine life – quite exhilarating really! We swam in the lake until the beginning of June because when school started back it was hard to swim in the lake and make it back to school in time.

My mates and I ended up challenging each other for runs through social media. We would track our results and compare them to see who went the furthest and fastest. Having a close knit group of Taree Torpedoes friends who were willing to do things together kept us going through this time.  Once we were allowed back together again, some long bike rides started to take place, starting at Old Bar and riding along the bush tracks. We started at 30 kilometres and ended up doing 70 kilometres in one go. The only thing we had to contend with was Charlie's bike and his chain braking. The first time we managed to hit it back together with rocks. The next time we were not so lucky and had to call our parents.

By this time the mornings and afternoons were getting darker and the bait fish were running. Mum was concerned with us swimming in the lake, because if there were bait fish, there was going to be something else chasing them.

By now our council had reopened the ocean pools at Blackhead and Forster, and we started swimming back there. On weekdays, we mostly swam at Blackhead because it was closer to school for us. Now the water temperature is averaging 14 degrees and the outside temperature has been as low as six degrees. But we still manage to swim for an hour at a time, hopping out of the pool with numb toes and fingers, but at least it still keeps the muscle memory in place and the arms and legs moving (it certainly wakes you up in the morning and refreshes you later in the afternoon).

My biggest challenge, with backstroke being my favourite stroke, was staying in a straight line. With no lane ropes, it is impossible to swim in a straight line.

With the prospect of our aquatic centres opening again soon, we are aiming to keep swimming in the ocean pools until we can get back into training for the summer season. I'm looking forward to seeing how we can improve and what we can achieve next season.

 

While COVID-19 has been a challenge to us all, sometimes a challenge like this makes you think outside the box to keep being able to do the things you like or want to keep doing. And at the end of the day, I think it will make us stronger and more determined to achieve our goals.

Revesby Workers Swim Club's Milly Pollock has not let isolation get her down or kept her from maintaining her connection with the sport she loves.

Of course, she admits that it hasn't all been roses…

"Who would've thought 2020 would end up like this. So many dreams shattered after so much hard work, early mornings and missing every Friday night party. It's hard not to feel completely ripped off," Milly said.

"So, I've had to find a completely new routine, one that I'm definitely not used to. It's so weird doing drills in the choppy ocean. Like, who does drills in the choppy ocean… I look like a dying moth!"

But staying connected with her swim friends and maintaining a regular fitness routine via Zoom has helped keep her on track.

"I think the most important thing is staying connected and connected with the right people," she added.

"At the start of this I felt really unsure about training on my own, because now, more than ever, I realise how much I actually rely on my teammates.

"Staying connected is the most important thing to me because when I wasn't staying connected, I guess I completely lost why I was training and why I was doing it because I didn't know what I was working towards because I didn't set myself any goals.

"So, I set myself some goals that I wanted to achieve in this time, and I guess that just makes you feel even better already."

This is her story…