13 January 2019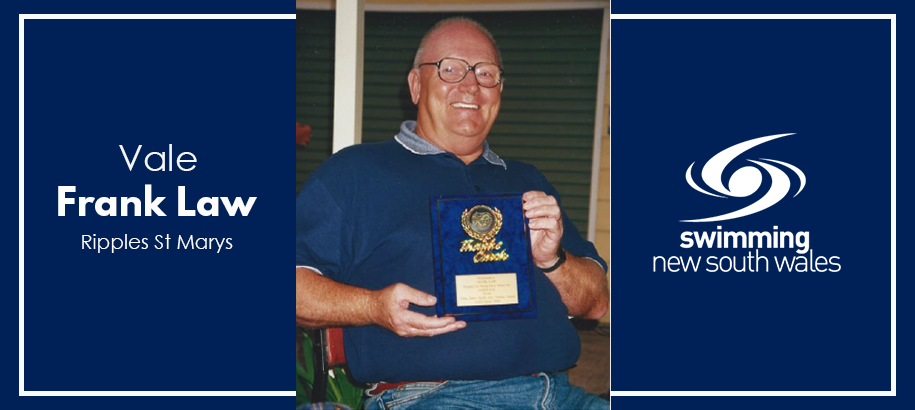 It is with much sadness that Ripples St Marys Swimming Club and Swimming NSW acknowledge the passing of Ripples Life Member and former Coach Frank Law who passed away on 7 January 2019, aged 79 years.
Frank, in partnership with wife Pat, was an integral part of the club for more than forty years as an active volunteer, technical official and volunteer swim coach which earned him Life Membership of Ripples St Marys Swimming Club in the late 1980s, before taking up a professional squad coaching position at Ripples Leisure Centre in later years.
Swimmers who remember Frank, remember him not only as a much loved and respected coach who taught them how to swim fast and stay on task during training sessions, but also as a caring supporter and mentor who inspired them to believe in themselves and how to take something positive away from every swim, no matter what the stopwatch said.
Swimming parents recount their appreciation and gratitude for Frank Law's consistent attendance on club nights and at weekend carnivals to watch and observe their children swim and to share their excitement or offer a plan of support, especially tips to work on in training before their next swim event.
In 2002, Frank Law and his wife Pat were honoured at their Retirement Dinner with the presentation of a starter block signed by Ripples families and later at a family fun day BBQ at Nurragingy before retiring to Coffs Harbour.
Frank and Pat's connection with the club remained strong, demonstrated in their return to share in the celebrations of Ripples St Marys Swimming Club's 50th Anniversary in 2012 and to reminisce about the 'good old days' when promoting the club meant decorating a truck up as a swimming pool for swimmers to parade down Queen Street in the St Marys Spring Fair.
The Frank Law Perpetual Trophy, presented annually, will continue to serve as a reminder of the contribution that Frank Law made to Ripples St Marys Swimming Club and to the sport of swimming.
Article provided by Ripples St Marys SC