02 August 2019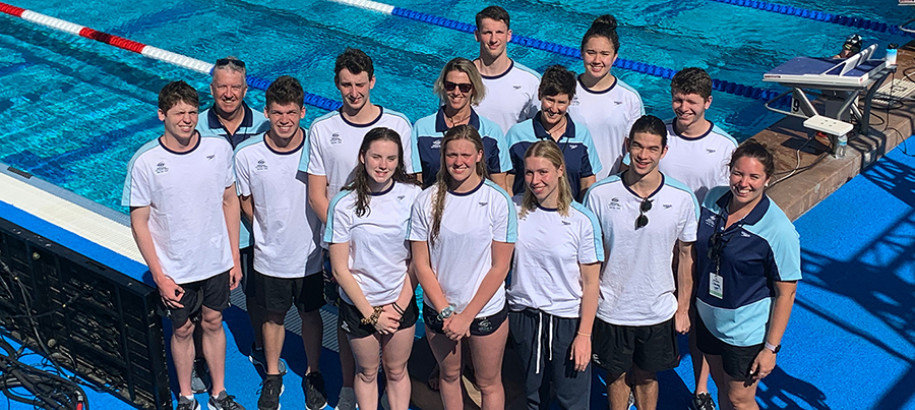 Our 2019 Touring Team is competing at the USA Swimming 2019 Phillips 66 National Championships in California. It's a fantastic opportunity for these very talented swimmers to experience some tough competition at the international level. Swimmers are joined by coaches Amanda Isaac and Leanne Speechley, as well as Swimming NSW Coaching Director Jon Shaw and Biomechanist Gina Sacilotto.
Stay up to date with the Team's progress throughout the Championships with Jon Shaw's Mighty Blues wraps!
Day 1 Heats
Great to see the racing starting with the NSW Swimmers off to a solid start…fantastic atmosphere with all the US swimmers representing both club & college…lots of noise on deck!
For your information there are A, B, C & D finals – so the top 24 make finals with the D final reserved for US swimmer 18yrs & Under – no International swimmers can qualify for the D final.
First up for NSW was Edward Marks in the Men's 200 Fly heat 5 of 9. After a solid first 50 (27.29) he turned at the 100m in 58.14 going on to record 2:03.47…a time within 1% of his PB. Good to get that race experience before he tackles his preferred event the 100m Fly later in the week.
Next to go were the 100 Free girls. Swimming in the last heat Abbey Webb (Ginninderra – Coach Shannon Rollason – ACT HUB) recorded a time of 55.59 (0.18 over her entry time)…this was good enough to make the C final so she will be back tonight to have another crack. Also, swimming in the 100m Free was Natasha Ramsden (Abbotsleigh – Coach Amanda Isaac) who recorded a time of 56.39…just over her PB.
Moving onto the men's 100m Freestyle and we had 2 swimmers representing NSW. Stuart Swinburn (Uni NSW – Coach Bruce Vyvyan) swam a great PB first up – his time was 50.72 (split 24.47)…that would have placed him as a reserve for the 18yrs & Under Final if internationals were allowed to swim. In the same event was Josh Hertz who swam 50.45 (split 24.26).
So tonight, we have the finals and we have a men's 4 x 100m Freestyle relay…the team consists of Josh Hertz, Edward Marks, Shaun Champion & Stuart Swinburn.
Day 1 Finals on Fire
The first night of finals got under way with some great efforts. Leading the way was Abbey Webb (Ginninderra – Coach Shannon Rollason – ACT HUB) who was in the C final of the 100 free. Abbey finished 2nd in the final with a time of 55.49…0.07 improvement on her morning swim.
NSW had a team in the Men's 4 x 100m Free Relay with some outstanding swims. The team consisting of Josh Hertz (SOPAC), Edward Marks (Carlile), Shaun Champion (Abbotsleigh) and Stuart Swinburn (Uni NSW) certainly did our State proud with a 10th placing. Their splits were as follows: Josh – 50.88; Edward – 50.98; Shaun – 50.83 and bringing them home was Stuart – 49.91 (first time under 50.00). Congratulations boys well done! Also swimming in a relay was Lewis Blackburn who joined in with 3 Victorians and recorded his fastest relay split of 50.64.
Just prior to the finals starting they had the distance events – W 800 free & M 1500 – timed finals. The heats alternated between the 800's and the 1500's – an interesting format. We had Jacinta Essam (Ginninderra – Coach Shannon Rollason – ACT HUB) swimming in the 800 free and she swam a great race to record a new PB of 8:55.00…an improvement of 2.54 secs.
We look forward to what Day 2 has in store for our NSW swimmers…
GO THE MIGHTY BLUES!
Jon Shaw, Swimming NSW Coaching Director