06 July 2022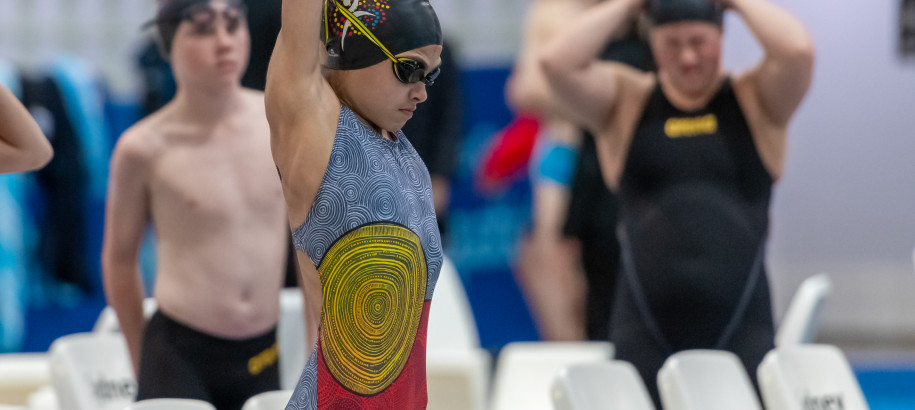 Swimming NSW acknowledges the Wann-gal People as the Traditional Custodians of the land, sea and community in which we are situated. We pay our respect to all First Nations People and our community Elders past, present and emerging.
NAIDOC Week celebrations are held across Australia in the first week of July each year (Sunday to Sunday), to celebrate and recognise the history, culture and achievements of Aboriginal and Torres Strait Islander peoples. NAIDOC Week is an opportunity for all Australians to learn about First Nations cultures and histories and participate in celebrations of the oldest, continuous living cultures on earth.
This year's theme Get Up! Stand Up! Show Up! rallies all Australians to keep working towards systemic change in seeking proper environmental, cultural and heritage protections, Constitutional change, a comprehensive process of truth-telling, and working towards treaties.
NAIDOC Week was celebrated this year from 3-10 July. Swimming NSW's Country SC Championships ran from 1-3 July, which meant we had an opportunity to bring a significant part of our membership base together to share in recognising and honouring the Aboriginal and Torres Strait Islander people in our own community.
Country SC Championships was opened on 1 July with an Acknowledgement of Country lead by Gulidjan girl and Griffith SC swimmer, Piper Stewart. 
At only 12 years old, Piper created the registered charity Bambigi (meaning "to swim" in Wiradjuri, Griffith's traditional Aboriginal language).
Founded in 2018, Bambigi's focus is to make sure more Aboriginal kids learn to swim and are safe in the water. Bambigi funds six months of swimming lessons for Aboriginal kids in the Griffith region. A significant achievement for Piper, swimmers have gone on from her program to compete at high level school meets and have made qualifying times for state meets.
On Sunday, 3 July, Swimming NSW hosted a special invitational Indigenous Relay event to begin NAIDOC Week celebrations. Four teams of swimmers participated, representing many different Aboriginal Cultures, and swimming clubs, from across NSW.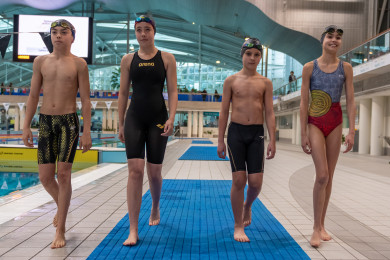 Teams were named after water animals and derived from the Dharug Language - the traditional language of the Wann-gal People, on whose land competition took place: Team Burra (Eel), Team Darawan (Seal), Team Maugra (Fish), and Team Walumil (Port Jackson Shark).
Swimming NSW Events Manager, Greta Brodie, and GM of Participation and Engagement, Vinh Tran, who brought the inaugural relay event together, presented swimmers with a NAIDOC Week cap which they proudly wore during competition. These caps were a huge success and have been widely requested across the swimming community. Swimming NSW would love to partner with a NSW-based Indigenous artist to commission further artworks from. If you are personally, or know, an artist, please get in touch with us.
Learn more about the significance NAIDOC week here.