12 April 2021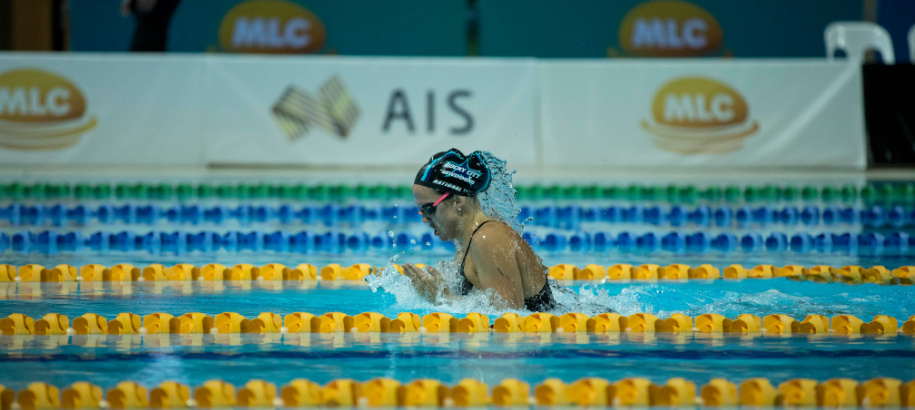 Rocky City's Taryn Roberts amassed an exceptional seven individual gold medals across multiple disciplines during the 2021 Age Swimming Championships, adding one more on the final night of the competition at the Gold Coast Aquatic Centre.
Achieving titles in the girls 14-year-old category for the 400m, 800m and 1500m free, 200m and 400m individual medley and the 100m breaststroke, Roberts also achieved gold in the 200m breaststroke on Monday night. The young star also collected a silver medal in the 200m fly to end the meet with eight medals to her name in her debut appearance.
Speaking at the end of the competition, Roberts – who was a little lost for words after her successful meet – said she thoroughly enjoyed her first Age Championships.
"It was really cool, a little bit different to what I've experienced but it was fun," she explained.
"I didn't know I'd do so well but it was cool to do personal bests in all my events and my coach was pretty happy."
"I had my mum here and friends in the crowd cheering me on which was great."
Tiana Kritzinger once again showed her class on the final night of the competition, going the distance in the Girls 16-years 800m Freestyle event. Recording a time of 8:40.26 to claim the gold, the Nudgee College athlete now boasts titles in both the 1500m and 800m events. Cotton Tree's Jamie Perkins and Griffith University's Lucinda Macleod went head-to-head for silver and bronze, with the duo posting 8:43.12 and 8:43.23 respectively to round out the podium.
Speaking on pool deck after her race, Kritzinger said she was delighted with the result.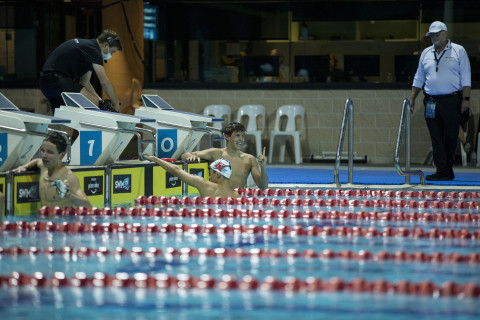 "I knew it was going to be a tough race, so I knew I just had to work on my processes and descending each 200m – I was really happy with the outcome," Kritzinger said.
"I've never medalled in all my races at nationals so I'm really happy. I've got a 50m breaststroke later in the relays to finish off the night so that's a bit of fun I'm looking forward to that."
In a thrilling finish to the Boys 16-years 200m Backstroke, Norwood's Fergus McLachlan flew from lane zero to nab victory in 2:05.21 – and after claiming the 100m title on night five, McLachlan now boasts the double. With 25 metres to go it was anybody's race, but the young South Australian continued to push, taking the gold ahead of Nunawading's Yanning Zhang (2:06.17) and Callum Thomas (2:06.31) from Loreto Normanhurst.
In stark contrast to his name, Marcus Da Silva (City of Sydney) won the gold in the Boys 14-years 200m Freestyle. Clocking 1:56.23, Da Silva narrowly scraped the wall ahead of TAS Swimming's Ike Martinez (1:56.33) and MCA QLD's Leigh James (1:57.79).
Julia Kater said see you later to her opponents in the Girls 15-years 200m Individual Medley to capture her second gold medal of the meet. Powering home in 2:19.10, the St Hilda's Aquatic's (QLD) young gun fought it out against Brisbane Grammar's Sophie Martin (2:20.02) and Knox Pymble's Bella Zhang (2:20.37) who placed second and third, respectively.
Knox Pymble's Karl Albertyn blitzed the field in the Boys 15-years 200m Individual Medley in a time of 2:05.40 to snare the Age title and his second crown of the meet. Leaving his opponents a tough task, Manly's Joshua Kerr zoomed home for silver in 2:10.60 while Stewart Mitchell from Surrey Park bagged bronze in 2:11.58.
In the final individual event of the meet, Rackley's Samuel Short racked up his fourth freestyle title, taking gold in the Boys 17-years 1500m free to go with his 200, 400 and 800m crowns. Speeding home in a time of 15:02.48, the freestyle specialist blitzed the competition touching ahead of Joshua Staples (St Peters Western) (15:44.00) and Lachlan Walker (Alstonville) (15:46.45) who placed second and third respectively.
The night concluded with a host of speedy relay events, access the results here.
St Peters Western topped the point score with 2,836.50, with Knox Pymble coming second with 1,245 and Rackley placing third with a total of 1,215.50 points.
With the Age Championships now complete, the 2021 Australian Swimming Championships begin at the Gold Coast Aquatic Centre on Wednesday night, with our Aussie Dolphins in action.
More results from the final night:


 
Girls 15-years 800m Freestyle
Gold – Amelia Weber, St Peters Western, 8:56.85
Silver – Molly Walker, SOPAC, 9:06.99 
Bronze – Elena Staal, Rackley, 9:20.93
Boys 17-years 200m Butterfly
Gold – Alex Fahey, Rackley, 2:00.62
Silver – Ruan Van Der Riet, UWA West Coast, 2:02.22
Bronze – Lachlan Walker, Alstonville, 2:04.47
Girls 14-years 200m Freestyle
Gold – Hannah Casey, MCA QLD, 2:02.03
Silver – Milla Jansen, Bond, 2:02.80
Bronze – Sally Vagg, Rocky City, 2:03.02
Girls 13-years 100m Backstroke
Gold – Zoe Ammundsen, Rackley, 1:04.84
Silver – Ainsley Trotter, St Peters Western, 1:06.10
Bronze – Matilda Byrnes, Geelong, 1:06.49
Boys 17-years 100m Freestyle
Gold – Kai Taylor, St Peters Western, 49.91
Silver – Maximillian Giuliani, The Hobart Aquatic, 50.36
Bronze – Edward Speller, Melbourne Vicentre, 50.43
Girls 16-years 200m Backstroke
Gold – Madeleine Hardy, Trinity Grammar NSW, 2:14.92
Silver – Anneke Van Zoggel, Epping, 2:19.07 
Bronze – Sophie Healy, Norwood, 2:19.32 
Girls 15-years 100m Butterfly
Gold – Bella Grant, Trinity Grammar NSW, 1:02.10 
Silver – Abbey Connor, Revesby Workers, 1:02.17
Bronze – Julia Kater, St Hilda's Aquatics QLD, 1:02.81
Boys 15-years 100m Butterfly
Gold – Kai Lilienthal, Knox Pymble, 56.26
Silver – Anders McAlpine, Chandler, 56.36
Bronze – Billy Moody, Singleton, 57.13
Boys 14-years 200m Breaststroke
Gold – Bailey Screen, Willoughby, 2:25.42
Silver – Randal Ingram, Nelson Bay, 2:26.75
Bronze – Albert Damin An, TAS Swimming, 2:30.46
Girls 13-years 400m Individual Medley
Gold – Julia Remington, Palm Beach Currumbin, 5:03.70 
Silver – Nicola Vitanza, Chandler, 5:11.99
Bronze – Rafaela Kopellou, Revesby Workers, 5:12.68
Gold – Robert Thorpe, St Peters Western, 15:39.26
Silver – Noah Kamprad, The Hobart Aquatic, 15:52.14
Bronze – Benjamin Goedemans, Acacia Bayside, 15:58.23