07 August 2019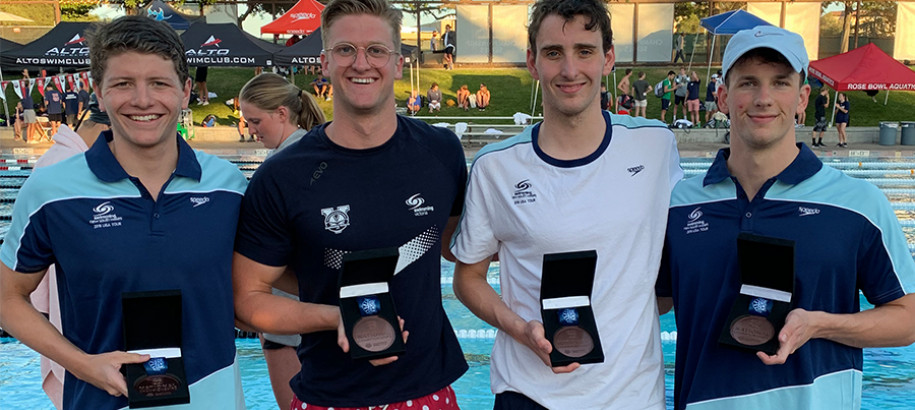 Swimming NSW Touring Team take USA Swimming 2019 Phillips 66 National Championships
Day 5 Heats
The events on offer today are the M & W 200m IM and the one lap dash…the 50m freestyle. The evening session will feature the M & W 4 x 100m Medley Relays.
Today was started by Mingara Aquatic swimmer Shaye Booth, who is a very popular member of this touring team in the 200m IM. Shaye's time was 2:10.01 and finished in 81st position…a tough swim but one he will learn a lot from as will all the swimmers here.
Next up were Natasha Ramsden (Abbotsleigh) and Abbey Webb (Ginninderra) in the in the W 50m freestyle. Natasha finished in 22nd place with a time of 25.69 and made the C final. Abbey's time was 25.94 and finished in 32nd position. Just an example how tight the racing is here the C final – placings 17-24 were separated by just 0.04 (25.66 to 25.70). The fastest swimmer recorded a time of 24.88 and the top 24 cut stood at 25.70…that's 0.82 between 24 swimmers!
So, this now brings us to the last night of finals…
Day 5 Finals
Well the last night was full of guts and glory for the VIC/NSW Touring Team as well as the Australian Squad particularly in the 4 x 100m Medley Relays.
In the 4 x 100m relays both the Australian and VIC/NSW Teams finished on the podium.
The women's teams were the first to go and we weren't disappointed with the VIC/NSW team finishing with the Bronze medal. The team featured: Abbey Webb (NSW) Backstroke in 1:03.60; Jenna Strauch (VIC) Breaststroke 1:07.59; Kayla Kosta (VIC) Butterfly 59.55; Kotuku Ngawati (VIC) Freestyle in 54.92. for a total time of 4:05.66…great stuff girls! The second VIC/NSW Team came in  10th position just missing the final 8. The team of Julia Hawkins (VIC) Backstroke 1:04.98; Mikayla Smith (VIC) Breaststroke 1:08.61; Natasha Ramsden (NSW) Butterfly 1:02.87 and Elyse Woods (VIC) Freestyle 55.49 put in a great effort.
In the Men's 4 x 100m Medley relays the Australian Team of Bowen Gough – Backstroke 56.41; Daniel Cave – Breaststroke 1:00.30; Matt Temple – Butterfly 51.81 and Louis Townsend –Freestyle 48.32 won the Gold medal in a time of 3:36.84. The two VIC/NSW Teams acquitted themselves well with a 7th and 19th place. The A Team of Lewis Blackburn (NSW – Bk – 56.17); Samuel Williamson (VIC – Brs – 1:01.05); Edward Marks (NSW – Fly – 53.21 and Joshua Hertz (NSW – Free – 49.94) finished with a time of 3:40.37. The B team was Jack Carr (VIC – Bk – 57.63; Elliot Rogerson (VIC – Brs – 1:05.94); Shaun Champion (NSW – Butterfly – 53.63) and Stuart Swinburn – Free – 50.25). Some terrific times from all the relay swimmers that showed the strength of all the Australians staying together – the support was terrific!
In the only NSW individual swim of the night Natasha Ramsden (Abbotsleigh) was in the C final of the W 50m Freestyle and came 21st with a time of 25.82…just outside her morning swim.
So, 5 days of high-pressure swimming comes to an end…I believe it was a huge success for both States and the small Australian Team swimmers that were present. The coaching and support staff were amazing, and I'd like to thank Head Coach Amanda Isaac (NSW) and Wayne Lawes (Mentor - VIC) with team coaches Leanne Speechley (NSW), Jason Cooper (VIC) and Ashley Delaney (VIC) for the great job they did. Also, to Gina Sacilotto (Carlile – Biomechanist) and Alicia Frey (VIC – Physio) a big thank you. To our tireless manager Josh Busch (VIC) an amazing job – thank you.
Special thanks to Kirsty West (VIC) and Cecilia Brophy-Williams for putting this trip together – both swimmers and Coaches will benefit!!
See you on pool deck!
Jon Shaw, Swimming NSW Coaching Director
GO THE MIGHTY BLUES