05 November 2023
The Open Water Squad is a part of our NSW Performance Pathways, it's focus is to support and develop our up and coming Open Water athletes, providing them with opportunities to hone their skills and gain further experience racing in Open Water events. The squad was selected off the back of performances at the 2023 Australian Open Water Championships, and the NSW State Open Water Championships. Our team of 8 athletes travelled to the Sunshine Coast, led by coaches Bec Wheatley, Sarah-Jane Weir and Alex Sheil.
The 5 days on the Sunshine State was full of training sessions that worked on skills specific to Open Water, and plenty of distance. Open Water athletes don't get many opportunities to come together regularly, so this camp facilitated the building of some amazing friendships and plenty of bonding over long sessions!
The team trained at the Noosa Aquatic Centre, an awesome facility and the weather certainly delivered plenty of sunshine. The sessions were sprinkled with new challenges for some and focused heavily of skills specific to Open Water racing including dragging, sighting, and change of speed. Our team even got to do a joint session with the WA State Open Water Team, which was something a little bit different, and another great opportunity for our athletes.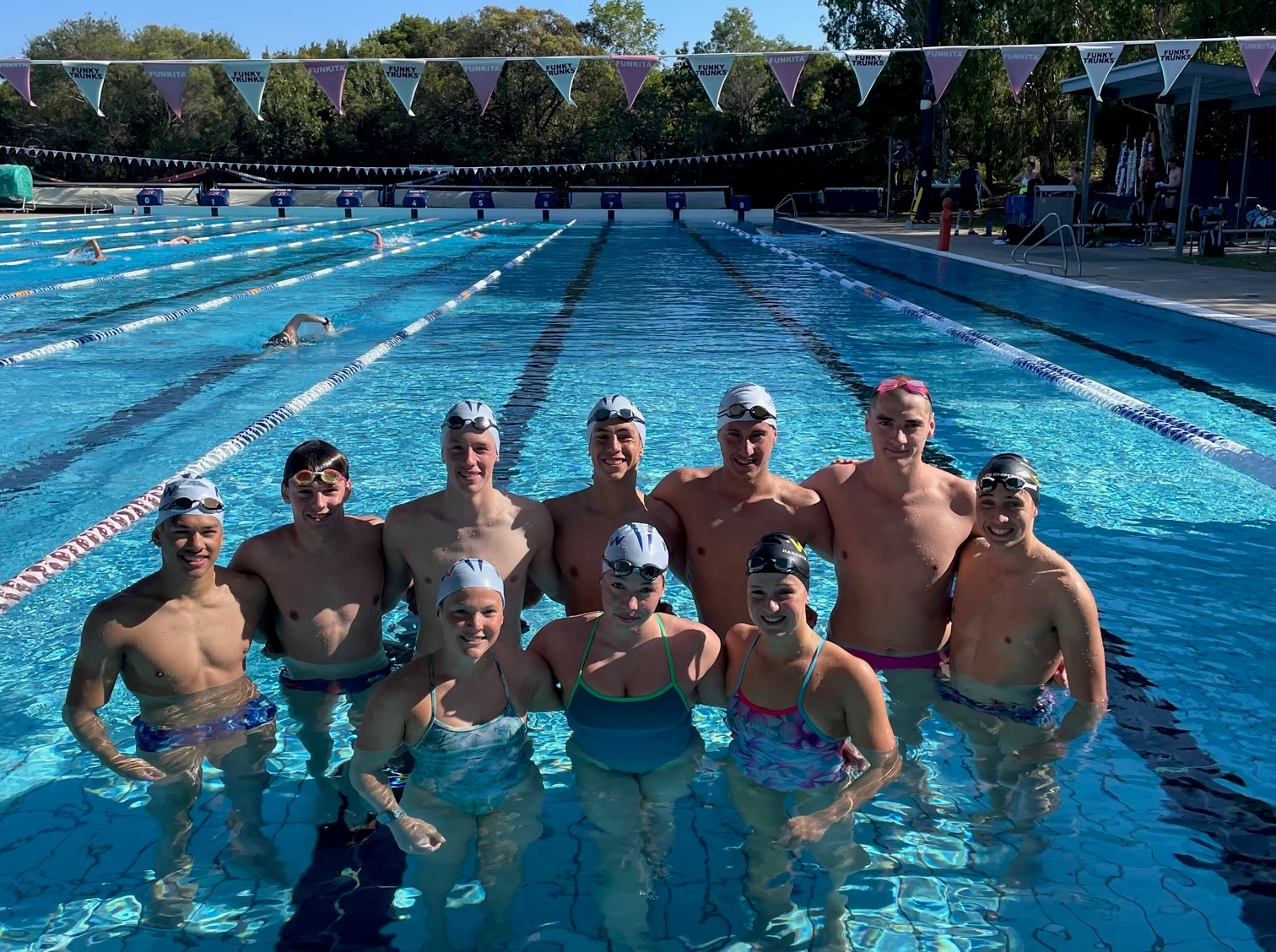 Our team had the opportunity to work with Swimnastics owner and founder Kirsten Norden. 
Their first session focused on mobility and creating connection. Given the regular high volume in distance swimmers, muscle tightness will often result in changes to technique under fatigue. So, the first session's focus reminded athletes of the importance of optimising range and maintaining connection for stroke efficiency and injury prevention.
The second session focused on Race Day preparation. Our team gathered by the ocean to stretch and meditate. Kirsten provided tools to assist athletes to either energise or calm themselves, specific to each athlete and how they feel before their race.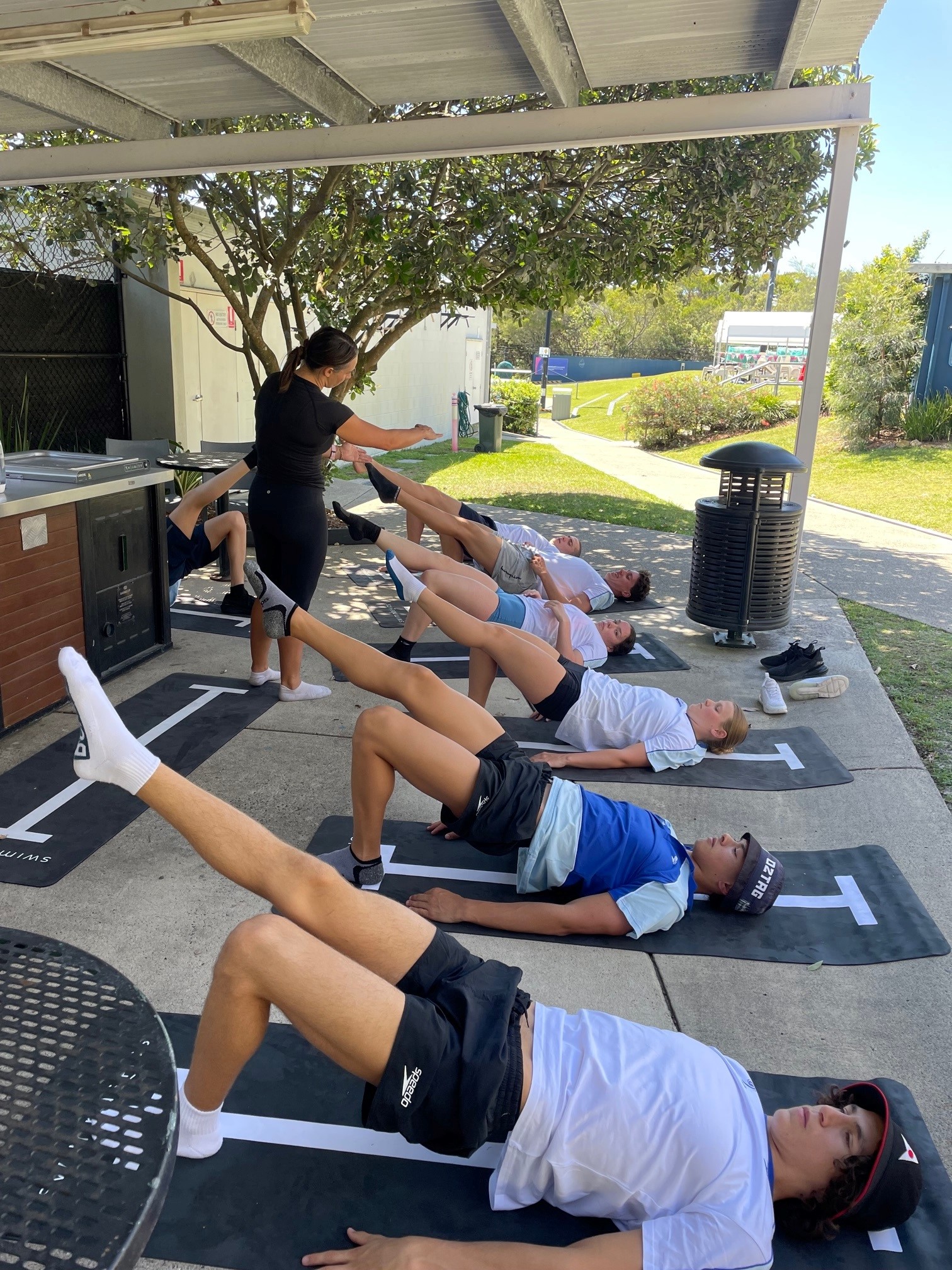 The team stayed close to the beach, so in the down time there were a couple of beach swims and some lovely team dinners. The learning opportunities weren't just in the pool. Our athletes also got the opportunity to cook for themselves, some of our athletes learning lots of new skills in the kitchen. The chocolate brownies were a hit with the entire team!
Results
The 3 days of training culminated in our athletes competing at the QLD State Open Water Championships with some incredible results to report:
| | |
| --- | --- |
| Macy Beuzeville – GOLD 16YR Girl's 7.5KM | |
| Max Moylan – GOLD 17YR Boy's 7.5KM & BRONZE OPEN Men's 7.5KM | |
| Brodie Vella – SILVER 16YR Boy's 5KM | |
| Noah Katehos – SILVER 17YR Boy's 5KM | |
| Chloe Brodrick – BRONZE 17YR Girl's 7.5KM & BRONZE OPEN Women's 7.5KM | |
Euan Liney – 8th Men's OPEN 10KM
The Men's Open 10KM was highly contested and extremely competitive with athletes eligible for selection into the Australian Open Water Pathway Development Tour.
A BIG congratulations to all of our athletes on some incredible results!
The camp was full of lots of learning, plenty of opportunities to bond as a team, so many smiles and lots of laughs.
A big thank you to our athletes that were a part of this experience, you represented yourselves and our state to the highest of standards. A huge thank you to our coaches who volunteered their time, shared their knowledge, and supported our team. And finally, a massive thank you to our Coaching Director Jon Shaw and Regional Coaching Director Chris Myers for their support and the direction they provide to our NSW Pathways Program. Our State teams, camps and training days can't happen without them, and this amazing opportunity is thanks to their vision and leadership.