28 September 2022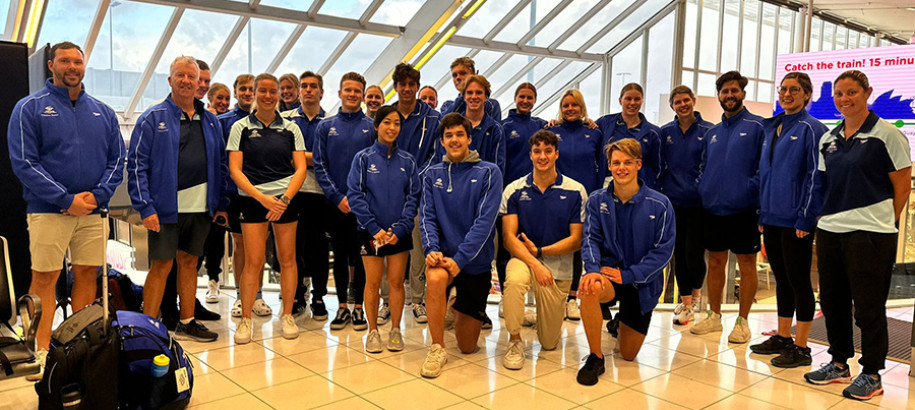 NSW and Queensland together as one, dreaming of LA 2028 glory. It may be hard to believe these two fierce rivals have put aside their differences and joined forces, but this weekend, it's really happening!
Emerging athletes from both NSW's and Queensland's Flippers squads, with apparent potential to make the LA 2028 Olympic Games Australian Team, will gather to participate in a combined camp in the sunshine state from 30 September to 4 October.
The camp will be jointly led by Swimming NSW Coaching Director Jon Shaw and Swimming Queensland Coach Development Director Drew McGregor.
To keep their eyes on the prize, camp participants will put aside their state and club colours, and be kitted out in "LA Dreaming"-branded gear.
For their first activity, NSW's and Queensland's top athletes and coaches will go head-to-head at a high intensity Inter-Regional Challenge in Brisbane.
Participants will then make their way to the University of the Sunshine Coast (USC) where they'll have access to Queensland Academy of Sport's experts in biomechanics and physiology. Athletes will take advantage of the world class gym facilities at USC to work on improving strength and technique, as identified at Swimming NSW's Flippers Testing Day held in June of this year.
On day two, camp participants are in for a unique experience! Athletes and coaches will take part in a workshop called The Pressure Project, run by freediver and expert mindset coach, Adam Sellars. Adam's workshops help participants learn practical methods for enhancing performance and dealing with pressure through proven mindset techniques.
NSW swimmers will be travelling with NSWIS support staff Amy Woods (physiologist), Rebecca Dowse (strength and conditioning) and Sean Byrne (biomechanics), as well as expert coaches Bec Wheatley (City of Sydney), Alex Clarke (Revesby Workers) and Graham Walker (Alstonville).
This opportunity for knowledge-sharing and peer development between Australia's two biggest swimming states is unmissable for all involved.
Butterflier Joseph Hamson will kick off camp coverage with an Instagram take over on Friday! Follow us on Facebook (@SwimmingNSW) and Instagram (@nswswimming) to see how this extraordinary camp unfolds. 
NSW athletes attending
| Athlete | Club | Coach |
| --- | --- | --- |
| Koby Bujak-Upton | Narrabeen | Ryo Kito |
| Reece Caddy | Alstonville | Graham Walker |
| Jessica Cole | Wests Illawarra Aquatic | Pat Stellino |
| Marcus Da Silva | City of Sydney | Rebecca Wheatley |
| Emily Dobbins | NU Swim | Paul Sharman |
| Caleb Dryer | Trinity Grammar | Benjamin Tuxford |
| Alexander Foreman | Kincumber Pacific Dolphins | Debby Tattoli |
| Alistair Gorgijovski | Wests Illawarra Aquatic | Pat Stellino |
| Bella Grant | Trinity Grammar | Benjamin Tuxford |
| Joseph Hamson | Knox Pymble | Nick Dobson |
| Lexi Harrison | Narrabeen | Ryo Kito |
| Ava Jankovic | Valley Aquatic | Sam Frame |
| Isabella Johnson | SOPAC | Matthew Brown |
| Tameeka Johnson | Sans Souci Sea Devils | Craig Stevens |
| Kai Lilienthal | Knox Pymble | Nick Dobson |
| Kai Robertson | Revesby Workers | Alex Clarke |
| Lachlan Savage | Cruiz | Shannon Rollason |
| Nicholas Stoupas | Cranbrook | Kenrick Monk |
| Callum Thomas | Loreto Normanhurst | Bobby Hurley |
| Gabriel Wilczak | Trinity Grammar | Benjamin Tuxford |