24 July 2019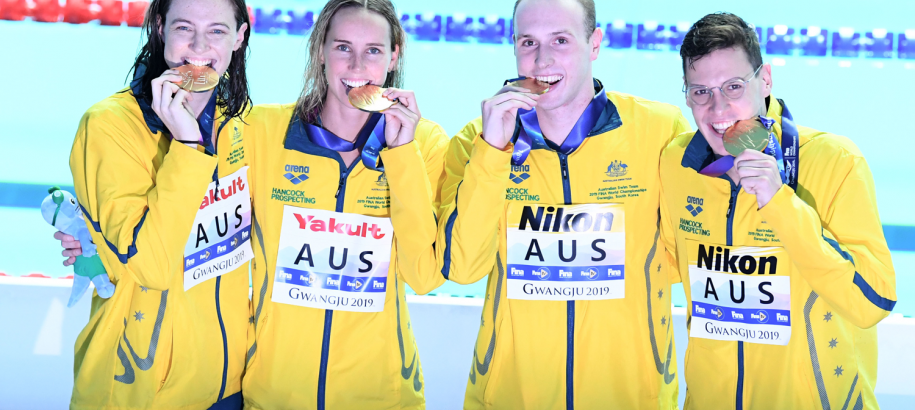 Australia has claimed gold in the 4x100m Mixed Medley Relay at the World Championships on Wednesday night, storming home in a nail-biter to beat the United States by two one hundredths of a second.
The team of Mitch Larkin (backstroke), Matthew Wilson (breaststroke), Emma McKeon (butterfly) and Cate Campbell (freestyle) clocked 3:39.08 to take the top honour in the new Olympic event ahead of the Americans (3:39.10) and Great Britain (3:40.68).
Recording an incredible split of 51.10 in the final leg, Campbell brought the team home to give Australia its third gold medal of the championships.
Speaking post-race, Larkin said swimming for Australia in a relay team is very inspiring.
"Swimming for relays is fantastic, you swim for your country more than yourself," he said.
"Seeing these guys in the marshalling room really got me up, you're wearing the green and gold and standing next to the Americans, it's pretty inspiring.
"You just convince yourself you've done the work. I had 100 per cent faith in these guys and I backed them all the way. Matt had a fantastic split, Emma a fantastic split and Cate, she finishes off perfectly every time. It's a fantastic team and we'll see what happens next year."
Ariarne Titmus also secured her second medal of the champs in South Korea, collecting silver in the Women's 200m Freestyle. 
As the second fastest qualifier and racing from lane five, the 18-year-old posted 1:54.66 which was just 0.44 behind the winner, experienced Italian Federica Pellegrini. Sweden's Sarah Sjostrom received the bronze in 1:54.78.
While Titmus was happy to snare silver, there's no doubt her victory in the 400m freestyle on the opening night of the competition has peaked her determination to achieve another title.
"I think I took it out hard, I haven't seen what the times are, but it's a silver medal at a world championships which is great," Titmus said post-race.
"On training times I probably thought I had a better swim in me, but what can you do, it's what you can do on the day and Pellegrini was really good tonight.
"Second in the world is great, but I have pretty high standards. I would have loved the gold, but I just wasn't good enough to get there tonight. She's a true champion and world record holder, so for her to beat me, I'm ok."
Titmus will now turn her attention to the Women's 800m Freestyle which kicks off on Friday.
"I'm looking forward to the 800. I haven't swum a great 800 since Pan Pacs last year so I'm excited to see what I can do this week," the Tasmanian added.
The Men's 800m Freestyle final was swum this evening, with Jack McLoughlin posting a huge personal best of 7:42.64 to place fourth overall. Only narrowly missing out on a podium finish, it was a terrific performance by the 24-year-old who recorded the fourth fastest swim by an Australian ever in the 800m free, behind only Thorpe and Hackett.
In semi-finals action, Australia's Olympic champion in the Men's 100m Freestyle, Kyle Chalmers, clocked a time of 47.58 in his pet event to secure himself a spot in Thursday's final. Touted as the blue riband event, Chalmers will have a battle on his hands after the USA's Caeleb Dressel qualified fastest in 47.35. Fellow Dolphin Clyde Lewis also competed in the 100m free semi-final, with his time of 48.45 seeing him place equal 10th overall and narrowly missing a place in the final.
"Tonight, I came out and gave it my all and that gives me confidence going into tomorrow. I think it's the exact same time I went in Rio to win," Chalmers said post-race.
"I knew after the relay I was swimming well. My swim speed worked out to when I swam my PB. I know I can swim fast in this pool. It's about getting a good rest tonight and putting it together in the final."
Backstroke specialist Kaylee McKeown will head into another final at the world championships having qualified fifth fastest in the Women's 50m Backstroke. Placing a solid fifth overall in the 100m backstroke final on Tuesday night, the teenager will now battle it out across the shorter distance. Showing the strength of the field, only 0.17 separated the top eight qualifiers, so it will no doubt be a race to watch tomorrow. 
Before claiming gold in the 4x100m Mixed Medley Relay, Larkin secured a berth in the Men's 200 Individual Medley after qualifying as the fifth fastest in 1:57.45. Fellow Dolphin Thomas Fraser-Holmes (1:58.86) touched seventh in his semi which wasn't enough to see him progress.
At the conclusion of night four, Australia sits on top of the medal tally with three gold, three silver and three bronze medals.
Tomorrow's heats kick off at 11am (EST), with finals starting at 9pm (EST).
To watch LIVE and FREE download Swimming Australia's iSwim app and click on the orange livestream button when it's time to watch. Available now for FREE in the Apple and Android stores.