23 November 2022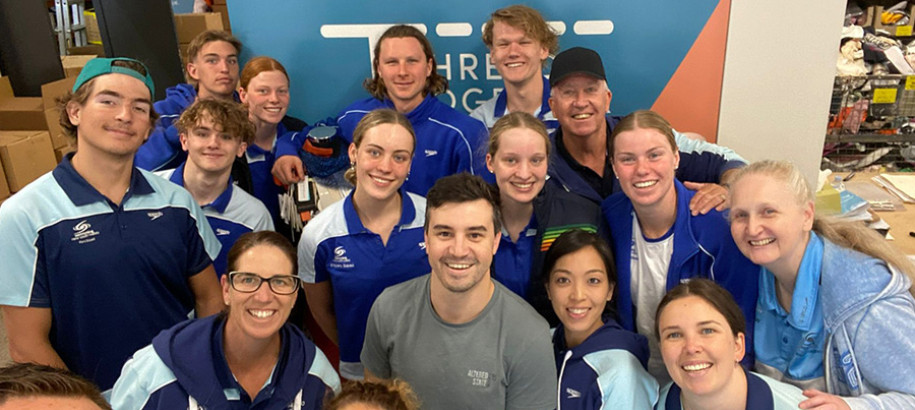 Ahead of the busy holiday season, Swimming NSW staff and Performance Pathway Squad swimmers spent an afternoon volunteering at Thread Together - an organisation that collects brand new unsold clothing from all around the country and distributes it to people doing it tough.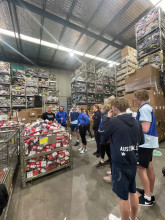 Founder of Thread Together, Andie Halas, saw the potential for unsold new clothing to be given to people in need, whilst also protecting the environment by saving these items from landfill. Thread Together partners with charities and social service agencies to distribute new clothing to vulnerable people in need.
A reputable charity that prioritises human dignity and environmental sustainability, Thread Together is funded solely by donations and is fueled by volunteer assistance.
"It was an eye-opening experience for all involved," said Events Manager Greta Brodie, one of Swimming NSW's staff members who spent the afternoon sorting through thousands of items of clothing and fulfilling orders, to be sent out to charities and people in need. 
This sentiment was echoed by Swimming NSW Coaching Director Jon Shaw.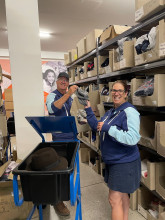 "Packing boxes for those people in need at the Thread Together warehouse was certainly a humbling experience for all the swimmers, coaches, and staff; one I would recommend to anyone."
Swimming NSW will donate unused merchandise and uniforms to Thread Together to be distributed to people facing hardship. 
You can visit Thread Together's website and Instagram to learn more about the good work they do. Swimming NSW clubs and members would be welcomed by Thread Together as volunteers for this worthy cause.
Thank you Thread Together for allowing us to be a part of your team for the day!