12 August 2020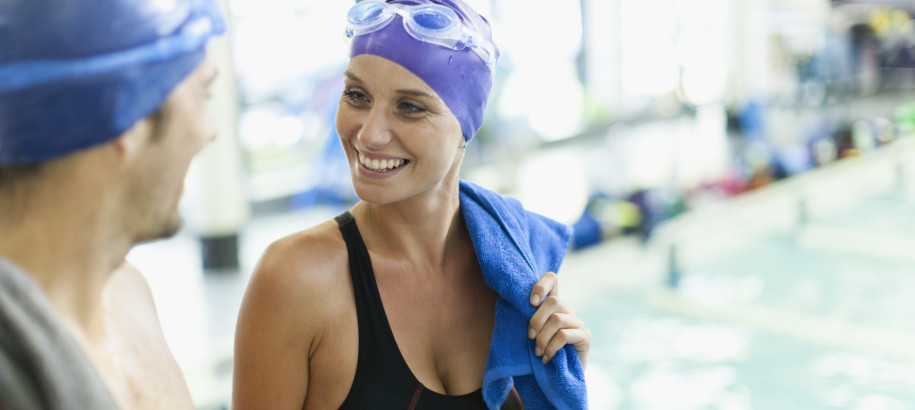 Swimming NSW has partnered with Australian Red Cross to launch Lane Ropes for Life – a program that will give members living in regional, rural and remote areas of NSW access to free mental health training.
The training will be delivered via interactive online and face-to-face workshops and will focus on helping Swimming NSW members, coaches, staff and volunteers to better recognise the signs of mental health concerns within their swimming communities, and offer practical advice for responding to mental health challenges, including where to go for more help.
Swimming NSW CEO, Mark Heathcote, stressed the importance of mental health education within the community and reinforced the organisation's commitment to providing the necessary support to ensure the wellbeing of its members and the sport.
"Swimming NSW understands and recognises its role in building a healthy and supportive sporting environment for our members, staff, volunteers, coaches, swimmers and their families," said Mr Heathcote.
"Early intervention is the key to effectively dealing with mental health concerns within our community. Knowing how to spot and respond to signs of crisis within your team, among teammates and across the swimming community, can have a big impact on the overall health, wellbeing and enjoyment of our sport.
"While this year has undoubtedly been more challenging than most, mental health and wellbeing is a fundamental part of any healthy community and will remain a focus of our organisation to ensure we are supporting our members with the information, tools and resources to effectively deal with mental health concerns within their communities.
"We encourage our members to take advantage of this training opportunity. Through knowledge and understanding, together we can make a difference."
Australian Red Cross Head of First Aid & Mental Health, Wendy Greenhalf, reiterated the importance of effective mental health and wellbeing training within sporting communities.
"Supporting safer and healthier communities is what we do at Red Cross First Aid & Mental Health," said Ms Greenhalf.
"Particularly during these challenging times, we understand the importance, more than ever, for organisations such as Swimming NSW to continue to provide mentally healthy environments for members, family and friends, staff and volunteers.
"We are proud to have been chosen as the organisation to deliver these important mental health and wellbeing courses and look forward to working together to support the swimming community."
The 'Mental Health Matters' online workshop series is being provided free of charge to Swimming NSW members, staff, volunteers, coaches, committee members, swimmers and parents via an Office of Sport Mental Health Sports Fund grant. Australian Red Cross was appointed by Swimming NSW to deliver the training.
The workshop series will launch on 25 August 2020 with members from NSW's North Coast area the first to access the program. See below for more information on workshop dates, course content and how to sign up.
About the 'Mental Health Matters' workshops
A short, interactive and informative workshop to help swim coaches, leaders and administrators recognise the signs and symptoms of someone with mental health concerns.
The workshops will cover
Understanding common mental health issues in sporting environments
Recognising mental health concerns, including sign and symptoms of mental illness
Exploring practical ways to respond during a crisis situation
Practical knowledge and skills development to build resilience
Early intervention and support to reduce the impact of mental health within your sporting community
How to get help, including learning about support organisations in your area for further referral
First round of workshop dates
North Coast – 25 August 2020, 7.00 pm - 8.30 pm
Coast & Valley (Central Coast) – 1 September 2020, 7.00 pm - 8.30 pm
South Eastern (South Coast) – 8 September 2020, 7.00 pm - 8.30 pm
New England/North West – 10 September 2020, 7.00 pm - 8.30 pm
Western/Far West – 15 September 2020, 7.00 pm - 8.30 pm
Mountains and Plains (Blue Mountains) – 17 September 2020, 7.00 pm - 8.30 pm
Southern Inland (South West/Riverina) – 22 September 2020, 7.00 pm - 8.30 pm
Each workshop has a maximum of 20 participants and members should only sign up for their area's workshop, for example, the North Coast workshop is only open to Swimming North Coast clubs and members. Swimming NSW and Australian Red Cross will release further dates to coincide with demand.
Got questions?
Contact Vinh Tran on vinh.tran@nsw.swimming.org.au or call Australian Red Cross on 1800 233 746 or learn@redcross.org.au
This program is funded through the Mental Health Sports Fund Grant program, which is a state government initiative between the NSW Ministry of Health and the NSW Office of Sport.