19 September 2019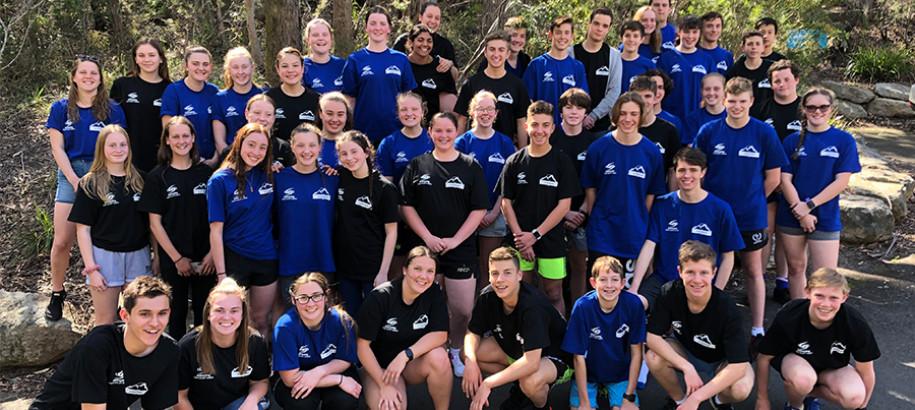 Brilliant blue skies and warm sunshine greeted the young swimmers as they descended upon the green and vibrant surrounds of Vision Valley for the 2019 Lane Ropes to Leadership Camp.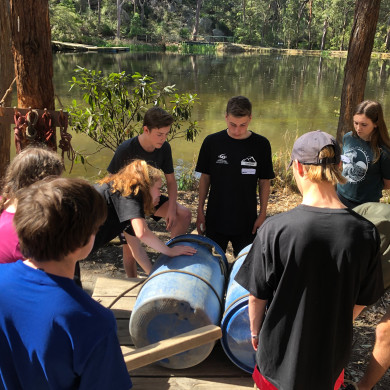 After the usual awkwardness of meeting new people and being in an unfamiliar environment passed with some ice breaker activities the campers were split into groups and set about tackling the Wesley Vision Valley Urban Expedition activities. 
The activities were chosen to challenge the participants to work as a team, show leadership communicate effectively and most importantly have some fun and further acquaint themselves with some new people.
Each group experienced the individual rigours of abseiling as well as the team challenges of raft building and the always popular giant crate stack. A busy and active day eventually rolled into night and the competitive nature of these young leaders come to the fore with a spirited trivia night competition.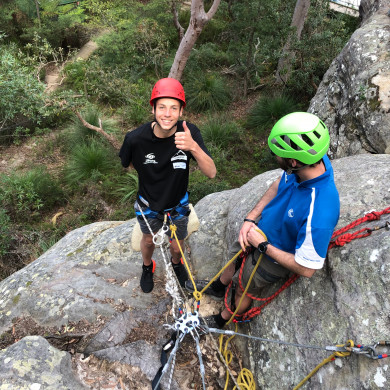 The second day of the camp had a personal development and education focus which featured leadership training as well as a very well received Youth Mental Health workshop.
The leadership workshop saw current Youth Advisory Panel members present to the group their experiences and events, projects and initiatives they have led at clubs. Bailey Crehan and Regan Smith showed what can be achieved with a simple idea along with hard work and initiative. Their presentation on the WIAQ Ocean Pools Challenge is sure to inspire similar industrious projects. The workshop also featured Kayla Bentley share her pioneering story towards becoming a commercial pilot in the heavily male dominated aviation industry. To round out the leadership workshop, Jayden Redfern shared his story of selection on to the ACYP – Advocate for Children and Young People - and his experiences in advising state and federal government ministers on the needs and perspective of young people. All the participants then split into their regional areas to for some robust discussion on new initiatives they can look to roll out at their clubs.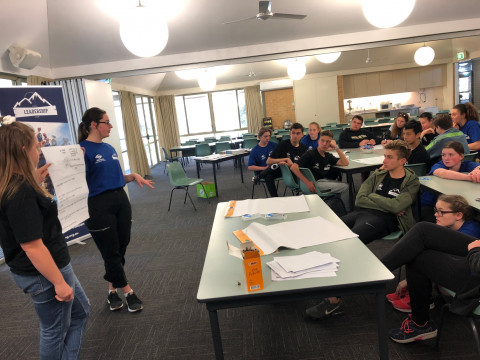 The second half was a Youth Mental Health Workshop and the focus was to raise awareness of the far-reaching issue of youth mental health and what young people can do to help someone else or how to seek help if they need it. The workshop was supported by Beyond Blue who was able to provide a wonderful guest speaker to share their story with the group. It was clearly apparent how much this engaged the group with some great questions and discussions. One of our current YAP leaders – Henry Hughes – shared his own personal story. His brave and touching story resonated strongly with the participants and was exceptionally well presented.
A tremendous thank you to all swimmers and leaders who participated. They came from all parts of NSW and the ACT and represented themselves, their clubs and areas so well. Thanks to the parents and caregivers who took the time and effort to get them to the camp. A further thank you to all the clubs who supported their attendees.
The feedback so far has been very positive from all involved and we are looking forward to seeing these young leaders sharing their experiences and implanting some fresh and exciting initiatives in their local club and community.    
Vinh Tran
Sport Development and Participation Manager, Swimming NSW
Click here to contact Vinh with questions or feedback.
Youth Mental Health Resources can be found at:
Beyond Blue https://www.youthbeyondblue.com/
Reach Out: https://au.reachout.com/
2019 Lane Ropes to Leadership Camp Participants
| | |
| --- | --- |
| Amy Wearing | Corrimal SC |
| Armand Rood | Canberra ASC |
| Ava Chessari | San Souci Sea Devils SC |
| Bianca Walton | Auburn SC |
| Bridgette Street | Swimwest SC |
| Bronte Anderson | Yass SC |
| Caitlyn Mortimer | Dapto SC |
| Charlie Mahon | Parkes SC |
| Che Van Beek | Macquarie Shores SC |
| Chelsea Shannon | Yass SC |
| Colby Hedges | Swimwest SC |
| Elise Irvine | Bay & Basin SC |
| Emily Rowell | Forster Aquatic SC |
| Fox Smith | Titans SC |
| Georgia Green | Ripples St Mary's SC |
| Georgina Morley-Miller | Mullumbimby SC |
| Hannah Hill | Picton SC |
| Hannah Thompson | Bay & Basin SC |
| Hika Betar | Auburn SC |
| Imran Afiouni | Revesby Workers SC |
| Isabella Breen | Campbelltown ASC |
| Isabella Speziale | Titans SC |
| Jack Stapleton | Knox Pymble SC |
| Janice Barry | Canberra ASC |
| Jesse Diamond-Williams | Loreto Normanhurst Aquatic SC |
| Joseph Natalegawa | SOPAC SC |
| Kade Knight | Wagga Wagga SC |
| Liam Moody | Parkes SC |
| Mia Sargeant | NU Swim SC |
| Monique Buksh | Ripples St Marys SC |
| Moses Afiouni | SOPAC SC |
| Natalie Hotham | Mingara Aquatic SC |
| Nicholas Hamilton | West Wallsend Indoor SC |
| Nishika Sharma | Revesby Workers SC |
| Olivia Dew | Taree Torpedoes SC |
| Olivia Townsend | Monte SC |
| Reece Barton | West Wallsend Indoor SC |
| Rohan Nyvlt | Leichhardt SC |
| Rosalie Stephenson | Canberra ASC |
| Tyson Scicluna | Titans SC |
| Will Ursino | Dapto SC |
Youth Advisory Panel Camp Leaders
| | |
| --- | --- |
| Henry Hughes | Sydney University SC |
| Hanna Agnew | Wollongong SC |
| Regan Smith | Wests Illawarra Aquatic SC |
| Bailey Crehan | Wests Illawarra Aquatic SC |
| Jayden Redfern | Kincumber Pacific Dolphins SC |
| Marcus Ryan | 360 Scully Park SC |
| Georgia Field | Ripples St Marys SC |
| Kayla Bentley | Nepean Aquatic SC |