13 May 2021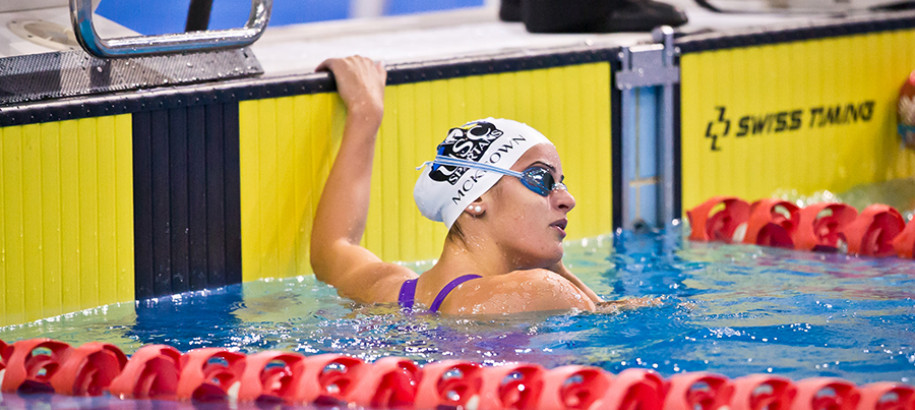 Sunshine Coast swim star Kaylee McKeown has produced the swim of night - clocking the second fastest time in the world this year in a stunning 200m backstroke preliminary on the opening night of heats at the Sydney Open and Uni Nationals Meet in Sydney.
The 19-year-old from USC Spartans set a NSW All-Comers record of 2:05.55 - just outside her own world ranked number one time of 2:05.51 swum at the South Australian State Championships in Adelaide in January and faster than Italy's Margherita Panziera's, 2:05.56 set at the recent Italian Nationals.
McKeown was out in 29.47; 1:01.43 and back in 1:04,12 - impressive swimming just a month out from the Australian Olympic Trials in Adelaide - a time just 1.06secs outside her own National record of 2:04.49 set last November in Brisbane.
The Chris Mooney-coached McKeown will be back in the water at 9am tomorrow for another morning hit out, following last month's Australian Championships on the Gold Coast, which also featured morning finals - a key component in Australia's strategy for Tokyo.
Meanwhile Southport Queensland's Tokyo Olympic hopeful Chelsea Hodges was also in impressive form, clocking a personal best time of 1:06.76 in the 100m breaststroke heats.
The 19-year-old recently crowned National champion press her claims even further in tomorrow morning's final.
Jessica Hansen (Cruiz) 1:07.40 and Jenna Strauch (Bond Swim Club) 1:07.67 will also be in the mix in the first of three morning finals sessions at this meet, to mirror the Tokyo program at the Sydney Olympic Park Aquatic Centre.
Meanwhile Australia's red hot women's sprinters let loose with former world record holder Cate Campbell (Knox Pymble, NSW) is the fastest qualifier for the women's 100m freestyle final, clocking 53.15, ahead of Madi Wilson (Marion, SA) 53.51 to  her heat while National champion Emma McKeon (Griffith University) split the pair, winning her heat with an impressive backend second 50m in 53.33.
And Rio Olympic relay bronze medallist James Roberts (Somerset) 49.64 out-touched Olympic champion Kyle Chalmers (Marion, SA) 49.90 to take the first heat of the men's 100m freestyle while WA's Zac Incerti (UWA West Coast) backing up after his 400m freestyle qualifier won his heat in 49.71, with New Zealand's Michael Pickett winning his heat in 49.77.
In other highlights
MEN'S 400M FREESTYLE: In the absence of Olympic champion Mack Horton and Elijah Winnington, it was Rio Olympian Jack McLoughlin (QUT) who topped the qualifiers in 3:51.45 with Zac Incerti (UWA West Coast) impressive in his heat in 3:51.57 with Nunawading's Brendon Smith third fastest in 3:52.60.
WOMEN'S 50m BUTTERFLY: Four-time Rio medallist Emma McKeon (Griffith University) broke her own 2019 Uni Sport record, clocking 26.21 in a comfortable heat win with Mia O'Leary (UQ) the second fastest qualifier in 26.90, ahead of Alexandria Perkins (Australian Catholic University) 26.94 and the;
MEN'S 200M BUTTERFLY: Just over half-a-second separates the top three qualifiers here with heat winners Nic Brown (UWA West Coast) 1:59.33 and Nunawading pair, National champions Bowen Gough (1:59.89) and Matthew Temple (1:59.93) hot on his heels.
Watch Friday Finals
Finals commence this morning (Friday 14 May) at 9am.
Watch live poolside at Sydney Olympic Park Aquatic Centre for $7. Get Tickets here.
If you can't make it to the pool, catch all the action wherever you are with SwimTV's livestream.
You can also follow along from home with Live Results.