06 July 2019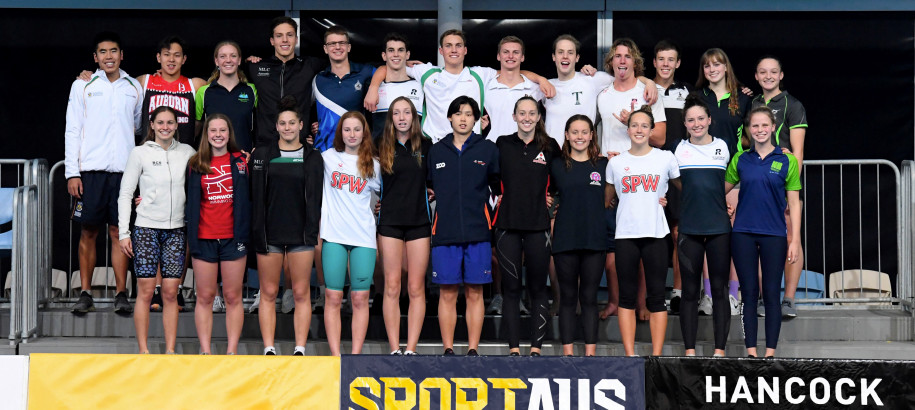 Australia's next wave of talent will assemble in Canberra this week, as Swimming Australia hosts its National Youth Camp ahead of next month's 2019 World Junior Swimming Championships.
Kicking off on Monday at the Australian Institute of Sport (AIS), the seven-day camp will see athletes refine their skills, bond as a group and gain an understanding of what it takes to compete at a high-class international competition.
The 30 members of the team, comprising of 14 boys and 16 girls, were selected off the back of strong performances at the Hancock Prospecting Australian Age Swimming Championships in April.
A few of those athletes include Junior Pacs champ Lani Pallister (Cotton Tree), Rackley's Thomas Neill – who claimed five gold medals at Age Champs – and St Peters Western teammates Jenna Forrester, Meg Harris, Michaela Ryan and Mollie O'Callaghan.
Swimming Australia's National Youth Coach Glenn Beringen said the camp is a vital part team planning as the young swimmers ready themselves for a fierce competition.   
"The camp is incredibly important for team familiarisation, athlete education and as technical preparation for the World Junior Championships," Beringen said.
"I want all athletes and staff to have a clear understanding of the importance of the contributions required as individuals, and as a team, if we are to be successful as a national swimming team.
"My goal also is to help athletes and coaches develop the skills through the camp and competition to successfully transition to the senior national team."
Honing in on the specifics, Beringen outlined the key focus areas which will be targeted throughout the seven days.
"Primarily the focus will be on training and education – how to prepare and what to expect from competing at a major international event. Through the camp we provide specific sessions around nutrition, sleep, travel and technical preparation so that the athletes can develop their skill set in readiness for competition."
While a chilly Canberra winter awaits the team, the AIS – with its high calibre and specialised facilities – was the "ideal" location to hold the camp.
"The AIS provides the ideal location because of the world class training and preparation facilities in conjunction with accommodation and quality meals on site," Beringen explained.
"The AIS also is a fantastic venue to bring a team together, respecting its distinct role in the history of Australian sport."
Following the camp, athletes will re-join their home programs in their respective states for their final competition preparation and will come together as team again in mid-August, spending a week in Slovakia to acclimatise and prepare for the competition in Budapest.
The 2019 World Junior Swimming Championships runs from Tuesday 20 August to Sunday 25 August.
To stay up to date with the latest news, make sure you're following Swimming Australia across social media - Facebook, Instagram and Twitter.