24 November 2020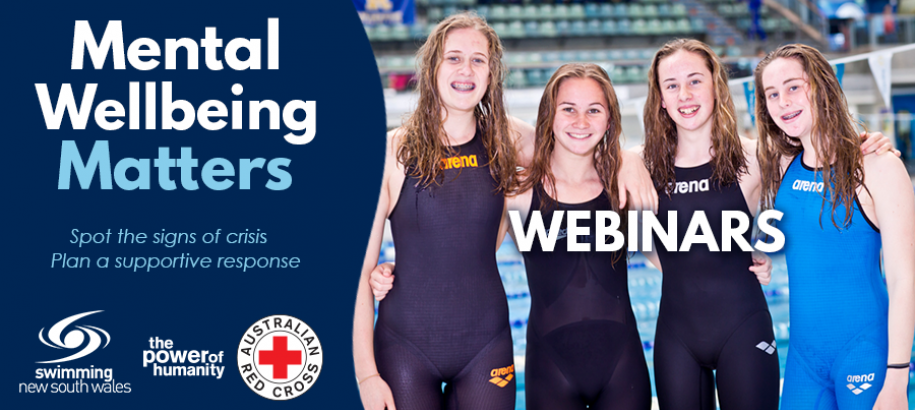 Lane Ropes for Life – FREE Mental Health First Aid Training for Regional Members
Following the successful first round of our Lane Ropes for Life program, during which Mental Health Webinars were delivered to members from all across our seven regional swimming areas, Swimming NSW and our program partner Australian Red Cross are pleased to launch the second round of this mental health education initiative.
The second phase of the Lane Ropes for Life program will provide Swimming NSW members from regional areas of NSW access to a full Mental Health First Aid (MHFA) course and recognised MHFA qualification.
We will also offer another round of the 90-minute Mental Health Matters Webinars for regional members that missed on the previous round. This webinar is ideal for those who are after a shorter, introductory mental health education course.
Help promote resilience and a supportive culture within your club and the broader community through mental health training.
Knowing how to spot and respond to signs of crisis in your club and with your members can have a big impact on mental health concerns. Early intervention and a supportive sporting environment are winners for people within your club, area, and community.
Program Options
Limited spots available in both programs.
Mental Health Matters Webinar
A short (90 mins), online interactive and informative workshop to help swimmers, coaches, leaders, parents, and administrators recognise the signs and symptoms of someone with mental health concerns. This webinar is an ideal starting point for people to learn about how to support someone going through these issues.
Learn to:
understand common mental health issues in sporting environments
recognise mental health concerns, including sign and symptoms of mental illness
practical ways to respond during a crisis situation
employ practical knowledge and skills development to build resilience
use early intervention and support to reduce the impact of mental health within your sporting community
get help, including learning about support organisations in your area for further referral.
Mental Health Matters First Aid Course (Accredited)
Gain a Mental Health First Aid (MHFA) accreditation.
Learn:
the signs and symptoms of common and disabling mental health problems
how to provide help
where and how to get professional help
what sort of help is effective
how to provide mental health first aid in a crisis situation using a practical, evidence-based action plan
On successful completion of this course, students will be issued with a Certificate of Completion from MHFA Australia. Participants can then complete an online accreditation exam to become an Accredited MHFAider.
This webcast runs from 9:30am–12:00pm and then again from 1:30-4pm after a 1.5 hour break.
Contacts
For enquiries regarding registration and technical issues please contact Red Cross on: 1800 733 276 or learn@redcross.org.au
For general enquiries regarding the Lane Ropes for Life program contact: vinh.tran@nsw.swimming.org.au