03 May 2021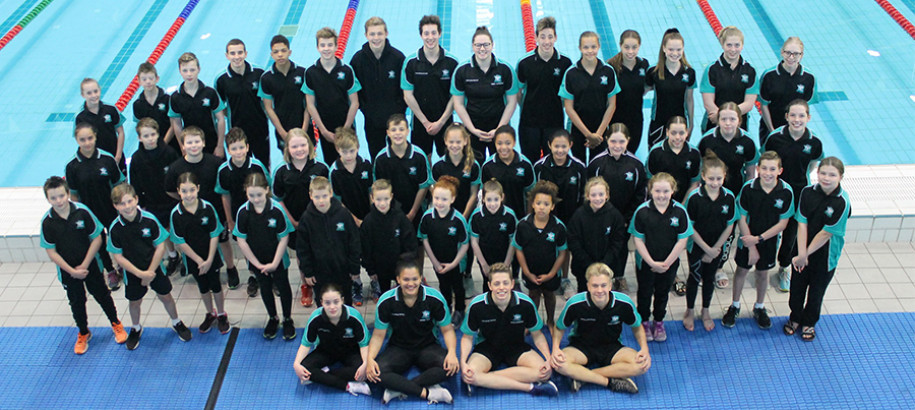 Today we're diving into - Nepean Aquatic Centre SC
Nepean Aquatic Centre Swim Club (NACSC) is located in the Nepean Valley in Western Sydney, and is part of the Metro South West Area. It draws members from the Lower Blue Mountains, Wallacia, Hawkesbury and Penrith communities, with squad training mainly based at Nepean Aquatic Centre. The club also has a strong Open Water focus, so athletes frequently use the facilities at the Sydney International Regatta Centre (SIRC) in Penrith, particularly over summer, to accommodate their training.
Head Coach Jackie Barck delivers NACSC's program to their 180+ members. Barck's experience and credentials including having coached swimmers to Paralympic gold medals and World Record Titles, makes her an invaluable asset to the club.
NACSC's current focus is to develop young people coming up through the ranks, so more NACSC swimmers can experience competing at National Championship events, and ultimately, earn a place on Australian teams.
To find out a bit more about the club, we spoke to Head Coach Jackie Barck and club Vice President and Race Secretary, Rita Hall, with the assistance of Publicity Officer Julie Sheldrake.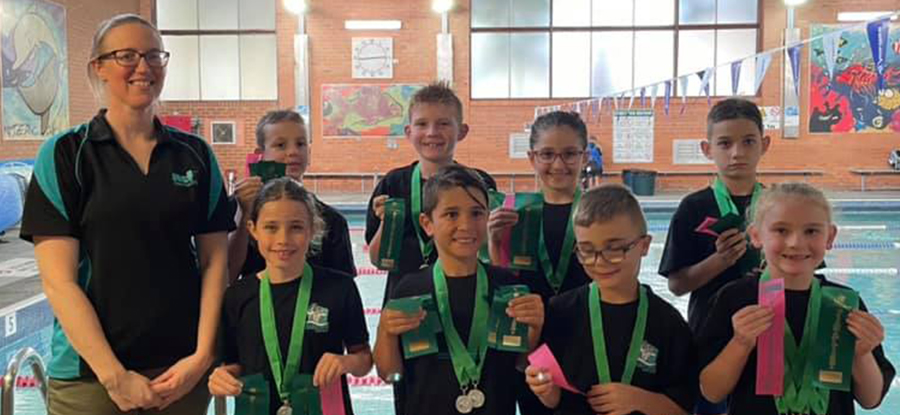 Nepean Aquatic in Depth  
Nepean Aquatic Centre Swim Club was established in 2011 and came about through the merging of Nepean Swimming Club and Wizards Swim Team. Alan and Karen Bentley played instrumental roles in forming the club after their vision of building a new learn to swim and training facility for future local champion swimmers was realised. It was important from the club's inception to cater to competitive swimmers as well as provide swimmers with the opportunity to participate in a relaxed social atmosphere. 
The club motto of 'Passion', 'Perseverance' and 'Power' is worn on club representative shirts to remind swimmers of their foundation and the path  down which their club is heading. The main focus of the club is to encourage swimmers to enjoy the sport of swimming, and experience racing in an environment with no pressure. This is demonstrated by their weekly Friday night club nights, where Learn to Swim participants are invited to come along and have a go. These are run at Glenbrook Swim Centre during the long course season in summer, and at Nepean Aquatic Centre in winter, offering 12.5m, 25m and 50m lanes for racing. Members of the club don't just stick to pool swimming either- you'll find various members competing at Nippers events, Open Water events and triathlons.
Strong family and community connections are integral parts the club - and is what initially drew Vice President Rita Hall to become a member. During club nights, you'll often find members of the same family competing in the same event- it's always fun and a challenge to see who's going to come out on top. You'll always find a sausage sizzle and cheese toasties on offer on a Friday night, run by various parents of the club. This is definitely a great treat to have after a big race!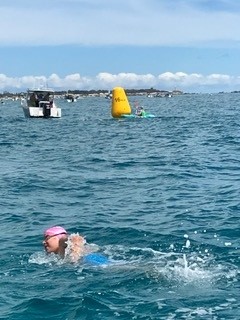 NACSC targets a number of Open Water meets. One of their swimmers, Michael Payne, has completed the 19.7km Rottnest Channel Swim in WA, swimming in a successful duo team in 2020 and solo in 2021. To qualify for the Rottnest swim, Michael needed to do a 10km Open Water Time Trial at SIRC. Despite being given a mere few hours notice to complete the time trial due to water conditions, there was no shortage of squad members who offered to swim alongside Michael to help motivate him along the way.
Father and son duo, Michael and Steve Payne, successfully navigated the English Channel crossing as part of a three man team in 2019. Michael remains determined to return to the UK to tackle the frigid waters solo after his 2020 attempt was thwarted due to extreme weather conditions. His father, Steve sought a longer swim in somewhat calmer waters when he celebrated his 60th birthday completing the 20 Bridges Swim (which is 45.9km long!) around Manhattan Island, USA.
What's next for Nepean Aquatic Centre SC
NACSC have been focusing on skills, especially over the forced break last year as a result of the COVID-19 pandemic. Head Coach Jackie Barck was extremely impressed with the mental fortitude of the athletes, who maintained motivation and continued to progress their development within the break period.
The club's current focus is developing speed with race practice. Jackie likes to tell her swimmers that "there are no short cuts to success - be prepared, practice your skills, work hard and tackle every challenge - then the results will follow".
Come and try Nepean Aquatic Centre SC
NACSC host their annual Open Water meet in October, open to all Swimming NSW members, as well as an annual Short Course meet each year in August at Sydney Olympic Park Aquatic Centre. All are welcome to trial swimming with the club at their club nights.
Find and Contact Nepean Aquatic Centre SC
Club pool: Nepean Aquatic Centre, 16-19 Lambridge Pl, Penrith NSW
Club website: https://www.nepeanaquaticcentreswimclub.com/
Follow Nepean Aquatic on Facebook and Instagram
Nepean Aquatic also runs a Facebook Group for members and those interested in becoming members.
Want to be featured in the next Clubs in Depth?
The purpose of Clubs in Depth is to promote NSW-based clubs to both the Swimming NSW and broader community in order to increase engagement and participation. The article is distributed via our website, social media channels, the Hot Off the Blocks Newsletter and Swimmer Magazine.

Swimming NSW will also provide featured clubs with a modified copy of their article so it can be distributed to local media outlets as a new member and community engagement tool.