12 December 2021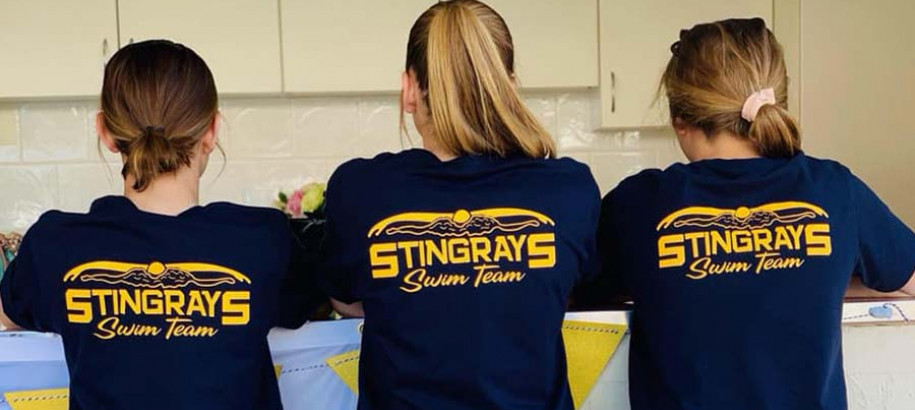 Today we're diving into - Narrabri Stingrays SC
Located in north-western NSW, Narrabri Stingrays SC was opened in the 1950s, with records showing swimmers attended NSW Country Championships as early as the 1960s. The second recipient of our Emma McKeon prize pack, Narrabri Stingrays SC promptly registered over 100% of their membership numbers from last season.
Most club members get the chance to swim year-round thanks to a 25m indoor pool that the club uses in addition to their 50m outdoor pool.
The club has been home to Olympian, Nira Stove, and dual Paralympians, Jeff Hardy and Sarah Jane Schulze.
To find out more about the club, we spoke to the Coach – Fiona Druzinec and Club Treasurer – Sagrario Gamez Virues.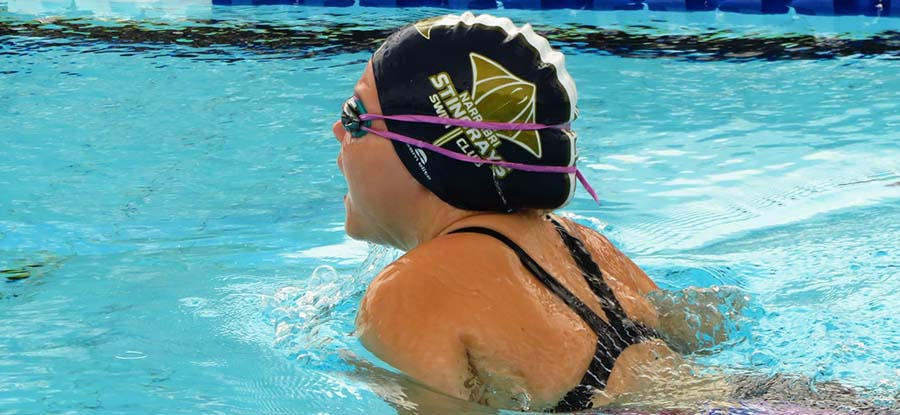 Narrabri Stingrays in Depth
Narrabri currently welcomes 82 swimmers into training squads and race nights, which are held once a week. Memberships continue to increase each year thanks to the all-inclusive, respectful approach the club show towards all swimmers and families.
Narrabri Stingrays Swimming Club have built a fun, social environment to complement the traditional focus on fitness and competition. Weekly race nights have a novelty event to create a fun and inclusive environment. One of the most popular novelty events is a big kid and little kid kick race, which encourages swimmers of all ages to get to know each other.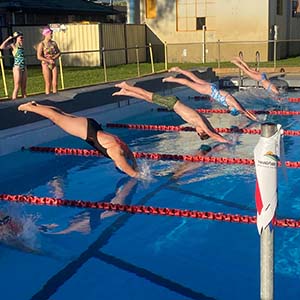 "Stingrays is a club where all of the kids get along and encourage each other. There are no negative rivalries. We are all like a big family," said one young Stingray.
Especially during lockdown, Fiona saw the importance of maintaining engagement to maximise the number of swimmers returning to the sport. A great way of doing this was by creating virtual Kahoot competitions based on swimming history and knowledge. Another strategy to keep swimmers engaged was to creating a team a video that the club published on their Facebook page, which received a few thousand views!
Club members regularly contribute to fundraising efforts, selling raffle tickets together one Friday per month. Prior to COVID, the club also held their own UNO competition and have run cake stalls at the town's Community Caravan every six months. Young entrepreneurs from the club sell cakes to different businesses on a Saturday morning, and encourage businesses to come and buy cakes from their caravan.
With only two weeks' notice, Narrabri Stingrays participated in the 2020 Starlight Super Swim. 21 kids swam in the event and raised over $1000. It was impressive to see even the little kids, who'd barely swum a whole lap at the start of the season swimming their hearts out to support a good cause. The older kids were also using the younger kids as motivation, making it their mission to beat their younger counterparts!
What's next for Narrabri Stingrays SC
Narrabri Stingrays are preparing for their annual carnival in February 2022. The carnival attracts swimmers from all over the north west of New South Wales, as well as those from Dubbo and Newcastle.
Narrabri Stingrays have an ongoing mission to emphasise fun and inclusive club activities so members can engage long-term with the sport of swimming.
Find and Contact Narrabri Stingrays SC
Club pool: Narrabri Aquatic Centre, Tibbereena St, Narrabri
Follow Narrabri Stingrays SC on Facebook
Want to be featured in the next Clubs in Depth?
The purpose of Clubs in Depth is to promote NSW-based clubs to both the Swimming NSW and broader community in order to increase engagement and participation. The article is distributed via our website, social media channels, the Hot Off the Blocks Newsletter and Swimmer Magazine.

Swimming NSW will also provide featured clubs with a modified copy of their article so it can be distributed to local media outlets as a new member and community engagement tool.