06 April 2021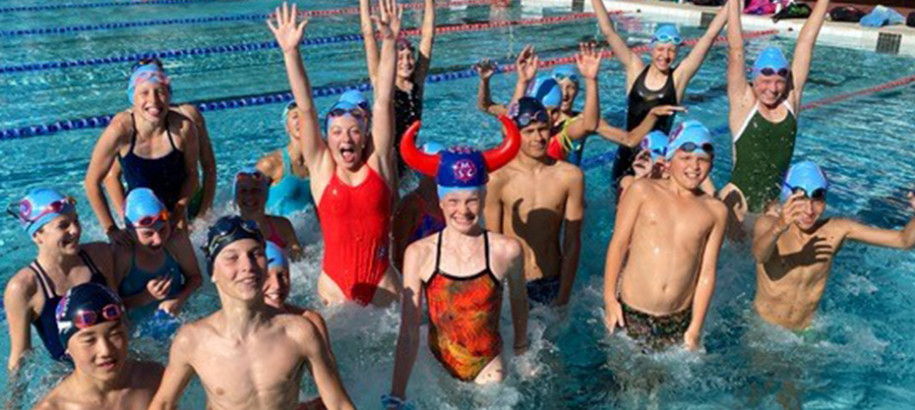 Today we're diving into - Manly SC
Manly Swimming Club is based at Andrew Boy Charlton Pool in the Metro North East region of Sydney, NSW and have recently just celebrated their 115th season as a club. Strongly supported by the Northern Beaches Council and Head Coach Justin Rothwell, their squad size has increased from 40 swimmers in October 2018 to now servicing around 350 swimmers including pool, surf and triathletes. Manly Swimming Club itself is made up of around 230 members.
To find out a bit more about the club, we spoke with Head Coach Justin Rothwell, President Matthew Paterson and members of the YES Squad (Young Elite Swimmers) Felisa Gonzalo and Lillie McPherson.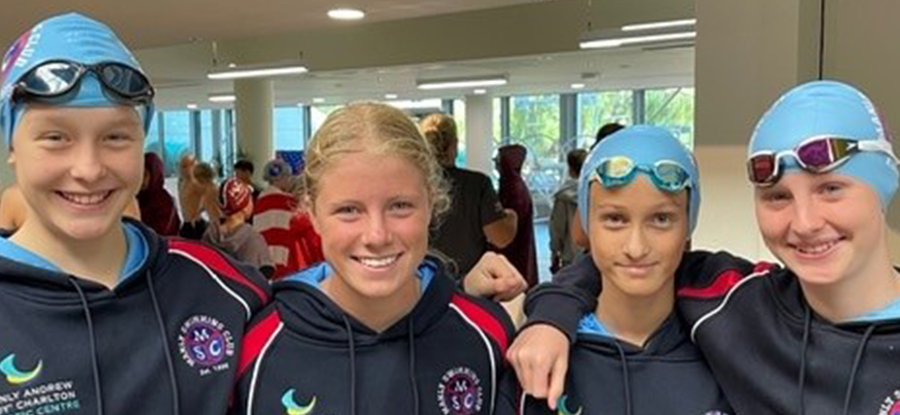 Manly SC in Depth 
Manly Swimming Club was established in 1905 and was initially based at the Manly Baths, which is where the Manly Skiff Club is currently located. There were many world records set in that pool particularly in the 1920's-1930's - a time when swimming was so revered as a sport people would climb trees just to catch a glimpse of races.
A number of Olympians have hailed from Manly SC; the majority of the Australian Olympic Team in the 1920s and 30s was made up of Manly swimmers. Andrew Boy Charlton, John Devitt, Cecil Healy, Noel Ryan and John Koorey (1st Australian male to swim the English channel) are just a few high-profile Australian swimmers who are a part of Manly SC's rich history. Fast forward to today, you will find Manly SC's members have earned spots on junior national teams, and numerous swimmers are competing at state and national events.
Head Coach Justin Rothwell ensures that all swimmers are provided with opportunity to train alongside swimmers of different age groups for growth and development purposes. The YES Squad is made up of around 12 athletes who are in between the Gold and Silver squads. They train alongside both swimmers their own age, as well as swimmers who are older and more experienced. Swimmers Lillie and Felisa both agree that this is definitely a great challenge and allows them to continue improving as athletes.
Manly SC's team atmosphere is larger than life, where everyone gets along with everyone, and older swimmers take younger swimmers under their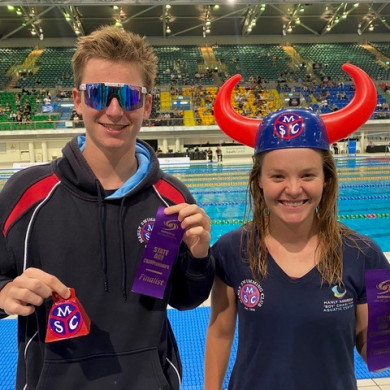 wing. No doubt you have seen a Manly swimmer wearing a viking hat, or heard a cowbell ringing to celebrate a teammate's success at any meet they're attending.
What's next for Manly SC
President Matthew Paterson has been working on developing a relationship with Warringah Swim Club, so that when athletes go away to National events, there's familiarity between both clubs and a bigger group is able to sit together. One such way of developing this relationship was through the recent Summer Vibe carnival, which provided swimmers with the opportunity of learning to race in an outdoor environment.
Come and Try Manly SC
New members are invited to trial swimming at Manly at their weekly club races, held every Saturday morning from October-March. Anyone of any age and level of swimming is welcome to join- you'll find that some kids come along to race 15m events wearing bubbles and floaties!
Squad
Head Coach
Assistant Coach(es)
Gold
Justin Rothwell
Blake Medhurst; Christine Washer
Junior Gold
Blake Medhurst
Kei Shiono
Silver
Blake Medhurst
Kei Shiono
Bronze
Kei Shiono
Nick Jennens; Christine Washer
YES
Justin Rothell; Blake Medhurst
Adult
Blake Medhurst; Christine Washer; Kei Shiono
Find and Contact Manly SC
Club pool: Manly Andrew "Boy" Charlton Swim Centre, 1 Kenneth Road, North Manly 
Club website: http://manlyswimclub.org.au/
Want to be featured in the next Clubs in Depth?
The purpose of Clubs in Depth is to promote NSW-based clubs to both the Swimming NSW and broader community in order to increase engagement and participation. The article is distributed via our website, social media channels, the Hot Off the Blocks Newsletter and Swimmer Magazine.

Swimming NSW will also provide featured clubs with a modified copy of their article so it can be distributed to local media outlets as a new member and community engagement tool.