19 March 2021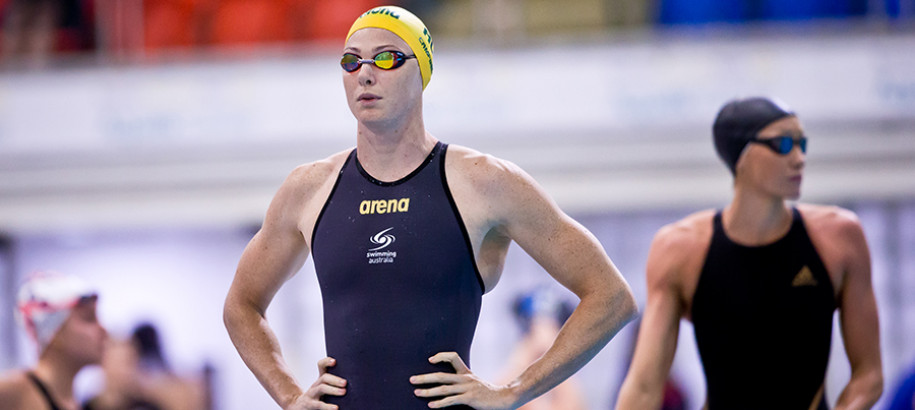 The highlight of the morning was clash of the heavy weights in the following Olympic events: Mens 400m Freestyle, Womens 100m Breaststroke, Womens 100m Freestyle, Mens 100m Freestyle and the Womens 200m Backstroke.
The opening event was the Mens 400m Freestyle with Elijah Winnington (St Peters Western) taking the Gold in a world class swim of 3:44.83 after swimming the first 200m in a quick 1:50.14. Taking the Silver and Bronze medals were Mack Horton (Melbourne Vicentre) and Jacob Hansford (St Peters Western). NSW was represented by the Sydney University swimmers Ryan Wilkes (3:57.91), Daniel Perez (3:59.04) and James Koch (3:59.62) who placed 6th, 7th and 8th respectively.
In the Mens 200m Butterfly the Adam Kable-coached Alex Quach (Auburn) swam a great race to record a sub 2:00.00 time – winning the Gold in 1:59.35 taking 0.74 off his entry time. Filling the medal placings were Charles Cox (St Peters Western) and Australian Team member David Morgan (TSS Aquatic). Fourth to the wall was Charlie Hawke (Hunter) in a smart time of 2:01.59.
The Womens 100m Breaststroke saw the first four swimmers finish within 0:62 of each other. In the end Abbey Harkin (St Peters Western) prevailed taking the Gold in 1:07.37 just outside her entry time. The Silver went to Jenna Strauch (Bond) in 1:07.41 and the Shannon Rollason (ACT HUB) coached Jessica Hansen (Cruiz) took the Bronze in a time of 1:07.76.
The Womens 100m Freestyle saw Australian team mates going head to head in some very fast swimming. Controlling her race well Emma McKeon (Griffith University) swam an outstanding time of 0:52.59…just 0.18 outside her entry time to claim the Gold medal. Picking up the Silver was Cate Campbell (Knox Pymble) 0:52.83, and the Bronze medal went to Madison Wilson (Marion) 0:53.47. NSW swimmer Abbey Webb placed 6th in a time of 0:55.87
The Mens 100m Freestyle saw Olympic champion Kyle Chalmers stamp his authority on the race taking the Gold medal in a quick 0:48.50 – a great swim for this time of year. Taking the Silver was William Yang (Loreto Normanhurst) 0:49.31 – just under his entry time. The Bronze went to Jack Cartwright (St Peter Western) in 0:49.59.
The final of the Womens 400 IM saw NSW swimmers take the first 2 placings…the Gold going to Meg Bailey (NSW Olympic Park Hub/Hunter) in a seasons best of 4:40.96. The Silver went to Charli Brown (Manly) in 4:45.65 – a 2 second PB. Great swimming from both girls!
The Womens 200m Backstroke saw Kaylee McKeown (USC Spartans) take the Gold in a swift 2:05.66. NSW swimmer Abbey Webb (Ginninderra – ACT HUB) came 6th in 2:15.89. Other NSW finalists were 5th Chelsea Kenneally (Ginninderra) 2:17.42; 6th Adriana Fydler (Knox Pymble) 2:18.51; 7th Emily Jones (Hunter) 2:20.31; 9th Anneke Van Zoggel (Epping Bullets) 2:21.47; 10th Ellie Beck (Knox Pymble) 2:24.25
The Womens 800m Freestyle (timed final) saw TSS Aquatic teammates fill the top 3 placings. Gold went to Kiah Melverton (8:29.31); Silver Madeleine Gough (8:29.97); Bronze Moesha Johnson (8:34.49)
Other winners this morning
Womens 50m Butterfly: Emma McKeon (Griffith University) 0:25.97
Mens 50m Freestyle Multi Class: Gold Rowan Crothers S10 (Yeronga Park) 0:23.84; Silver Ricky Betar S14 (Auburn) 0:24.19
Womens 50m Freestyle Multi Class: Gold Katja Dedekind S13 (USC Spartans) 0:27.83; Silver Jasmine Greenwood S10 (Bay & Basin) 0:28.96
Mens 50m Breaststroke: Matthew Wilson (SOPAC) 0:27.93
Mens 50m Backstroke: Gold William Yang (Loreto Normanhurst) 0:25.23; Bronze Bradley Woodward (Mingara – NSWIS HUB) 0:25.66
Mens 200m IM Multi Class: Col Pearse SM10 (MH2O) 2:16.79; Silver Joshua Alford SM14 (Tuggernong Vikings) 2:22.57
Womens 200 IM Multi Class: Gold Jasmine Greenwood SM10 (Bay & Basin) 2:32.92; Tiffany Thomas-Kane SM7 (Warringah) 3:05.46
There's plenty of excitement on deck and we look forward to more fast swimming in this evening's heats session!
Jon Shaw | Coaching Director | Swimming NSW Ltd.