10 May 2019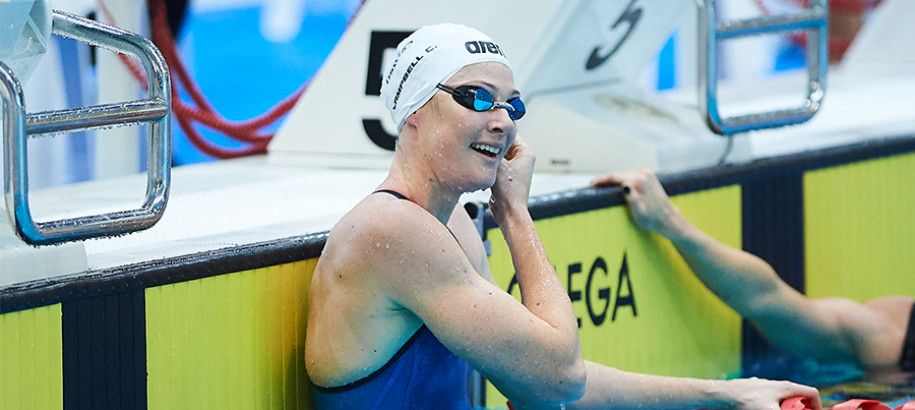 Swimming's freestyle sprint queen Cate Campbell (Knox Pymble) is leaving no stone unturned as she sets her sights on a return to this year's Fina World Swimming Championships in Korea in July.
As she approaches her 27th birthday later this month, the born and bred Queenslander is loving her re-juvenated life in Sydney and she showed why with an eye-catching 100m freestyle heat swim to kick start the three-day Sydney Open Swim Meet at the Sydney Olympic Park Aquatic Centre today.
Campbell has her sights on a fourth World Championship team after taking a break from the previous World's meet in Hungary in 2017 – a break that has re-juvenated her career.
But the girl they call C1, who made the move to the Harbour City to join life long coach Simon Cusack late last year, couldn't be happier in her Sydney environment in the Knox Pymble program on the city's north shore.
She is one of a host of swimming's biggest names who will line up in a three day Sydney Open Meet which doubles as the Unisport Nationals in an exciting new addition to the National Swimming calendar.
Campbell cruised to victory in the eighth and final heat of the women's 100m freestyle in a new Unisport record time of 53.92 to start favourite to take the title in the countdown to next month's Hancock Prospecting World Championship Trials back in her home city at the Brisbane Aquatic Centre.
She will be joined in tonight's final by fellow Olympians Madi Wilson (Marion) 54.35 and her Rio relay gold medallist team mate Emma McKeon (Griffith University) 54.80 who was also the fastest qualifier in the 50m butterfly in 26.73.
"This will be our last chance to race before those Trials so it is really important to hone those skills that I've been practicing on and it was good to (start out) with a good morning swim," said Campbell.
"This meet becomes really important and to think that in my event the women's 100m freestyle, out of the top five people in the world three of them (sister Bronte and Emma McKeon) are from Australia so its going to be a hotly contested World Championship Trials in Brisbane in a couple of weeks time.
"It's good to be able to out together a couple of good races before then."
And on the move to Sydney, Campbell is somewhat embarrassed.
"The move to Sydney has been really great – I'm almost embarrassed about how much I'm enjoying it, I feel like I'm betraying my Queensland roots," said Campbell.
"I had been doing the same thing in the same place for a really long time and while I've remained with my same coach Simon Cusack we've got a whole new team around us, a little bit of a new environment.
"We have different physios, different sports scientists, different strength and conditioning people and different bio-mechanists; everyone brings a slightly different view and a slightly different eye, so and at the moment I'm really just learning from all of them and I'll put together some of their recommendations in the next few weeks."
Cusack was last week awarded his third Australian Swimming And Coaches Association (ascta) Coach of the Year Award will take his troops, including Bronte Campbell, who has missed this meet due to a virus and Paralympic golden girl Ellie Cole to their annual altitude training camp in Thredbo on Sunday.
"I'm really looking towards focusing in and doing some really good training," said Campbell.
"We've been going there for eight years now; there are no distractions, we sleep, we eat and we train."
And on her break from the sport she said:
"I have been in the sport for a really long time and the time away from it has made me realise how much I have achieved over those years," she said.
"I've been at the helm of swimming on a global scene for almost 12 years now and whatever happens in the future if I walked away from the sport today I couldn't be happier with my achievements.
 "Taking time out of the sport has made me realise that, and how much it means to be a part of the Australian Dolphins, a wonderful team, we've got such rich history when you talk about the Australian Dolphins – it was a childhood dream and sometimes I forget I'm living out that dream I had when I was 9 years old because reality can kind of creep up so I really did re-ignite that spark."
In other major highlights this morning
Australian champion Jenna Strauch (Bond University) is the fastest qualifier into the 100m breaststroke final in 1:09.04 ahead of Griffith University Swim Club pair –Olympians Georgia Bohl (1:09.95) and Taylor McKeown (1:10.98).
Commonwealth record holder Cam McEvoy (Griffith University) clocked the third fastest qualifying time of 49.65 in the men's 100m freestyle behind Japanese pair Katsumi Nakamura (49.45) and Shinri Shioura (49.52), with Olympic champion Kyle Chalmers a non starter.
The men's 400m freestyle will see Olympic champion Mack Horton (Melbourne Vicentre) third fastest into the final behind Japan's seven-timer World Champion Daiya Seto (3:50.58) and fellow Australian Jack McLoughlin (QUT) 3:50.98, while;
Nothing separated Commonwealth Games relay gold medallist Elijah Winnington (Bond University) 2:02.25 and Rio Olympian David Morgan (Griffith University) 2:02.34 in the 200m butterfly heats.
This evening's Finals session kicks off at 5:30pm. Tune into the action from home via livestream or follow along with Live Results.