11 May 2019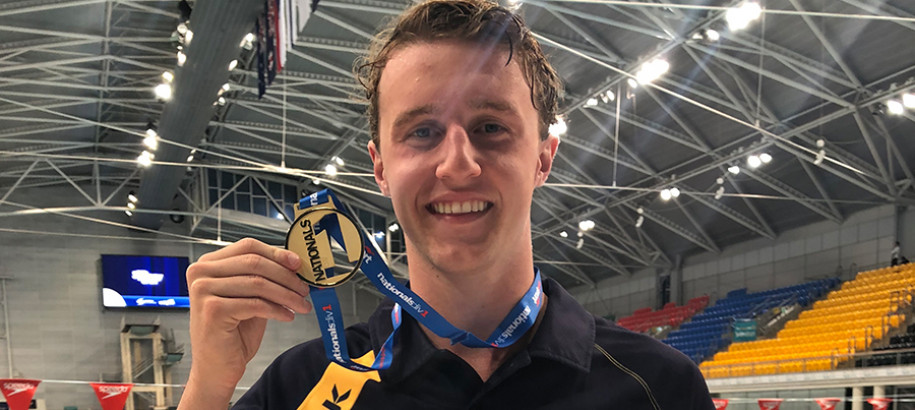 It was a case of leaving their opposition both "shaken and stirred" when the Bond connection of Elijah Winnington and Jenna Strauch claimed five Olympic scalps between them at the Sydney Olympic Pool tonight.
The Richard Scarce-coached pairing from the Gold Coast's Bond Univeresity program, showed they really mean business as the countdown clock ticks for next month's World Championship Trials in Brisbane.
It was a case of leaving the best till last at the inaugural Sydney Open/UniSport Nationals Meet, when Winnington out sprinted Commonwealth Games 1500m gold medallist Jack McLoughlin (QUT) to take out the Olympic 800m distance by just six-one-hundreths of a second (0.06).
Winnington, 19, clocked a seven second personal best with a time of 7:55.75 (1:59.70; 4:00.13) to McLoughlin's 7:55.81 (1:57.96; 3:59.73) with Olympic 400m champion and World Championship bronze medallist for 800m, Mack Horton (Melbourne Vicentre) 8:02.01 (1:58.62; 3:59.73) third.
The teenager from the Gold Coast put in two swift 50s after the 400m to hit the lead at the 500m mark to set up a classic finish – powering down the final 50m in 26.79 to McLoughlin's 27.33 to steal the win on the touch.
But Australia's premier distance boys need not worry – Winnington has no immediate plans for the 800m – not yet anyway!
"I don't think I'm going to put the 800 into my program, I'm still focused on the 200 and 400m; it was just a training thing coming in here and working my aerobic capacity," said Winnington.
"I might do it at Trials but I don't think it will be a major target; it was really just a bit if fun and a hit out – but I certainy wasn't expecting to go a seven second pb.
"The reason I won't focus on it, is because I think it will take away the speed I need for the 200m and I think the 200m helps the 400m, just as much with the easy speed I normally have.
"I'm looking forward to seeing how I will go in my pet events when I'm fully tappered, it means that all the training is coming together and that's always a positive thing to think about."
But in the future, if it fits into the program then like the legendary Ian Thorpe, he could well contest every race from 100 to 800m.
"If Rich and I can work out a way where I can swim the 200m, 400 and the 800m and potentially the 4x100, I would definitely add it in," said the Commonwealth Ganes 4x200m freestyle gold medallist.
"It's not like I dislike the event, I just like others more I guess and when you get to the Olympics and World Championships you want to specialise.
"You would rather be the best in one or two events than average in four or five… it's just weighing it all up to see how we could do it."
Earlier in the night his 22-year-old tough-as-teak team mate, Strauch, the girl who has made a remarkable comeback from a debillitating illness some four years ago, who continued her rise.
She followed up her first 200m National title in Adelaide in April with the 100 and 200m breaststroke double in Sydney.
Tonight it was the 200m in 2:25.39 – leading from the gun to leave three Olympians – Tessa Wallace (Pelican Waters) 2:27.01 and Griffith University pair Taylor McKeown (2:27.65) and Georgia Bohl (2:30.76) in her wake.
"I've put some good swims in the bank so hopefully things will only get better and better – it's been a lot of hard training like every athlete does but it's all worth it in the end,"said Bendigo born Strauch, who is now firmly entrenched at Burleigh Heads on the Gold Coast.
"It's been a long road for me, to get to this position; so satisfying to actually return to the sport and get back to my best – that has been what has pleased me the most, and been the most rewarding.
"To make this (World Championship) team would mean everything for me…It has been a dream for me and we have Olympics coming up next year so that is the ultimate goal.
"It will get me some exposure hopefully before the big one…the Olympics has been a goal of mine since I was a kid and after getting sick that's the one thing that brought me back, I desperately wanted to do it..so we'll see how we go."
While Kiah Melverton (Griffith University) capped off a big night for the God Coast, scoring an all-the-way win in the women's 400m freestyle in a solid 4:07.29 holding on to reverse last night's 800m over TSS Aquatic training partner Madeleine Gough (Bond University) 4:08.79 with Lani Pallister (Cotton Tree) 4:13.24 taking third.
It was also an encouraging night for the NSW Blues – with William Yang (Sydney University) and Matt Wilson (SOPAC) both claiming victories – Yang in the 50m butterfly in 24.36 and Wilson the 200m individual medley in 2:01.58 after his silver behind JPN's Yasuhiro Koseki (59.95)  in the 100m breaststroke in 1:00.83.
The Adam Kable-coached Wilson led home an all NSW trifecta ahead of Uni of Technology pair Tomas Elliott (2:03.03) and Se-Bom Lee (2:03.10) while Bradley Woodward (Mingara) claimed the silver in the 200m backstroke in 1:59.11 behind Japan's Keita Sunama (1:57.89).
Auburn Paralympian Timothy Hodge added the the 400m free Multi Class in 4:31.76 to his 50m gold from the opening night while Paralympian golden girl Lakeisha Patterson (Uni of QLD) won the women's 400m freestyle Multi Class final in 4:41.62 from fellow Paralympic legend Ellie Cole (Knox Pymble) 4:47.63 and Lilly Barras (Uni of QLD) 5:14.41
Meanwhile the Cate Campbell (Knox Pymble) show continued its roll, with the Commonwealth record holder recording a solid 24.38 to win the 50m free final from Emma McKeon (Griffith University) 24.87 & Japan's Rika Omoto (25.02) and follows her 100m win from last night in 52.93.
McKeon, who started her swimming career with Wests Illawarra Aquatic, had earlier added the 100m butterfly (to her 50m butterfly) in 57.66.
The men's 200m freestyle final was an all-Japanese podium with Matsumoto (1:47.63) 1st from Takahashi (1:48.05) 2nd and 400m winner Seto (1:48.31) 3rd
And Kaylee McKeown (USC Spartans) added the 100m backstroke to her 200m title from last night in 59.46 ahead of Natsumi Sakai (JPN) 1:00.16 and Rio Shirai (JPN) 1:00.39
Yang, one of the new rising stars of NSW Swimming added the Sydney Open title to his National Championship in the 50m butterfly in 23.46, just outside his best time.
Today marks the final day of Swimming NSW's inaugural Sydney Open with heats kicking off at 9am at Sydney Olympic Park Aquatic Centre. Follow along from home this morning with Live Results, then watch tonight's Finals session via livestream.