08 September 2021
Wow, what an amazing ten days we witnessed at the 2020 Paralympic Games in Tokyo! From the original team announcement to the moment they stepped out on to the blocks, we knew this powerhouse Australian Paralympic Swimming Team would carry on the proud tradition of excellence and sportsmanship bestowed on them from previous Games. After an extraordinary build up to the Paralympic Games it was so exciting to see our athletes finally have the opportunity to compete on the world stage…and compete they did!! The years of hard work and planning paid off handsomely for our athletes and coaches…huge congratulations to all!
The swimming competition came to a close on Friday, 3 September, with the Australian Dolphins amassing 33 medals in the pool: 8 Gold, 10 Silver and 15 Bronze!
Mighty Blues podium moments
There were some fantastic performances by our NSW Mighty Blues swimmers – 8 athletes in total brought home a combined 12 medals!
Ricky Betar (Auburn SC – Coach Clinton Camilleri) won a Silver medal in the Mixed S14 4 x 100m Freestyle relay and made another two finals.

Tim Hodge Paralympic Silver medallist
Ellie Cole (Knox Pymble SC – Coach Nick Dobson) won a Silver (4 x 100m Freestyle Relay – 34 points) and Bronze medal (4 x 100m Medley Relay – 34 points) that took her medal tally to an amazing 17 medals over four Paralympic Games – the most by any Australian Paralympian – massive congratulations to Ellie.
Jasmine Greenwood (Bay & Basin SC – Coach Bob McEvoy) won a silver medal in the S10 100m Butterfly at her first Paralympic Games and earned a spot in the finals in her other three events.
Timothy Hodge (Auburn SC – Coach Clinton Camilleri) won two Silver (S9 200m IM and 4 x 100m Medley Relay – 34 points) and one Bronze medal (S9 100m Backstroke).
Matthew Levy (North Sydney SC – Coach Yuriy Vdovychenko) won one Gold (4 x 100m Freestyle Relay – 34 points) and one Bronze medal (SB6 100m Breaststroke) at his fourth Paralympic Games…what an amazing achievement!
Tiffany Thomas Kane (Warringah Aquatic SC – Coach Jon Bell) won two Bronze medals (SB7 100m Breaststroke and SM7 200m IM)
Alexander Tuckfield (SLC Aquadot SC – Coach Gavin Stewart) won a Bronze in the S9 400m Freestyle at the age of 16, in his first international meet – remarkable achievement!
Ashley Van Rijswijk (Wagga Wagga SC – Coach Gennadiy Labara) just missed a medal in the SB14 100m Breaststroke placing fourth at her first Games.
Congratulations to our MIGHTY Blues swimmers and their respective coaches – you did your country and state proud!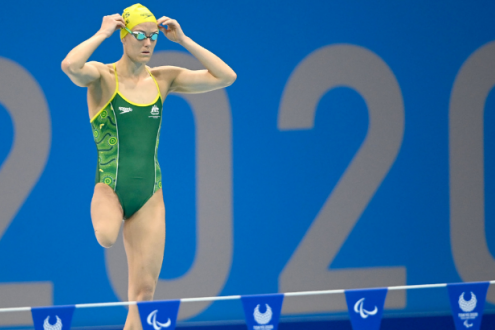 We witnessed the final highlight of these extraordinary Games when Ellie Cole, an unwavering advocate for equality in sport, was recognised for her contribution to the Australian Para Team over four Paralympics, and named flagbearer for the Australian Paralympic Team for the Tokyo 2020 closing ceremony – a wonderful achievement…a very proud moment for her and her family!
I must say that it was great to see some of our young swimmers stand up and perform on the biggest stage – for most it was their first Games experience, but they conducted themselves like veterans! 
So, to all our swimmers and coaches we say a big thank you – amazing results! Paris 2024 is just around the corner and we can't wait to see how you grow and develop as athletes over the next three years. 
GO THE MIGHTY BLUES…GO AUSTRALIA!
- Jon Shaw - Swimming NSW Coaching Director