10 May 2021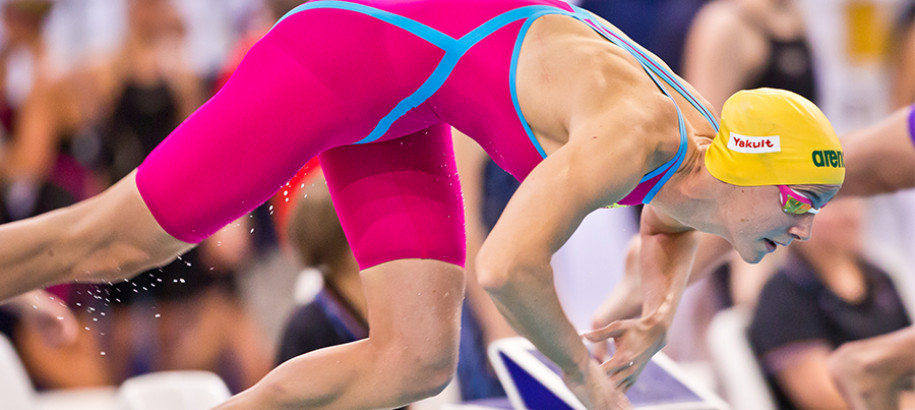 Australia's finest swimmers led by Olympic champion Kyle Chalmers and world champions Cate and Bronte Campbell will converge on Sydney Olympic Park Aquatic Centre this weekend for 2021 Sydney Open – their final hit out in preparation for next month's Olympic Swimming Trials.
The four-day event from Thursday May 13 to Sunday May 16 will also incorporate the 2021 Uni Sport Nationals – attracting University Teams from all round Australia.
The innovative Sydney Open and Uni Nationals will also feature morning finals as swimmers prepare themselves for what lies ahead in Tokyo for this year's Olympic Games.
The meet will kick-start with the opening heats session on Thursday, May 13 from 6pm with the daily program to follow as such:
Friday, May 14: FINALS (9am); HEATS (6pm)
Saturday, May 15: FINALS (9am); HEATS (6pm)
Sunday, May 16: FINALS (9am).
The 9am finals sessions will feature:
The A finals (10 fastest qualifiers from the heats regardless of club or university entry);
The University Final (the next 10 fastest university entries) and;
 The Club final (the next 10 fastest club entries).
Rio 100m freestyle champion, Chalmers (Marion, SA) will line up in the 50, 100 and 200m freestyles and the 100m butterfly with the decorated Campbell sisters (Knox Pymble, NSW) fronting the all-star 50 and 100m freestyle events, while reigning 400m freestyle world champion Titmus will line up in the 200, 400 and 800m freestyle.
The Sydney Open and Uni Nationals Meet was a huge success in 2019 before COVID forced the 2020 meet to be postponed and it has also attracted a five-strong New Zealand-team led by Helena Glasson who are chasing Olympic qualifying times.
Former NSW products Emma McKeon and Thomas Fraser Holmes (Griffith University Swim Club) and rising middle distance star Lani Pallister (Griffith University) from the Michael Bohl-coached Griffith University group on the Gold Coast will also feature prominently in a squad that also includes triple Olympic backstroker Emily Seebohm and pop star Cody Simpson (who will compete for Superfish in the 50 and 100m butterfly and 100m freestyle) as he continues on his projection towards 2024.
NSW's leading Olympic hopeful Matthew Wilson (SOPAC) will spearhead a strong "Mighty Blues" contingent which includes Abbotsleigh's newly crowned Australian Open champion Shaun Champion, who will represent UTS at this meet.
Wilson will again line up against fellow Tokyo hopefuls Jake Packard (USC Spartans) in the 100m and fellow 2019 World's finalist Zac Stubblety-Cook (Chandler) over the 100 and 200m breaststrokes.
The 21-year-old Champion led home a flurry of NSW swimmers, clocking 23.94 – his first time under 24 seconds ahead of Uni Sport National record holder William Yang (Loreto Normanhurst) 24.08; fellow UTS swimmer Ed Marks (Carlile) 24.25 and Auburn's Alex Quach (24.37) in the 50m butterfly at the Australian Championships on the Gold Coast last month.
Champion was also a close up second to Nunawading's Olympic hopeful Matt Temple in the 100m butterfly at the Australian Open, recording a quick 52.17, getting closer to breaking the 52 seconds mark.
But Temple, Champion, Marks, Quach and the likes of Rio Olympian David Morgan (TSS Aquatic) and WA's Nicholas Brown (UWA West Coast) will also have to confront Olympic champion Chalmers in the 100m butterfly and Temple's Nunawading team mate, 200m National champion Bowen Gough.
The 'fly remains an option for freestyle gun, Chalmers who will front Australia's top Tokyo hopes over 100 and 200m freestyle, but the Peter Bishop-coached South Australian has trodden warily in his return from his December shoulder surgery.
Chalmers presence in the butterfly adds another major factor to this meet in the lead up to the crucial Australian Olympic Swim Trials in Adelaide from June 12-17 at the SA Aquatic and Leisure Centre.
The men's freestyle events here will also see Chalmers lead a full-on assault with the majority of the top 10 finalists from the Australian Open in the line ups.
They will include Alex Graham and Clyde Lewis (Bond Swim Club), St Peters Western pair Elijah Winnington (representing Bond University), and Jack Cartwright – all in the 100 and 200m freestyle, with Rackley's Louis Townsend (QUT) and dual Olympian James Roberts (Somerset) putting all his Tokyo eggs in the 100m freestyle basket.
The women's freestyles from 100 through to 1500m – will feature the likes of the Campbell girls, McKeon, Madi Wilson (Marion, SA) and St Peters Western hot-shot trio Mollie O'Callaghan, Mia O'Leary (who will swim for the University of Qld) and Meg Harris over 50 and 100 while Titmus (St Peters Western) McKeon, Leah Neale (USC Spartans), Pallister and TSS trio Madeleine Gough (Bond University), Kiah Melverton (Griffith University) and Moesha Johnson will battle it out over 200, 400 and 800m.
Speedo Stars On Show at Sydney Olympic Park Aquatic Centre
Several swimmers – including: Emma McKeon, Kaylee McKeown, Matt Wilson and Clyde Lewis will be amongst those athletes attending the unveiling of the Speedo Tokyo Games aquatic sports uniform and Speedo's latest highly anticipated Fastskin swimming race suit launch on Thursday May 13, 2021 at 9:30am (the day of the opening heats session at 6pm) at the Sydney Olympic Park Aquatic Centre and will be available for interviews.
Photo Opportunity: Selected Speedo athletes will also be available from 8.30am on the launch morning for set up photos.
Media inquiries/Meet Accreditation: Contact - Ian Hanson (Hanson Media Group) 0407 385 160
Come and watch
Spectators will need to purchase tickets online before attempting to enter the venue. Entry into the venue is FREE for all competitors and accompanied children aged 17 years and under!
There is no limit to the amount of tickets each customer can purchase per day
Spectators must have a ticket for each day they are attending
Tickets will grant spectators access for the entire day- both morning (finals) and evening (heats) sessions
Both electronic and printed tickets will be accepted