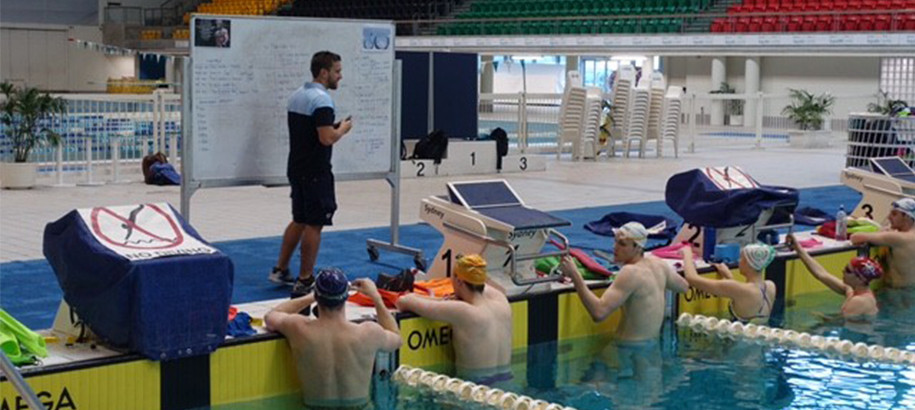 Date & Time
Sat, 09/07/2022 to Sun, 10/07/2022
12pm
Location
Orange Aquatic Centre & Bowling Club
Hill St & Warrendine Streets, Orange NSW 2800
Attend
From $60
Event Details
SWIM Coaches & Teachers NSW's premier event, the SCTANSW 2022 Conference, promises to be an unmissable experience with a vast array of learning opportunities on the program.
This year the SCTANSW Conference is heading to regional NSW, with the lovely country town of Orange playing host!
There will be presentations from Olympic Coach Shannon Rollason, Gold Licence Coach Brett Winkworth, Coach of one of Australia's newest Australian Dolphins and business owner Alex Clarke, along with Swimming NSW's Coaching Directors Jon Shaw and Chris Myers.
For those in the Learn to Swim field, or those wanting to join it, there will be a Swim Australia Teacher of Competitive Swimming and CPR Course to attend to further develop your career.
Included in the Conference fee is SCTANSW's annual Conference dinner which offers all attendees a chance to mix and mingle with presenters while enjoying a fantastic meal.
Register here for the Conference today to reserve your spot!
Please note: for those only attending the CPR or SATCS courses, it's not necessary to register for the conference - please just register for your stand-alone course.
Accommodation
Visit this page to learn about the vast array of accommodation options available for your trip to Orange.
Coaching Conference Program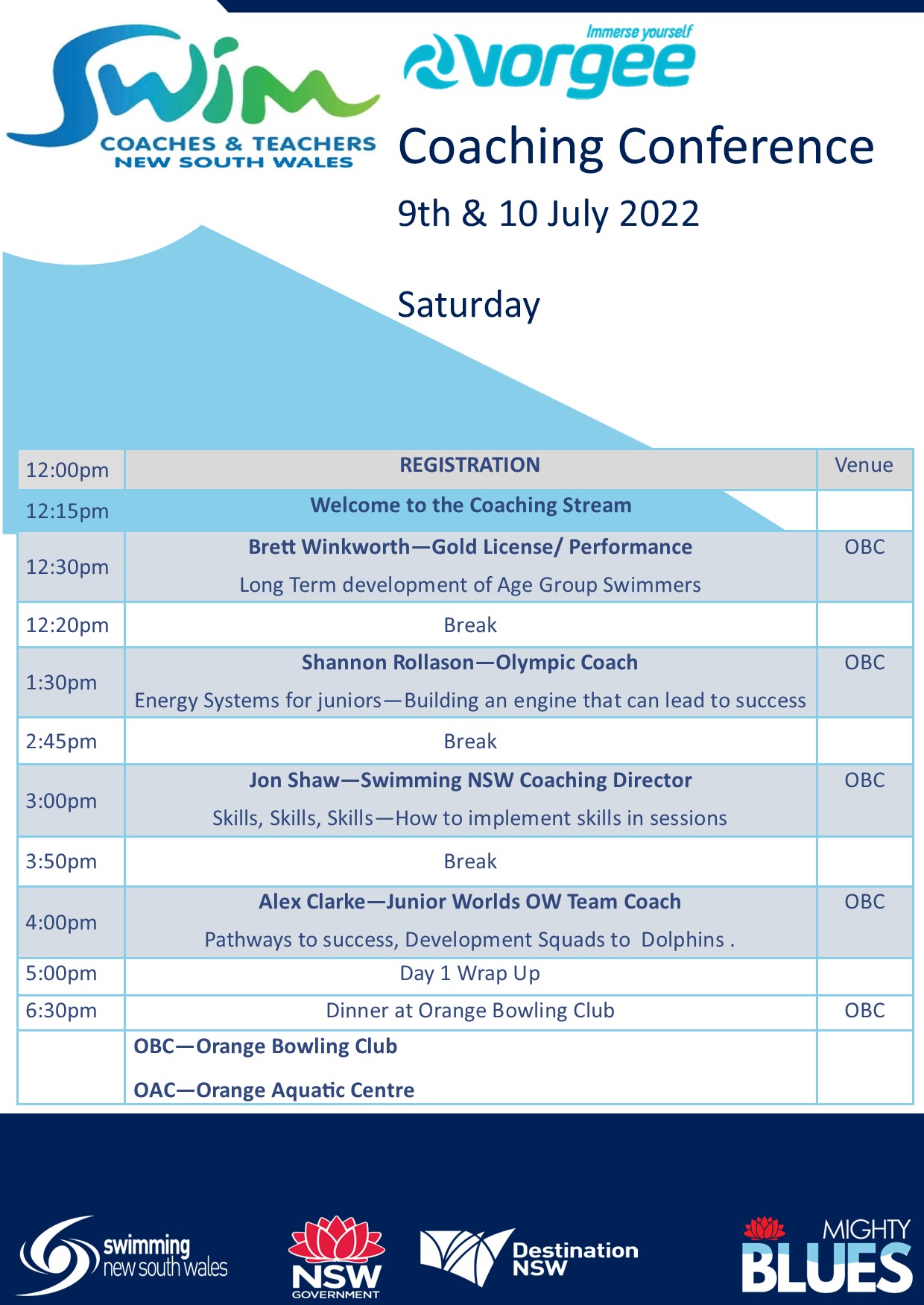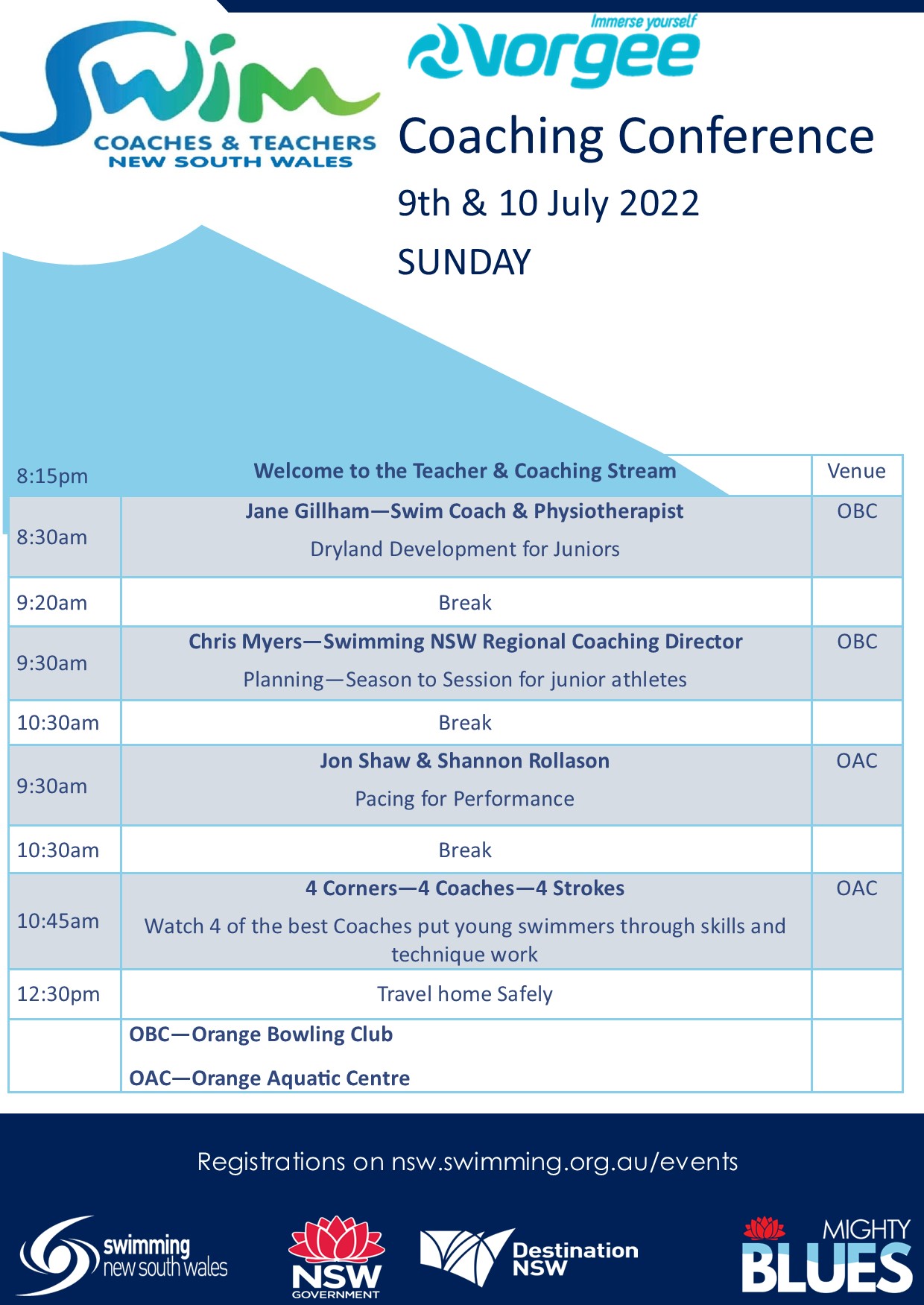 Learn to Swim Program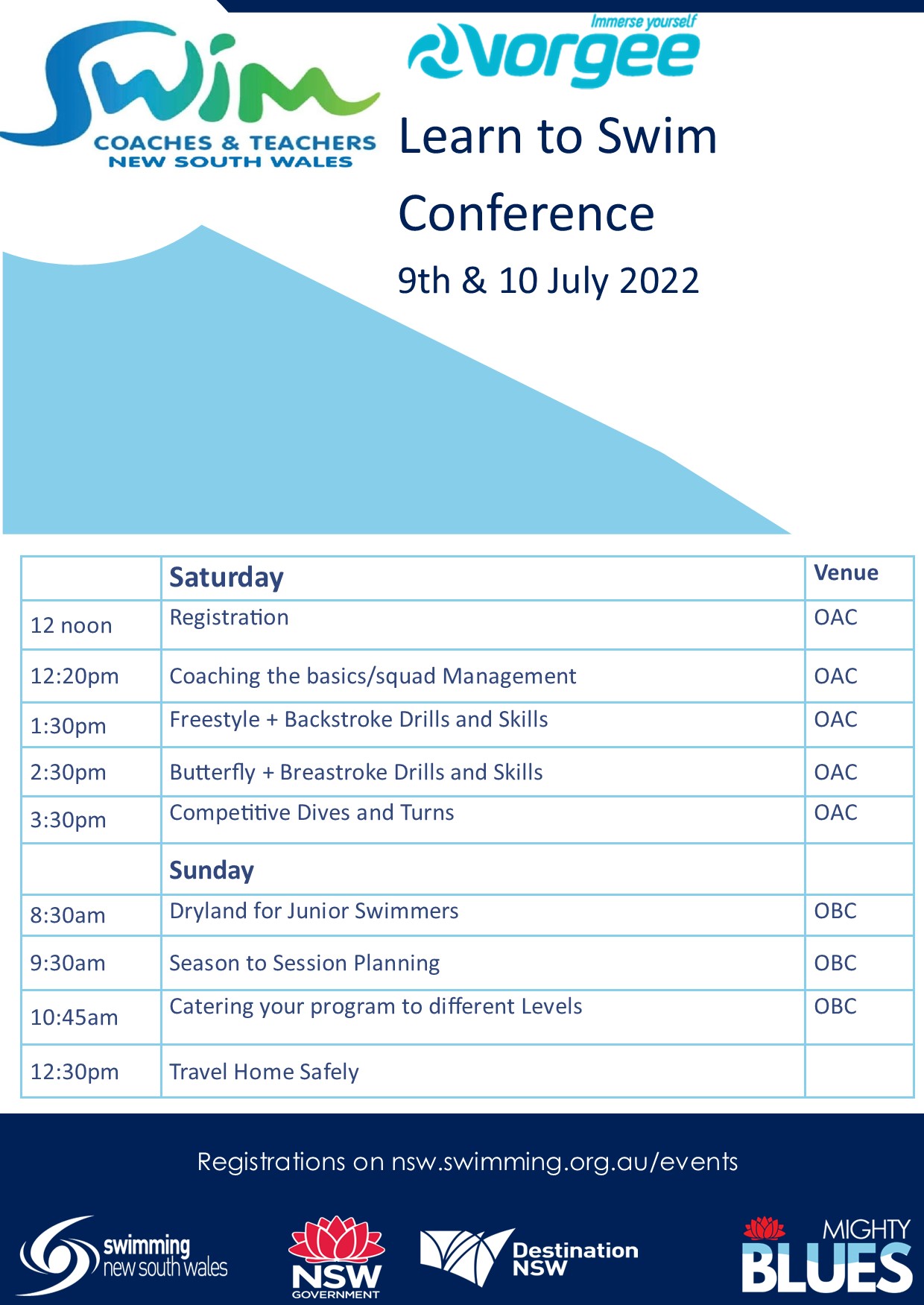 Contact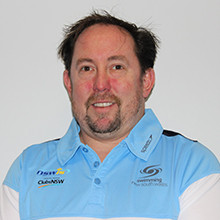 SWIM C&TA Conference Extras
9 July 2022 - 10am

Orange Aquatic Centre & Bowling Club

$30 enrolment fee

 

9 and 10 July 2022 - 12pm

Orange Aquatic Centre & Bowling Club

$200 enrolment fee

---

The Swim Australia™ Teacher of Competitive Swimming (SAT CS) will be competent to deliver basic swimming squad sessions that develop the swimming technique of novice Swimmers – this is generally defined as Swimmers who are recent "Learn to Swim" Graduates and are in the likes of a "mini squad" (usually around 10-years and under) and still acquiring the skills needed to transition into competition.

This Course is endorsed by the peak sporting body in Australia for swimming – Swimming Australia – as the entry level course for the swimming coaching accreditation pathway.

Teachers who have held the SAT CS qualification for 6 months or longer are eligible to undertake the Development Coach (previously Bronze) course.  Holding current Swimming Australia coach accreditation is the minimum requirement for coaching competitive squads within swimming clubs or other facilities and to be able to coach on pool deck at swim meets.

All enrolled Swim Australia course students are covered by SCTI Insurance for the duration of their course and will receive complimentary Graduate SCTA Membership and Insurance for the length of accreditation (3 years),upon being accredited*