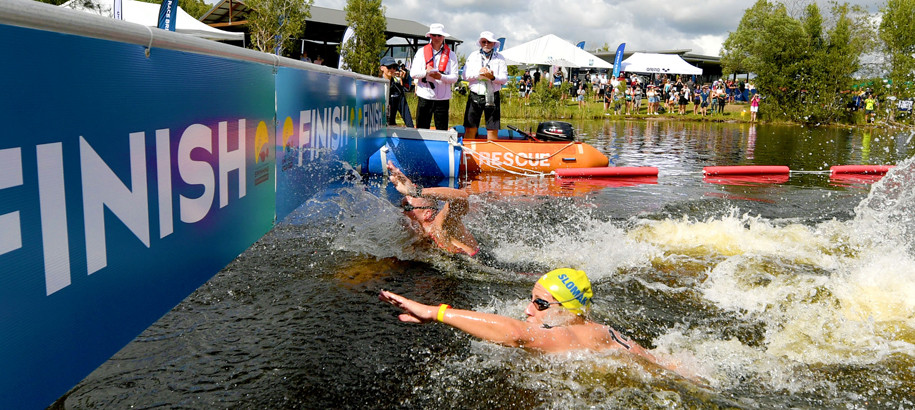 Date & Time
Sat, 29/01/2022 to Sun, 30/01/2022
Location
Brighton Beach, Adelaide
134B Esplanade, Brighton, SA, 5048
Event Details
**Updated as at 20 January 2022**
In preparation for the upcoming 2022 Open Water Championships at Brighton Beach, Adelaide, please find below all relevant and important information for all attendees.
Use the Quick Find Menu and select "Competitors" to access the Program of Events, Information Book and Start List with key event timings and other event specific details for collecting accreditation and registration. Select "Final Information for Attendees" to read important updates related to COVID, Team Leader Briefing, and traveling to and from South Australia.
We look forward to welcoming you to the event and appreciate your support in adhering to the COVID safe measures in place.
Live Tracking: http://tomatotiming.racetecresults.com/Results.aspx?CId=16&RId=29231&EId=1
Event Entries
Event Entries are now closed
QUICK FIND MENU
In preparation for the upcoming 2022 Open Water Championships at Brighton Beach, Adelaide, please read below some important pieces of information for all attendees.

COVID
Swimming Australia recognises and understands the unique challenges faced in the current phase of the COVID-19 pandemic for everyone be it staff, volunteers, coaches, athletes, and family members. Whilst the challenges are real, the current restrictions in place do not pose a barrier for the event proceeding as planned, particularly being an outdoors performance environment.

In line with creating the safest environment possible for all attendees, Swimming Australia will be implementing the below protocols. We acknowledge that not all these protocols can be mandated across the entire attendee cohort. However, we strongly recommend that all technical officials, coaches, team managers, athletes and families attending consider what they can each do as individuals, to help us deliver a low-risk event.

Swimming Australia will do all that is possible within its control and will be reliant on individuals doing the same in ensuring their health, fitness, and appropriateness in attending this event. The protocols outlined, together with the changes to the program of events, have been put in place to minimise the risks for all attendees and we appreciate your help in keeping our community operating with the health and safety of all at the forefront.

COVID SAFE PROTOCOLS

 

Pre-Departure

Limit exposure to public gatherings, indoor settings, and other high-risk spaces in the lead up

Wear a mask whenever indoors or when unable to be physically distanced

Rapid Antigen Test taken the day of departure to ensure appropriateness to travel and attend

Flight

As per flight regulations, wear a mask (preferably N95) from arrival at airport, through the duration of the flight and until exiting the airport at the other end

Masks should also be worn in Ubers, taxis, or other public transport to and from the airport

Accommodation

SA suggest single room bookings only, where possible, to prevent being designated a close contact

Dining

Outdoor dining only

Limit dining parties to a maximum of three people

Wear a mask whenever indoors (paying bills, use of restrooms etc.)

Meetings/Briefings

Conduct all briefings either outdoors in a physically distant setting or via an online platform

Briefings should not occur indoors at any stage

Testing

Only test if symptoms develop

During Event

Masks must be worn at all times whilst on site in the event areas, including feeders on the pontoon, athlete briefings, and spectators on Brighton Jetty where physical distancing is unachievable

Hand sanitiser will be available on site

Checking in using the QR code is mandatory under South Australian Public Health Orders

 

TEAM LEADER BRIEFING
In keeping with the COVID safe protocols, the Team Leader Briefing will be held online via Zoom. This briefing will cover important aspects of the competition including water conditions and will be at 6.00PM Friday 28 January (Adelaide time).

Join Zoom Meeting
https://us06web.zoom.us/j/82443952965?pwd=ZnZaL1NrTFNDT3dIdDJyU2RnWFQrdz09

Meeting ID: 824 4395 2965
Passcode: 389504
 

KEY EVENT TIMINGS & INFO
Please see the Program of Events for the outline of pre-meet training, registration and race times. Also, refer to the Information Book for other event specific details. This is a non-ticketed event however, all participants (athletes, coaches, team managers, officials) require accreditation. Under the General Activity Direction, any place at which a defined public activity is conducted must use an approved contact tracing system. Therefore, all event attendees (participants and spectators) will be required to check in using the QR codes displayed around the various event areas.

Accreditation will be used to control access to the course during the 2022 Australian Open Water Championships. Athletes will be required to hand their accreditation pass to the technical official in the role of Clerk of the Course before they enter the water and must collect their pass again when exiting. All other accreditations are issued should spectators and participants need to be separated if restrictions change. At this stage there are no restrictions to movement around the event zones, except for the requirement to check in as above and to maintain physical distancing. In the instance that physical distancing is unachievable, masks must be worn.

Accreditation will be available for collection from 7.30am Friday 28 January, prior to the first on course training session, at the registration area located at Bindarra Reserve. Following this, accreditation can be collected during competition times.

TRAVELING TO & FROM SOUTH AUSTRALIA
QR code check-in
COVID Safe Check-In is South Australia's QR code check-in system.

All travellers should download the mySA GOV app from Google Play or the App Store before travelling to South Australia. You are required to use the COVID Safe Check-In whenever you enter a business or premises displaying an approved QR code. If you do not have a smartphone, you must complete a manual check-in.

Special provision relating to COVID-19 cases
A person (other than a domestic violence arrival) who has been diagnosed with COVID-19 must not enter South Australia until the period for which they would have been required to isolate if in South Australia has elapsed (10 days).

Travelling home after the event
If you want to travel from South Australia to another state, check the rules of the state you are travelling to before you leave. Not all state travel arrangements are reciprocal.

The Healthdirect COVID-19 Restriction Checker links to each state's travel restrictions.